Cómo empezar a invertir en criptomonedas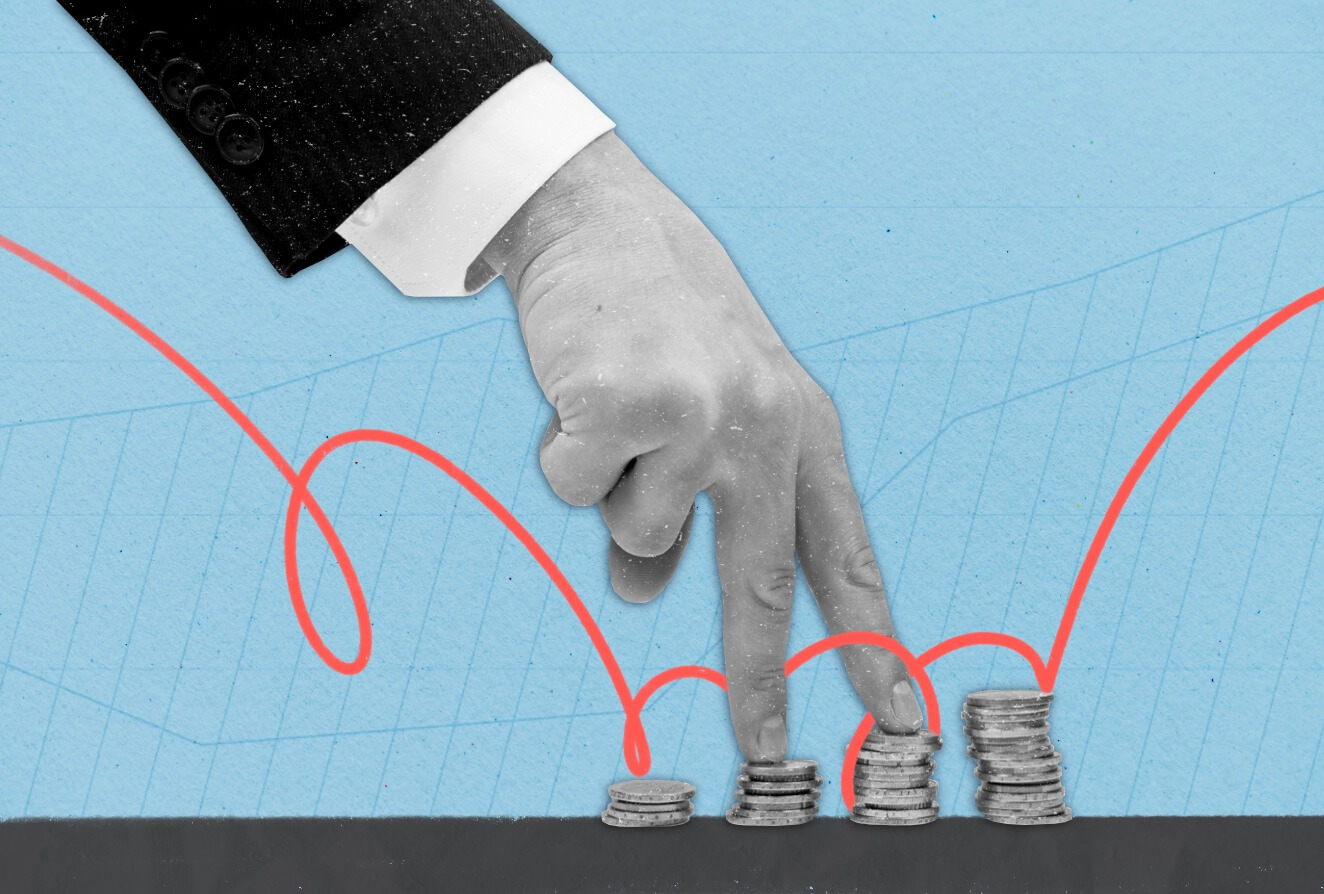 In a world where digital transactions are becoming the norm, one phrase has lately become trendy: cryptocurrency. 
Picture this: digital money, secured by complex mathematical puzzles, independent from the traditional banking system, and accessible from anywhere with an internet connection. This is what cryptocurrencies offer. But, the question often asked by most is – why should you start investing in crypto?
Well, to start with, the cryptocurrency market, even though it's just over a decade old, has minted over 30,000 millionaires. While the 'millionaire' tag might sound tantalizing, it's essential to remember that making it big in the crypto sphere isn't a cakewalk. It requires a thorough understanding of the market, strategic planning, and a healthy risk appetite.
While striking it rich might seem like a long shot, investing in cryptocurrencies could be your ticket to financial success. It's a world of opportunities out there, and this article aims to help you navigate this exciting landscape.
Key Takeaways
Although cryptocurrencies are very volatile, they have demonstrated the potential for enormous gains.
There are multiple entry sites into the cryptocurrency industry, including purchasing directly from the market, investing in a cryptocurrency-focused company, and investing in cryptocurrency exchange-traded funds.
Strategy and risk management must be carefully considered before investing in cryptocurrency.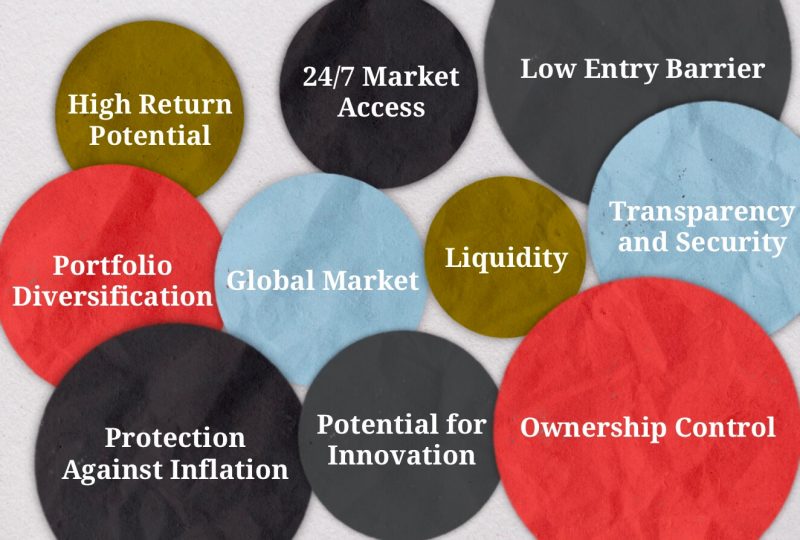 Why Should You Start Investing In Crypto?
Cryptocurrency, once a fringe financial concept, has become a legitimate and potentially lucrative investment option. But why can it be a good investment choice? 
Cryptocurrencies, despite their volatility, have shown the potential for staggering returns. Bitcoin's exponential growth over the years serves as a prime example.
Unlike the traditional stock market, the crypto market never sleeps. It operates 24/7, allowing crypto investors to trade conveniently, irrespective of time zones.
Portfolio Diversification
Adding cryptocurrencies to your portfolio offers an effective means of diversification, potentially improving risk-adjusted returns.
Crypto is a universal asset, not confined by national borders. This global market access opens up opportunities that might be otherwise inaccessible.
With fractional buying options, you don't need thousands of dollars to invest. You can start with a small amount and gradually increase your investment.
Transparency And Security
Thanks to blockchain technology, crypto transactions are transparent and secure, with a reduced risk of fraud compared to traditional financial systems.
In crypto investing, you have complete control over your assets without the need for intermediaries like banks or brokers.
Investing in crypto is not just about making profits; it's also about supporting groundbreaking technology that can revolutionize numerous sectors.
Major cryptocurrencies enjoy high liquidity, ensuring you can easily buy and sell your assets.
Protection Against Inflation
As most cryptocurrencies have a capped supply, they can serve as a hedge against inflation, preserving the purchasing power of your assets.
These are just a handful of ways investing in crypto may offer advantages over other assets like traditional stocks. Let's start discussing how you can become a successful crypto investor.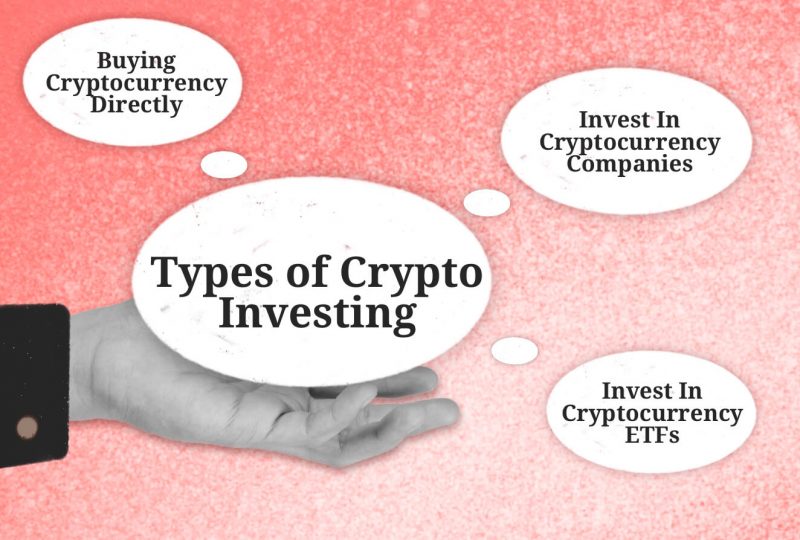 Types Of Crypto Investing
Investing in cryptocurrencies may appear to be a black-and-white decision at first glance: either buy coins or don't. However, this view couldn't be more incorrect because the world of crypto investment is actually a lot more varied, exciting, and interesting than it initially appears. 
There are several entry points for the crypto industry, as well as tactics that may be applied to various tokens. So, let's first start by discussing different ways you can become a crypto investor.
Buying Cryptocurrency Directly
The most straightforward approach, and often the first port of call for crypto newcomers, is to buy cryptocurrencies directly. It's akin to buying stocks or commodities only with digital currencies such as Bitcoin, Ethereum, or many altcoins populating the market. 
This strategy ranges from acquiring established, globally recognized cryptos to dipping your toes into the more adventurous waters of newly minted coins introduced via ICOs. This method involves holding onto your crypto assets in a digital wallet, waiting for them to appreciate over time.
Invest In Cryptocurrency Companies
Investing in crypto-focused companies might be your call if you're more inclined towards traditional investing but still wish to dabble in the digital currency world. 
This could be in the form of firms that mine cryptocurrencies, manufacture mining hardware, or corporations like Robinhood Markets Inc. or PayPal Holdings Inc., which facilitate crypto transactions. An exciting addition to this list is firms like MicroStrategy Inc., which strategically hold substantial amounts of crypto on their balance sheets, providing indirect exposure to the cryptocurrency world.
Invest In Cryptocurrency ETFs
Finally, cryptocurrency-focused funds offer an attractive alternative for those who prefer a more hands-off approach but still want to ride the crypto wave. ETFs like crypto index funds, futures funds, and various cryptocurrency investment trusts present a viable route. This way, you can diversify your portfolio without getting involved in the nitty-gritty of individual cryptocurrencies or companies.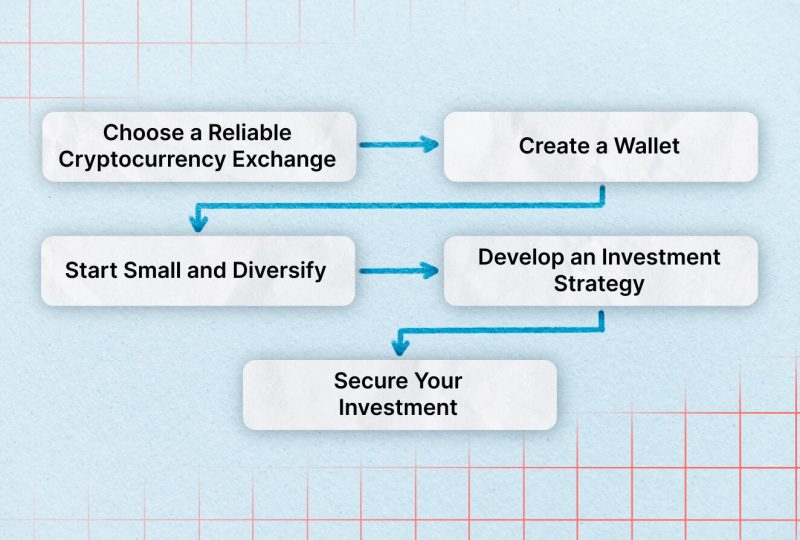 Step-By-Step Guide To Start Cryptocurrency Investing 
In this article, we will explain the basics of starting crypto investing by purchasing coins and tokens directly on the open market. Here are the essential steps to take:
Choose A Reliable Cryptocurrency Exchange
The first step is akin to choosing a reliable broker or crypto exchange. Cryptocurrency exchanges are platforms where you can buy, sell, and trade cryptocurrencies. However, not every crypto exchange is created equal. These crypto platforms differ regarding security measures, fees, available cryptocurrencies, and user-friendliness. 
Some popular and trusted crypto exchanges include Coinbase, Binance, and Kraken. While choosing a cryptocurrency exchange, look for features such as two-factor authentication (2FA), cold storage options, and insurance policies. Also, ensure it supports a wide range of cryptocurrencies and offers a user-friendly interface, especially if you are a beginner.
Create A Wallet
Once you've selected your exchange, the next step is to create a crypto wallet. This digital 'wallet' is where you'll store your cryptocurrencies. There are different types of wallets – hot wallets, which are connected to the internet and offer convenience but are vulnerable to cyber threats, and cold wallets, which are offline and provide higher security. 
Wallets can also be software-based (on your computer or smartphone) or hardware-based (physical devices similar to thumb drives). Choose a wallet based on your needs for security, convenience, and the amount of crypto you plan to hold.
Start Small And Diversify
As with any other investment, starting small is prudent, especially if you're a beginner. Start by investing a small amount you can afford to lose, understand how the market works, and slowly increase your investment over time. Diversification is equally important. Don't put all your eggs in one basket – or in this case, all your money in one coin. Spread your investments across different cryptocurrencies to mitigate risk and increase potential returns.
Develop An Investment Strategy
Investing in crypto isn't a game of luck; it requires a well-thought-out strategy. Are you looking for long-term gains or want to take advantage of short-term market volatility? What is your risk tolerance? How often do you plan to monitor the market? 
Based on these considerations, you can opt for strategies that fit you best. 
Secure Your investment
Lastly, security is paramount in the world of crypto. As digital assets, cryptocurrencies are susceptible to cyber threats. Enable 2FA on your exchange account to protect your investment, keep your wallet's private keys secure, and consider using a hardware wallet for added security. 
Regularly update your wallet software and be wary of phishing scams. Always remember, in the crypto world, you're your own bank, and the safety of your investment primarily depends on you.
Best Crypto Investment Strategies For Beginners 
As a newcomer to cryptocurrency investing, it's essential to approach the market with a carefully thought-out strategy. Here are some of the most popular investment strategies that can serve as a compass to navigate the volatile but potentially rewarding seas of cryptocurrencies.
HODL
This strategy is particularly popular among beginners based on a simple principle: buy and hold. The term "HODL" originated from a misspelling in a Bitcoin forum post and has since been reinterpreted as an acronym for "Hold on for Dear Life." The idea is to buy a promising cryptocurrency and hold onto it for long, irrespective of market volatility. 
The belief is that, over time, the value of good cryptocurrencies will increase, resulting in a sizable return on investment. This approach requires patience and a certain level of risk tolerance, as it involves weathering short-term market fluctuations.
Dollar-Cost Averaging
Dollar-Cost Averaging is a strategy that involves investing a fixed amount in cryptocurrencies at regular intervals, regardless of the price. This approach can benefit new investors by eliminating the need to 'time the market.' By spreading out your purchases, you can mitigate the impact of short-term price volatility. Over time, this can result in an average cost per coin lower than the mean market price.
Diversification
As in traditional investing, diversification is also a key strategy in crypto investing. It involves spreading your investments across various cryptocurrencies rather than putting all your money into a single coin. 
This way, you mitigate the risk of your entire portfolio being affected by the performance of one currency. Your diversification strategy might include a mix of established coins like Bitcoin or Ethereum, promising altcoins, and perhaps even tokens from ICOs.
Swing Trading
Swing trading is a more active investment strategy that aims to profit from short- to medium-term price fluctuations. It involves holding onto a cryptocurrency for days or weeks and selling it when there's a significant price swing. This strategy requires a good understanding of market trends and indicators, as well as a considerable time commitment. However, if done right, it can yield substantial profits.
Value Investing
Value investing in crypto involves buying cryptocurrencies that appear to be underpriced compared to their intrinsic value. This approach requires thorough research and a deep understanding of the cryptocurrency market. 
Value investors need to identify coins with robust fundamentals currently undervalued by the market. While this can be time-consuming, it can lead to significant profits when the market corrects the price.
What Risks Should You Be Aware Of?
Much like a coin with two faces, cryptocurrency investing, with all its potential rewards, also comes with its share of potential pitfalls. Understanding these risks can help you make informed decisions and mitigate potential losses. Here are some of the key risks associated with crypto investments.
Market Volatility
One of the defining characteristics of the crypto market is its extreme volatility. Prices of cryptocurrencies can fluctuate wildly within short periods, which can be a double-edged sword. 
While this volatility can lead to high returns, it can also result in substantial losses. For instance, Bitcoin, the largest virtual currency by market cap, has seen its value swing between just a few cents to over $60,000 in its relatively short lifetime. As such, investors must be prepared for potential price shocks and not invest more than they can afford to lose.
Regulatory Risks
The regulatory landscape for cryptocurrencies is still evolving and can be unpredictable. Many governments worldwide are still grappling with how to regulate cryptocurrencies, which can lead to sudden policy changes that impact the market. For instance, a country might suddenly ban cryptocurrencies, as seen with China's crackdown on cryptocurrency trading and mining, leading to a rapid drop in cryptocurrency prices.
Security Risks
Despite the inherent security of blockchain technology, cryptocurrencies are not immune to security risks. Hacks, frauds, and scams have plagued the crypto world, with numerous exchanges being hacked and coins being stolen. Additionally, as cryptocurrencies are stored in digital wallets, losing access to your wallet (for instance, by forgetting your password or losing your private key) can result in the irreversible loss of your investments.
Liquidity Risks
While major cryptocurrencies like Bitcoin and Ethereum are highly liquid, this might not be true for all cryptocurrencies. Some lesser-known or new cryptocurrencies may have low trading volumes, making it hard to sell your crypto holdings at the desired price. Furthermore, certain exchanges might only support specific cryptocurrencies, limiting your ability to trade them for other assets.
Technological Risks
Cryptocurrencies rely on complex technologies, including blockchain and various cryptographic techniques. Any unexpected glitch, bug, or technological advancement (like quantum computing) could potentially destabilize the system. 
These risks underline the importance of approaching crypto investing with caution. Always conduct thorough research before investing, diversify your investments to spread risk, secure your crypto assets diligently, and be wary of promises of guaranteed profits.
Bottom Line
Cryptocurrencies initially envisioned to expedite transactions while ensuring security and cost-effectiveness, have morphed into an exciting and potentially profitable investment avenue. To illustrate, a thousand dollars invested in Bitcoin a decade ago could have transformed you into a millionaire today. 
Yet, as enticing as this proposition sounds, it's imperative to understand that crypto investing isn't a lottery but a field requiring thorough market knowledge. Like any other investment, it demands careful research, keen analysis, and informed decision-making. So, as you step into this industry, remember that knowledge and prudence are your strongest allies on the path to success!