A Beginner Guide To The Crypto Analysis Tools.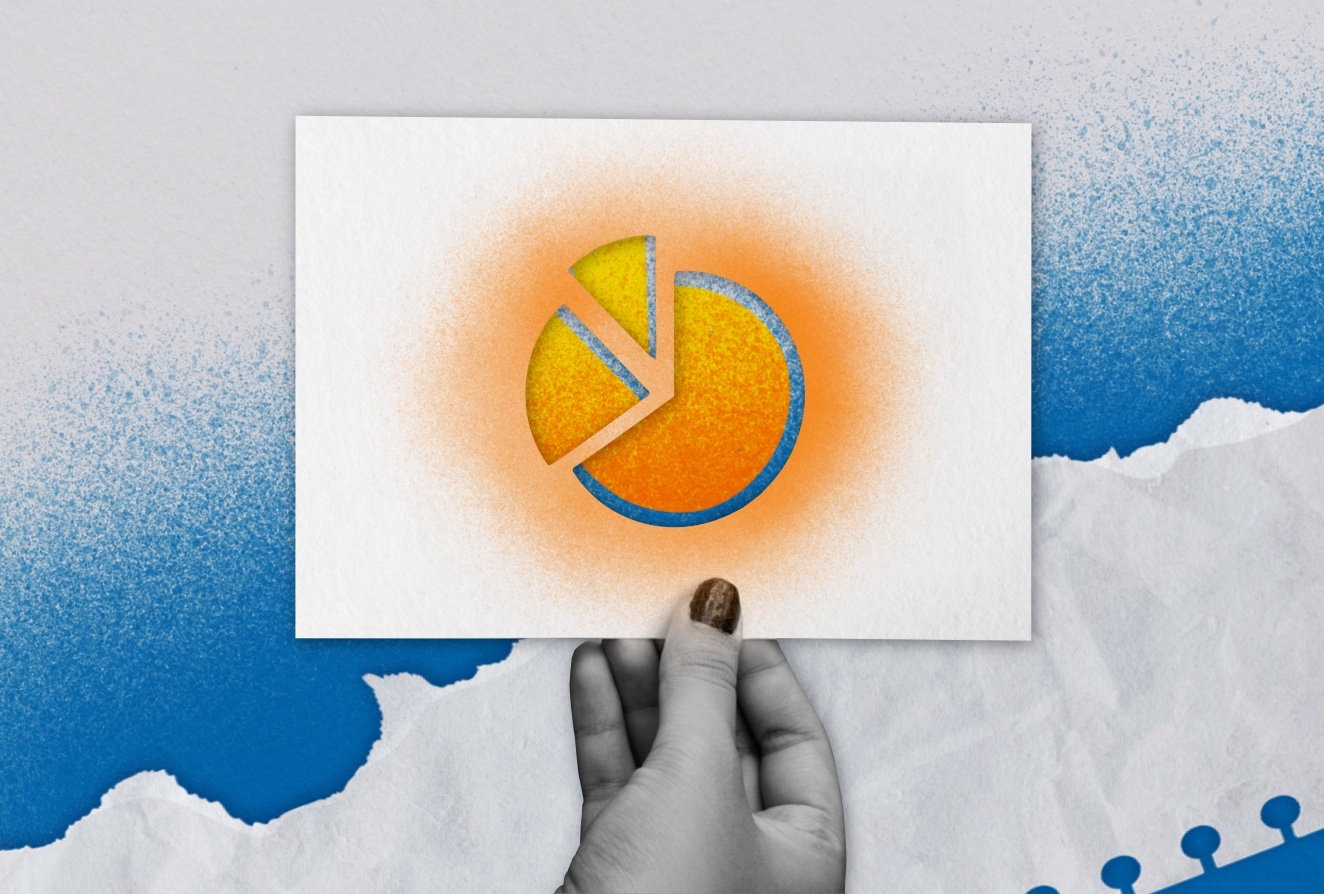 Successful investment in the crypto world requires constantly studying market trends, monitoring specialized forums and social networks, and conducting technical analysis. The tools for crypto analysis can assist traders and investors in their daily work. In this article, we will discuss what crypto analysis tools are and look at some of them in more detail.
Key Takeaways
Crypto trading is based on trading strategies.
The crypto market analysis can be fundamental and technical.
The fundamental analysis gives a general idea of the market situation.
With technical analysis, analysts try to predict market behavior using historical data.
How To Analyze The Crypto Market
Crypto trading is based on trading strategies: choosing the right strategy provides a reliable income, while the wrong strategy leads to losses.
To choose the right strategy, conducting a thorough market analysis is essential. The crypto market analysis can be roughly divided into two categories: technical analysis and fundamental analysis.
Fundamental analysis
Compared to the technical analysis, the fundamental one gives a more general idea of the situation in the market. The fundamental analysis is based on the value of a particular asset, which can be found by gathering quantitative and qualitative factors.
Fundamental analysis assesses the actual value of an asset and determines if its price at the moment corresponds to the current market environment.
The crypto market is hectic, which makes forecasting the mid- and long-term market trends more difficult.
Technical Analysis
Technical analysis primarily involves studying historical market data, such as trade volumes and price tendencies.
When using technical analysis, analysts try to predict market behavior using historical data. To do this, they identify repeating patterns and then make calculations based on bullish or bearish market trends.
Technical analysis assumes that price fluctuations in the market are not random and are determined by the recurring trends that can be used to forecast market behavior.
As part of technical analysis, it is also necessary to consider the supply and demand for a particular cryptocurrency.
Top Seven Analysis Tools For Crypto
The crypto market offers a wide range of crypto trading tools for analysis. We will discuss the most popular and proven tools that provide valuable insights and user-friendly experience.
Messari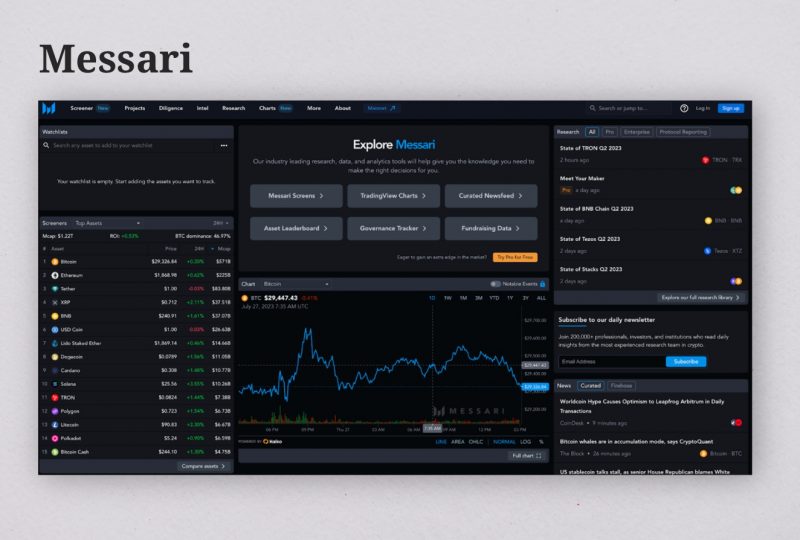 Messari is the leader among crypto analysis tools. It aggregates real-time price updates, market caps, and market shifts for more than 1400 cryptocurrencies. It also provides historical data and in-depth research reports.
Messari is recognized for its transparency and accuracy. The platform performs various verification and validation procedures to ensure users access the most accurate data.
Investors and crypto traders use Messari for making various data-driven decisions.
The platform also offers numerous educational resources useful for beginner crypto traders.
Messari analysis often focuses on the fundamentals of specific projects and their potential for growth and adoption.
Being a powerful crypto news aggregator, the platform tracks the investments of top crypto investing firms to provide comprehensive and precise data on crypto assets to its users.
Among the instruments that the Messari platform provides for technical analysis are graphs and diagrams with detailed information on various cryptocurrencies, cryptocurrency market screeners, charts and watchlists. Moreover, the platform's analysts publish their research and reports regularly so that the users can be up to date with the latest news in the industry.
LunarCrush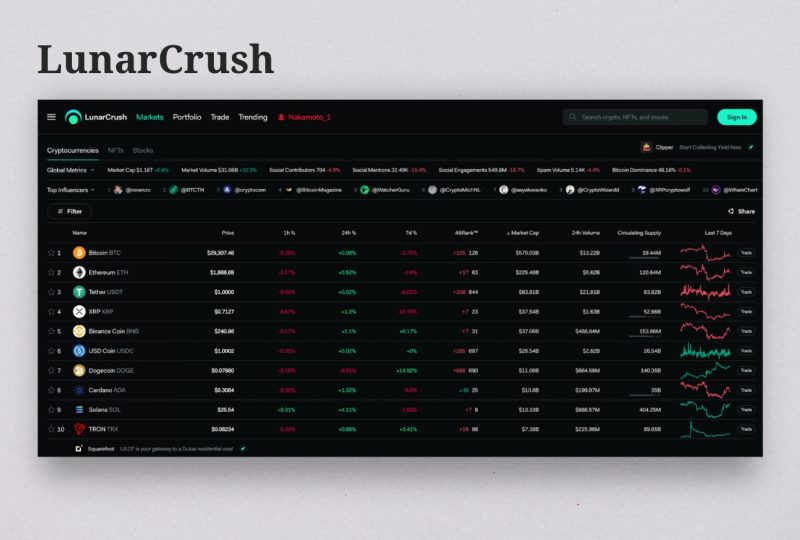 LunarCrush is a tool that analyzes data from social networks to gauge investors' sentiments and public opinions. Public sentiment can have an enormous impact on the crypto market trends, which is why the platform collects data from social media platforms such as Twitter, Reddit или Youtube and, with the help of advanced algorithms, analyzes this data, providing insights into the overall sentiment towards different digital assets, including NFTs.
Using unique algorithms, LunarCrush ranks influencers on social media based on the cryptocurrencies they discuss. The platform has a built-in trading platform and offers many features, including price tracking, market analytics, and an intuitive user interface.
One of the key features of LunarCrush is the Coin of the Day tab. The tab provides data about the token that is currently the most popular in the market. The data includes the following information collected for the last several hours:
the amount of social activity on Twitter, YouTube or Reddit;
the development of the market sentiment;
market cap and its dynamics;
the cryptocurrency volatility;
the price of the cryptocurrency on different exchanges.
To evaluate an asset's total score, the LunarCrush considers many indicators that are summed up to create a Galaxy Score — an indicator of the effectiveness and social activity of the selected asset. The score is from 0 to 100; the higher the score, the better the asset.
TradingView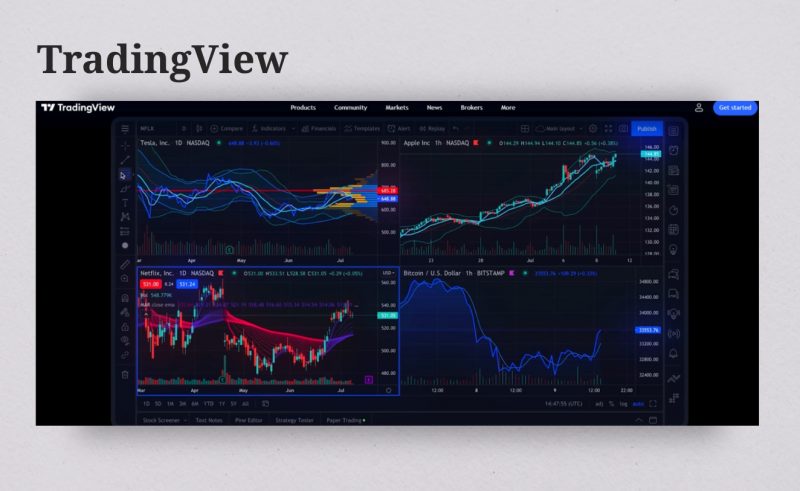 TradingView is another one of the most popular technical analysis tools for crypto traders as well as for stock and Forex traders.
TradingView provides real-time exchange data for many crypto exchanges and brokers, including platforms like Binance and ByBit.
TradingView is considered one of the largest charting providers, with thousands of technical indicators needed for comprehensive technical analysis.
On the TradingView platform, expert traders publish their analytical research and other useful information for users.
One of the key features of TradingView is online broadcasts, where you can view the transactions of other traders in real-time and learn how to trade.
The TradingView tools allow you to compare quotes, track the correlation between different assets, add custom indicators to the charts, and much more.
The platform also provides a programming language — Pine Script — that traders can use to create their trading strategies.
TradingView is a lead technical analysis platform that offers a wide range of indicators and charting tools. It also provides such features as:
backtesting of trading strategies;
export of graphs and charts;
access to more than 100 technical indicators;
various options for market monitoring;
the ability to join several brokers and trade on the platform;
analytical articles and news on financial markets regularly;
powerful charting interface with its customizable charts, immense range of technical indicators, and intuitive drawing tools.
CoinGecko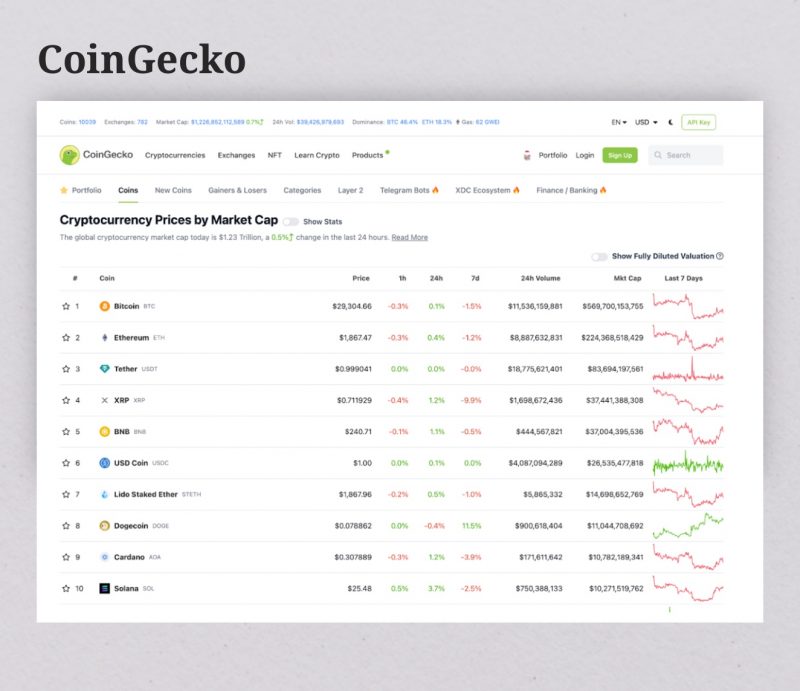 CoinGecko is a website that allows you to track the prices of cryptocurrencies and create a list of favorite cryptos you want to track. CoinGecko is one of the largest data aggregators that tracks crypto prices by market cap, tracks exchanges by trading volume and provides an in-depth analysis of the cryptocurrency market.
The platform also provides an extensive library of guides and other educational material.
CoinGecko is often considered to be an alternative to the well-known CoinMarketCap. However, CoinGecko has some features that CoinMarketCap doesn't. For example, CoinGecko offers more flexible charts that allow you to trace the dynamics of the selected cryptocurrency by days, weeks, months, years, or even trace the whole history of the coin.
TradingView's charts are integrated into the CoinGecko platform so that users can compare quotes and use different indicators and tools for drawing on charts.
Moreover, CoinGecko provides some of the most comprehensive educational content about blockchain and crypto.
CoinGecko also comprises such useful tools as NFT Floor Price and Compare Coins Feature.
NFT Floor Price is a tool for tracking the floor price of NFT projects on both Ethereum and Avalanche, while Compare Coins Feature allows you to compare the price of a digital currency based on the market capitalization.
CoinMarketCap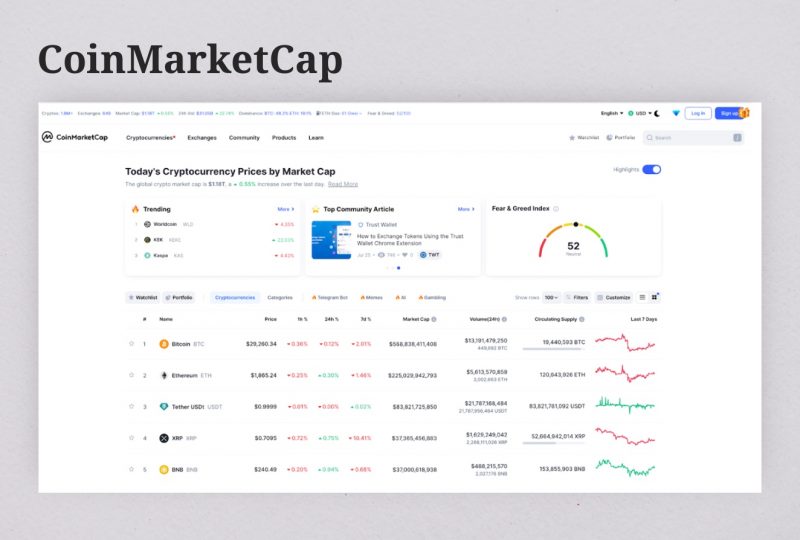 CoinMarketCap is the most used platform in the market. It helps investors and traders check prices, volume, and supply of coins. The platform also provides a robust API to pull data into your user interface.
With CoinMarketCap, users can sort and filter cryptocurrencies by selected parameters, track coins by sectors, and much more.
CoinMarketCap provides the following features for its users:
Tracking price dynamics by day, week, month, year and all time.
Filtering cryptocurrencies by various criteria that allows users to compare coins of specific sectors, such as DeFi, tokens or derivatives.
Monitor cryptocurrency pairs on different crypto exchanges which can be helpful for traders involved in crypto arbitrage since the platform allows them to compare courses to find arbitrage opportunities.
A separate section on Yield Farming where users can find and compare the returns and risks of DeFi platforms like Uniswap, Pancake Swap or Yearn Finance.
A block explorer that allows users to find valuable information about blockchains.
CoinMarketCap operates under Binance Capital Mgmt — the global blockchain company — which allows it to collect the most accurate price data from various verified sources.
CoinMarketCap offers not only crypto data but also up-to-date information on NFTs and metaverse projects. And most importantly, all the information available on CoinMarketCap is free to access.
CryptoCompare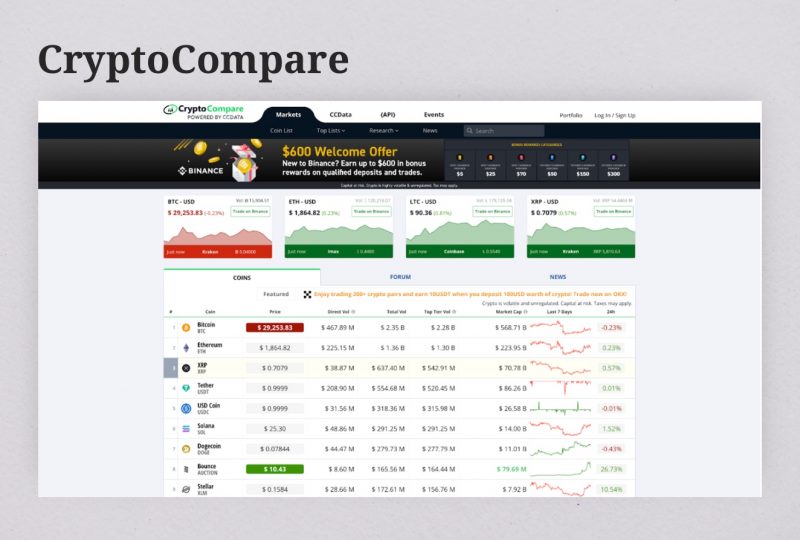 CryptoCompare is a convenient technical analysis tool that allows users to track the results of trading and investment transactions.
The service allows users to monitor the total value of the investment portfolio and its change over time. It also displays information about the profits brought by individual tokens. An investor can analyze the risks and plan further development depending on which token dominates the portfolio.
CryptoCompare provides a lot of metadata for all cryptocurrencies presented on the platform.
CryptoCompare is an information portal designed for people who invest in crypto. The service provides precise real-time crypto prices and market analyses by collecting data from 65 best cryptocurrency exchanges worldwide.
CryptoCompare is a powerful resource that includes information about wallets, exchanges, plastic cards, mining pools and more.
In addition, CryptoCompare has a forum where crypto enthusiasts can exchange experiences and discuss the latest news from the world of cryptocurrencies.
The service provides investors with a complete picture of the market for further investment decisions. The platform also has a free API with unique data.
CoinMarketCal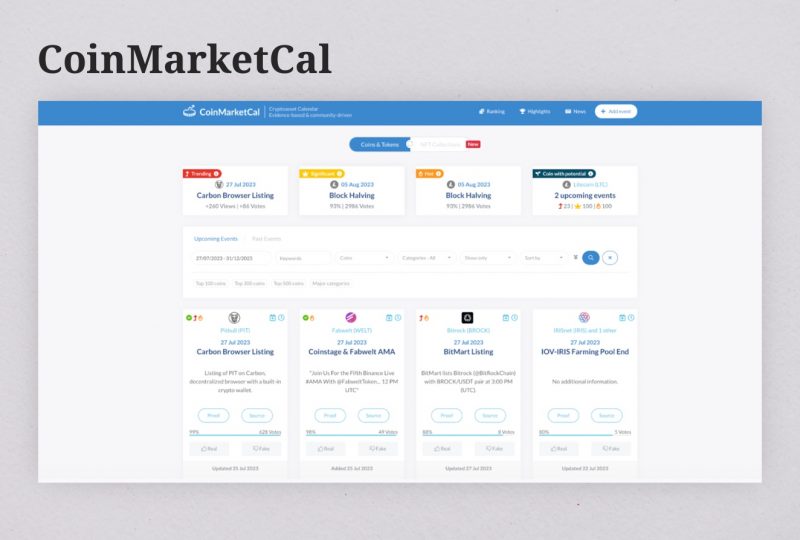 The name of the service sounds similar to CoinMarketCap; however, these two services significantly differ.
CoinMarketCal is a crypto calendar. The platform displays the dates of important crypto events, such as blockchain updates, main nets launch, hard forks, etc.
World events are important in crypto trading and can significantly influence the crypto rate movements. CoinMarketCal is a crypto analysis tool that allows users to get notifications about events from reliable sources.
Users can custom CoinMarketCal by grouping the events by date range and filtering them by the following parameters:
keywords;
cryptocurrency;
exchanges;
top lists (top 10 or 100).
DeFiLlama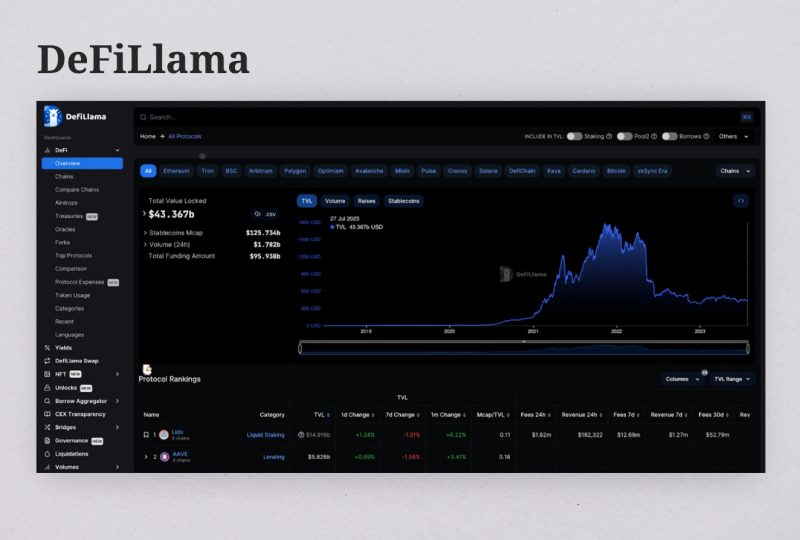 DefiLlama is another crypto analysis tool that provides comprehensive data and analytics on numerous blockchain networks and DeFi protocols.
DeFiLlama is an on-chain data aggregator focused on the DeFi market sector. The data is presented in the form of customizable interactive dashboards and is broken down into different categories.
The platform tracks many dApps across multiple blockchains and provides such data as user numbers, transaction volumes, total value locked (TVL), and more. This makes it a helpful tool for those looking to understand and invest in the rapidly growing world of DeFi.
Being an outstanding tool for cross-chain comparison, DefiLlama is an entirely free platform comprising a vast range of DeFi protocols,
Pros And Cons Of Crypto Research Tools
Crypto analysis tools offer numerous benefits for traders and investors. However, they also come with some limitations. Understanding both pros and cons can help crypto enthusiasts make the most of these tools and trade more effectively.
Among the benefits of the analysis tools for crypto, we can name the following:
Education. Crypto analysis tools provide various educational resources comprising valuable information about the work of the crypto market and blockchain technology.
Informed decisions. With all the data and insights that crypto analysis tools provide, users can make the most informed investment decisions.
Time-Saving. Analysis tools collect data from various resources, making the research more productive and saving users time for manually gathering this information.
However, there are also some drawbacks:
Data accuracy. Though crypto analysis tools are known for the accuracy of data they provide, they still need to be improved, and some data inaccuracies can occur.
Complexity. Most analysis tools strive to deliver intuitive and user-friendly interfaces; however, some tools, especially those focused on on-chain data, can be challenging to understand and use for beginner traders.
Conclusion
Crypto analysis tools are essential for anyone in the crypto industry, be it an experienced investor or a beginner broker, helping them make informed and effective investment decisions. However, no tool would work effectively in 100% of cases and be relevant in any market. Therefore, it is important to combine the use of crypto analysis tools with thorough research.
FAQs
What are the two types of analysis in the crypto market?
Fundamental and technical analysis can be used in the crypto market.
The fundamental analysis gives a general idea of the market situation, while the technical analysis relies on historical market data to predict market behavior.
What is a cryptocurrency screener?
A screener is a tool short-term and mid-term traders use to understand the trading volumes of large participants in the crypto industry.