7 Companies at Risk of Liquidity Squeeze: What You Should Know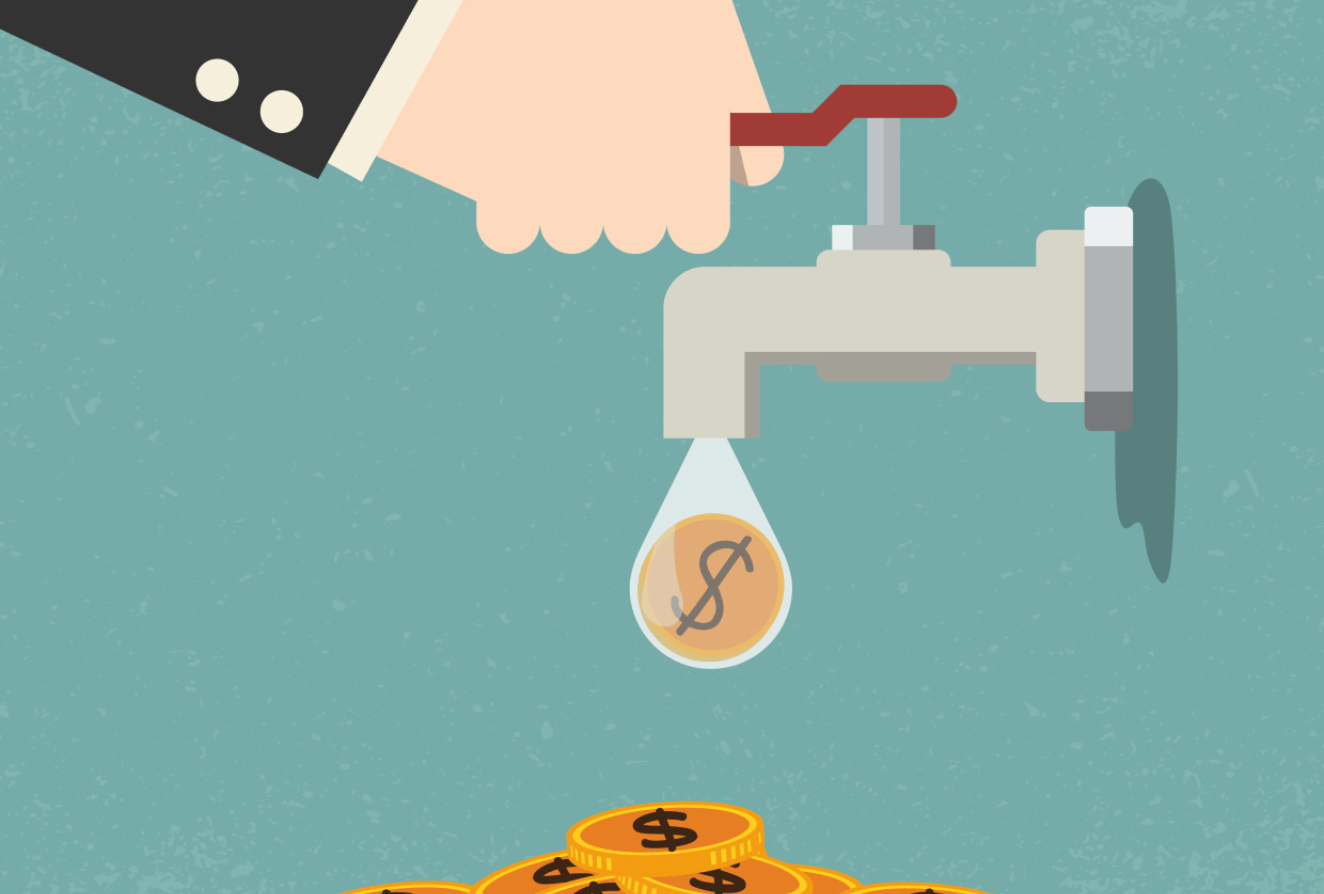 Companies with weaker balance sheets are being pressured by increased borrowing costs as interest rates rise and the credit market tightens.

Royal Caribbean Group (RCL) is an example. At the end of June, the cruise line had $5.5 billion in short-term debt but $2.1 billion in cash. Royal Caribbean recently issued $1.15 billion in convertible notes to cover some of its current debt, stretching the maturity date from 2023 to 2025. However, it has a higher interest rate - 6% vs. 4.25% and 2.875% for retired debt.

However, the company's operating cash flow went positive last quarter, and CEO Jason Liberty stated that he intends to restore the company's balance sheet to pre-pandemic levels. Despite several efforts for comment, the firm could not be reached.

The Federal Reserve has lifted its benchmark interest rates by 2.25 percentage points since March to combat inflation. This might be problematic for higher-risk issuers looking to refinance the debt or borrow more.

In a recent analysis, S&P Global rating analyst Evan Gunter said, "Not only do these issuers usually have fewer funding choices, but increased risk aversion during market volatility and quickly altering financing circumstances might worsen their refinancing risk and funding costs."

Bond issuance for junk-rated companies has already fallen 75% in the first half of 2022. According to S&P, the amount of distressed debt — junk-rated notes trading at yields ten percentage points higher than Treasuries — rose to $116 billion in July from $26 billion only two months earlier. This shows that the credit market is becoming increasingly concerned about debt repayment.

If the economy continues to deteriorate, firms' earnings may dwindle, putting more burden on their cash flow. Companies that have difficulty obtaining financing may be obliged to sell shares, therefore diluting shareholders. In the worst-case situation, a corporation may go bankrupt.

Barron's looked for firms whose cash balance had dropped by more than half in the previous year to identify those in danger of a liquidity crisis. We looked for enterprises with short-term liabilities, such as debt and fixed rent payments, that are more than their cash balance and one-year earnings combined.
Watch The Liquidity
Rising interest rates and tightening credit conditions may make it difficult for higher-risk issuers to refinance debt or borrow more.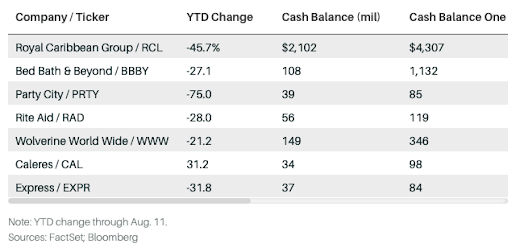 We chose seven firms to keep an eye on Royal Caribbean, Party City (PRTY), Bed Bath & Beyond (BBBY), pharmacy chain Rite Aid (RAD), fashion retailer Express (EXPR), and footwear makers Wolverine World Wide (WWW) and Caleres (CAL).

The retail industry is a source of concern. Retailers rely significantly on consumer demand and frequently lack the pricing flexibility to pass on increasing expenses to customers, according to Neha Khoda, head of the lending strategy at Bank of America Merrill Lynch.

Bed Bath & Beyond is experiencing decreasing sales and losses as consumers spend less in the face of rising prices. It doesn't help that since 2020, the corporation has spent more than $1 billion on share buybacks. Bed Bath & Beyond had $108 million in cash as of May, down from $1.1 billion the previous year.

While the majority of Bed Bath's loans do not mature until 2024, the company must pay $335 million in rent next year. Bank of America analyst Jason Haas cautioned that if vendors push for shorter payment periods, the store might face a liquidity crisis.

According to a corporate spokesman, Bed Bath & Beyond still has $1 billion available in its revolving credit arrangement. "We have already taken initiatives on several fronts," he said in an email, "including a decrease of at least $100 million in [capital expenditure] versus the company's initial plan."

As of June, Party City had $39 million in cash and $350 million in debt and rent payments due in a year. The retailer's earnings for the previous year were $95 million, a 20% decrease from the previous year.

"Despite the ongoing macroeconomic concerns affecting our company, we are satisfied with our present liquidity and believe it is adequate to manage the business," stated CFO Todd Vogensen on the most recent earnings call.

According to Vogensen, Party City has $157 million in its revolver and other levers at its disposal, such as lowering capital spending and postponing projects. It also plans to borrow $22 million from present creditors.

Rite Aid has minimal debt due until 2025, but it's $574 million in short-term lease commitments loom over the $56 million cash balance as of May. Earnings have fallen 18% year on year over the last four quarters.

"Debt reduction is a primary focus for our organization," stated CFO Matthew Schroeder during a recent earnings conference. The business is looking at other sale-leaseback possibilities for its owned stores and expects to receive profits later this year.

Rite Aid also intends to repurchase existing bonds at a discount, using up to $150 million of its $1.7 billion in revolver liquidity. According to the corporation, the move will result in some future interest savings because revolver loans have a lower interest rate.

Express, Wolverine, and Caleres all have large short-term liabilities and little cash on hand, but their profitability has improved in recent quarters. The three firms either declined to comment or did not reply to a request.

More enterprises will experience pressure if the economy enters a recession. "The longer circumstances continue this tight," says S&P's Gunter, "the higher the potential that susceptible issuers, regions, or industries would feel the pressure."