Bitcoin is Сurrently Trading Below $17,000. And This Is How Cryptos Might Get a Santa Claus Rally.

Bitcoin and other cryptocurrencies were little changed Tuesday amid sluggish trading in the 24-hour cryptocurrency world during the Christmas season. However, digital assets could see a Santa Claus rally if the stock market cooperates.
"Bitcoin seems to have found a home between $16,000 and $17,000," Edward Moya, an analyst at broker Oanda, said in a note before the weekend, and little has changed since then. The Bitcoin price has remained unchanged over the past 24 hours, around $16,850.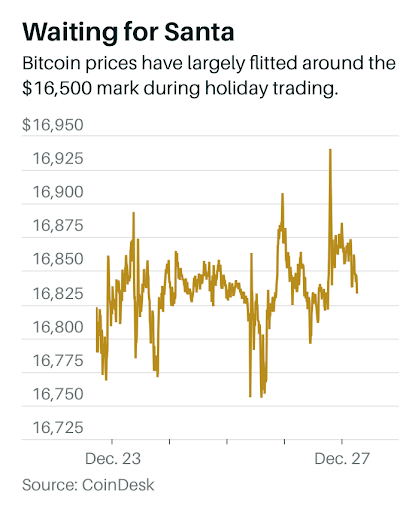 For over a week, the biggest cryptocurrency bounced between $16,500 and $17,000 as financial markets entered the seasonal slowdown. Bitcoin is now well above recent lows at $15,500, which were caused by panic selling following the bankruptcy of crypto exchange FTX last month, but it has also struggled to hold onto any short-term gains over $17,000, much less a recent brief jump above $18,000.
On the other hand, crypto traders can hope for a Santa Rally. The term refers to a spike in the US stock market that often occurs in the last five trading days of the year and the first few sessions of the new year. This year's window was open last Friday, December 23, and will close on January 4.
This year, cryptocurrency and equities have grown deeply bound, with Bitcoin largely swinging in lockstep with the Dow Jones Industrial Average and S&P 500. The gloomy macro background of high inflation, increasing interest rates, and anticipated recession risks in 2022 is to thank, or blame, for lowering demand for all risk-sensitive assets.
However, the same characteristics that have brought equities and digital tokens together are also endangering the Santa rally, with experts questioning if investors can drive stocks to a last positive spike as obstacles continue to overshadow the market.
At least on Tuesday, things were looking up. Futures on the major U.S. indexes were climbing on optimism about China relaxing Covid-19 restrictions, which have hurt global development, and data from last Friday showing that U.S. inflation has continued to decline.
Beyond Bitcoin, the second-largest cryptocurrency, Ether, was up less than 1% at $1,220. Smaller cryptos or altcoins performed better, with Cardano and Polygon both increasing by approximately 2%. Memecoins were quieter, with Dogecoin down 1% and Shiba Inu up less than 1%.