Walmart Flashes a Warning Sign to the Entire Consumer Economy
The world's largest retailer missed Wall Street expectations for profit on Tuesday and downgraded its outlook from a mid-single-digit hike to a 1% decline for full-year earnings per share. Walmart's CEO Doug McMillon said this latest bottom-line result was unexpected and reflected an "unusual" environment. Shares of Walmart dropped by over 11% on Tuesday, the biggest drop in 35 years.

Certainly, this result is unexpected, and it should send a warning to the broader consumer economy.

Historically, higher prices have been beneficial to supermarkets and consumer goods companies, as they have increased the value of their sales. Keeping their volumes stable automatically boosts same-store sales. This is exactly what occurred at Walmart: same-store sales in the United States, excluding gasoline, increased 3% year over year, above analysts' expectations of a 2% gain.

However, higher staff costs, bloated inventory levels, and increased fuel prices impacted profits. Approximately a third of the shortfall was attributed to each of these factors.

To begin with, Walmart's wage bill increased. A large number of people were hired at the end of the previous year to fill the position of staff out sick with the COVID-19's omicron strain. However, they recovered in the first half of the quarter, which meant that the retailer had several weeks of surplus labor.

Furthermore, the company sold fewer clothes and home furnishings than anticipated, although these are some of its most profitable categories. Last year's supply chain problems led to stockpiling of such items, and inventories rose nearly a third to $61.2 billion.

Lastly, it had to pay an additional $160 million for fuel in its US business, and it was unable to pass this cost onto the consumer as quickly as anticipated.

Walmart has a reputation for being budget-conscious, so these results are remarkable. The company's frugal philosophy is a major reason why it is able to charge such low prices. Walmart's struggles even with its thriftiness and scale indicate that smaller and less efficient retailers may have a tough time going forward - not least because the company's first-quarter report contained another note of caution.

As inflation takes a toll on consumer discretionary incomes, consumers' purchases are starting to change. In order to cover the increased food costs, Americans cut back on clothing and furnishings more than Walmart anticipated. Similarly, abnormally cold weather, which affected items like clothing and patio furniture, made matters worse.

There are other retailers as well who suffer from high prices. Even though Home Depot reported better-than-anticipated sales for its first quarter and saw the average amount consumers spent increase by 11%, the number of customer transactions declined by 8%.

Target Corp., which had forecast a margin of at least 8% for this year, lowered it to 6% on Wednesday. There was an increase of $1 billion in fuel and freight costs in the first quarter of the year, and the retailer stated it saw no signs of a slowdown in expense growth. During pre-market trading, the company's stock fell by over 20%.

Even though Walmart and Target face pressure, they have higher chances of weathering the storm. A significant decline in their stock price seems excessive.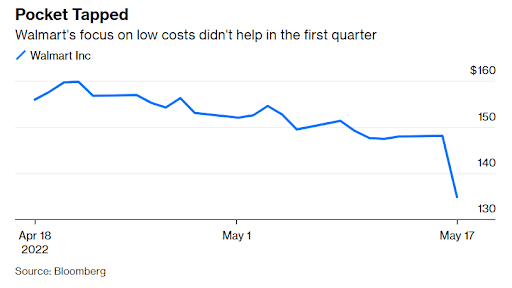 It should be possible for Walmart to eliminate its high inventory levels in the upcoming quarters. Being at the beginning of the summer season rather than at the end makes it easier to address these issues. In addition, its value-oriented approach should gain customers' attention.

It's inevitable that some consumers will trade down, or put fewer items in their baskets, while others will shift their shopping from pricier retailers to Walmart. Despite an increase in the average customer spending due to inflation, the number of transactions in stores has increased slightly as well.

While it is anticipated that Procter & Gamble Co. and Nestle SA will try to pass along their own cost increases to Walmart, Walmart's scale will allow it to have more influence over suppliers. Therefore, food prices should be managed more effectively by the company. Meanwhile, as one of the most well-run retailers in the country, Target has done many things right to help attract customers, including renovating its stores and using them as delivery hubs for online orders.

Of course, other risks exist, and one of them is the expansion of German no-frills retailers, Aldi and Lidl, into the US market, which are competing in the same field of stable, low prices.

But even if Walmart and Target are being affected by the stretched consumer, other retailers will be faced with a lot more challenges.