How Many Days a Year the Stock Market Is Up? – An Investor's Guide to Long-Term Success
Amidst recent market fluctuations, it is natural for investors to feel uncertain about the future. While it may be tempting to react to short-term swings, it is essential to remember that the stock market is a long-term game that requires patience and discipline.
In this article, we will explore the historical performance of the financial markets, how market cycles are changing, and why it is important to stay the course in long-term investing.
Key Takeaways:
There are only 54% of trading days in which the stock market experiences gains.
Trying to predict whether a month will be profitable or not is often a fruitless endeavor.
To make long-term profits, stay the course and invest early and consistently.
The Long-Term Trend of the Stock Market
When we examine the long history of stock markets, one thing becomes clear: markets go up over time. Despite the ups and downs along the way, investing in the stock market for the long term has proven to be a lucrative strategy for building wealth. But how does it work?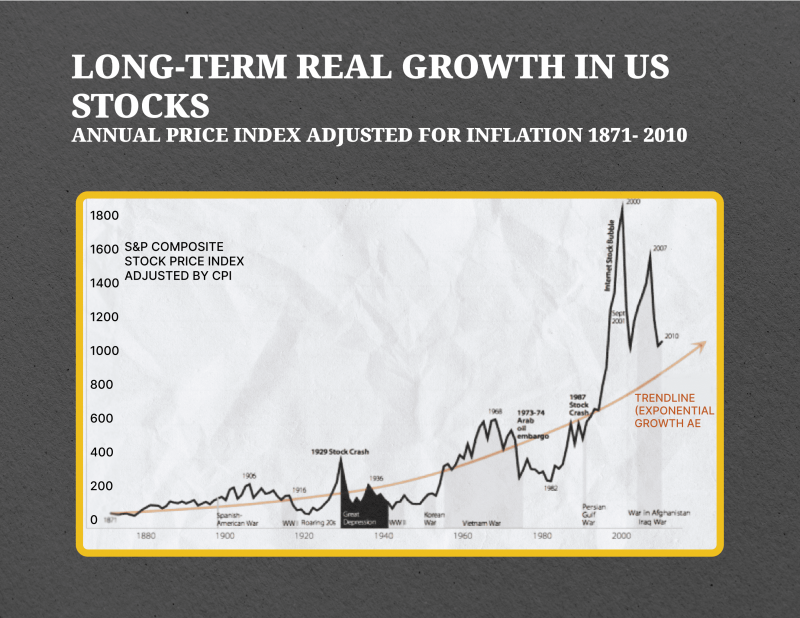 Imagine if you had invested $100 in stocks 100 years ago. Today, that initial investment would be worth over $2 million. This staggering growth is a result of the power of compounding. As your investments generate returns, those returns are reinvested, leading to exponential growth over time.
Monthly Performance
But what is the percentage of trading days when the stock market is up? While the long-term trend of the stock market is upward, it's important to remember that not every day is positive. In fact, only about 54.1% of the days a year stock markets experienced gains. Further, 65% of the month is a positive month for stocks.

This means that there will be periods of turbulence and fluctuation along the way. However, trying to time the market and predict when these ups and downs will occur is nearly impossible.
The Pitfalls of Market Timing
Trying to predict which months will yield positive returns and which months will result in losses is often a futile exercise. In fact, most professionals fail when they try to time the market. A Dow Jones report, for instance, showed that less than 10% of actively managed index funds in the U.S. were able to outperform the index over a 20-year period.
Prices are driven by a variety of factors, such as economic conditions, political events, and investor sentiment, which can all fluctuate drastically over a relatively short period of time. Trying to predict when these ups and downs will occur is extremely difficult.
Economic and Market Cycles
Economic cycles are a natural part of any economy, and they can vary in length from as short as 28 months to over 10 years, as various economic research show. These cycles are characterized by periods of expansion, where the economy grows and prospers, and periods of contraction, where the economy contracts and experiences a downturn.
Similarly, stock market cycles also exist, and they often anticipate economic cycles by about 6-12 months on average. Theoretically, this even means that stock indexes can provide insights into the future direction of the economy.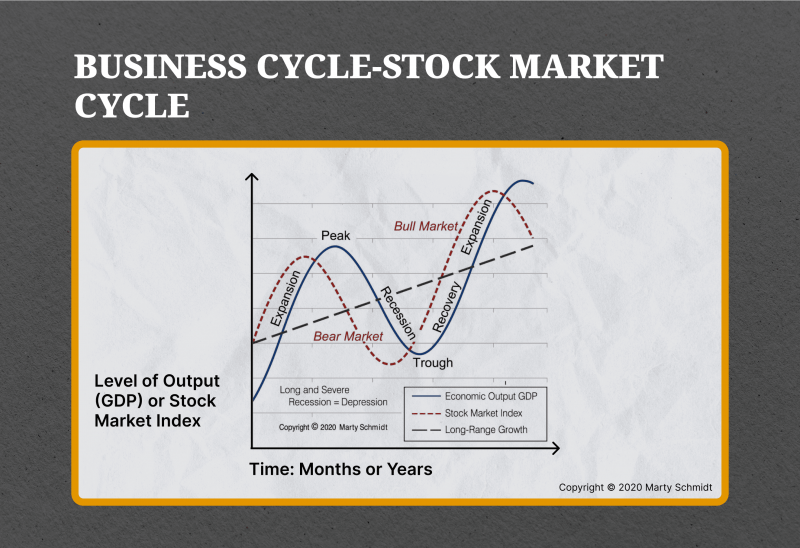 During an economic expansion, stock prices tend to rise as companies experience growth and profitability. On the other hand, during a contraction or recession, prices tend to fall as companies face challenges and uncertainties.
While economic and market cycles are familiar concepts, it is worth noting that their duration and timing can vary. Factors such as government policies, rising interest rates, global events, and technological advancements can influence the length and timing of these cycles.
Historical Examples of Market Performance
To gain a deeper understanding of the market's historical growth, let's examine some notable events and their impact:
The Dot-Com Bubble
In the late 1990s, there was a significant surge in technology stocks, leading to the infamous Dot-Com Bubble. Many investors were caught up in the hype and poured their money into internet-based companies with little regard for their underlying value. However, the bubble eventually burst, resulting in a sharp decline in stock values. Despite this setback, the market eventually recovered, and those who stayed invested were able to benefit from subsequent growth and a new bull market.
The Global Financial Crisis
The Global Financial Crisis of 2008 was another major event that affected the markets. The collapse of Lehman Brothers and the subsequent financial turmoil caused widespread panic among investors. Stock prices plummeted, and many individuals experienced significant losses. However, by staying the course and remaining invested, those who weathered the storm were eventually able to recover their losses as the financial sector gradually rebounded.
The COVID-19 Pandemic
Most recently, the outbreak of the COVID-19 pandemic has caused unprecedented turmoil on Wall Street. The rapid spread of the virus and the subsequent lockdown measures imposed by governments worldwide led to a sharp decline in equity prices. However, it is important to remember that every bear market has historically shown resilience and has recovered from previous crises. While it is impossible to predict the exact timeframe for recovery, maintaining a long-term perspective is crucial during such challenging times.
How to Invest to Stay Profitable in a Long-Term
So, what is the advice for making profits by investing in the long run?
Stay the Course
While we cannot accurately predict what will happen to prices of equities in the coming months or even years, the key to successful investing lies in staying the course.
To fully capitalize on the market's upward trajectory, it is crucial to stay focused on the long term and ignore the temptation to make impulsive decisions based on short-term fluctuations. Holding investments for decades and maintaining a well-diversified investment portfolio can greatly increase the chances of investors building substantial wealth.
Don't Go Over Your Budget
Adopting a budget-conscious lifestyle and spending less than what an individual earns is a wise decision. A portion of one's income can be allocated to investments, creating a solid financial foundation for the future. Making conscious spending decisions and prioritizing needs over wants can help investors save more and contribute more to investments.
Invest Early and Regularly
Investing early and often is a fundamental aspect of wealth creation. The power of compounding allows investments to grow exponentially over time. Start investing as early as possible so that you can take full advantage of this compounding effect, and do it regularly, whether it be through a retirement account or a brokerage account.
The Benefits of Long-Term Investing
Investing in the stocks for the long term offers several advantages:
Compounding Returns: By reinvesting dividends and allowing your investments to grow over time, you can take advantage of compounding returns. This means that your investment gains generate further gains, leading to exponential growth over the long term.
Time to Ride Out Market Volatility: Short-term price fluctuations can be unsettling, but by investing for the long term, you have the opportunity to ride out these ups and downs. Over time, the upward trajectory of the market tends to smooth out short-term turbulence.
How to Deal with Emotions When Investing
When it comes to investing, emotions can play a significant role in decision-making. Various studies and research have shown that emotional biases can affect financial decisions, leading to irrational behavior and potentially poor outcomes, especially during market downturns.
According to the MagnifyMoney survey, 66% of investors have made an impulsive or emotionally charged investing decision they later regretted.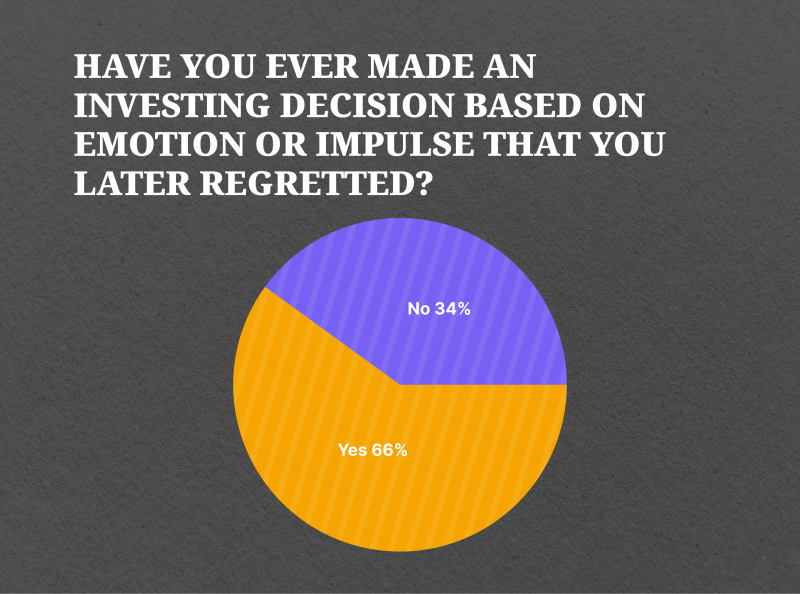 Emotions such as fear and greed can cloud judgment and lead investors to make impulsive or ill-informed choices. So, how do you deal with your emotions when investing?
Be Aware That Emotions Can Influence Your Results
Emotions play a significant role in decision-making, oftentimes unconsciously. People tend to rely on their emotions when making decisions instead of taking a deliberate and analytical approach. This may work for simple, low-stakes everyday decisions, but it may not be the most effective strategy for long-term investing.
While "going with your gut" may sometimes lead to favorable outcomes, it is essential to understand that relying solely on intuition can be risky. Gut feelings are influenced by our emotions, and they may not always align with rational analysis or market realities.
Practice Mindfulness in Times of Market Instability
In times of turmoil, it's easy to let emotions take over and make impulsive decisions. However, if you practice mindfulness, you can improve your financial decision-making skills and better manage your emotions.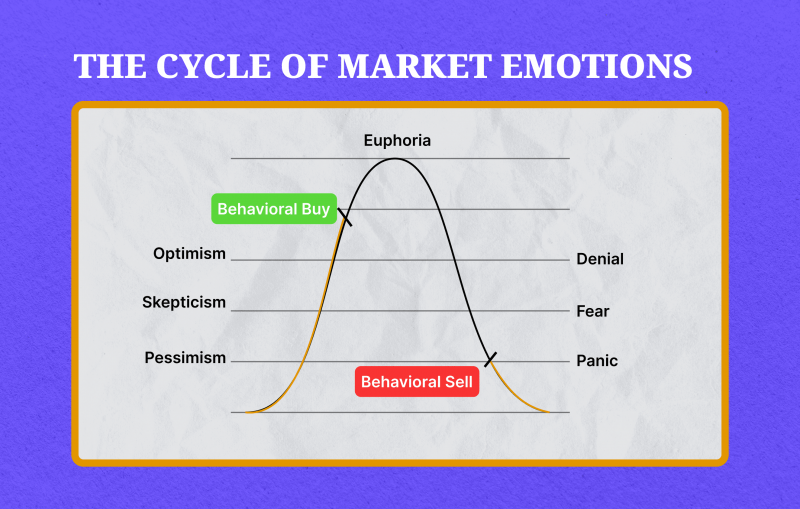 Mindfulness is all about being present in the moment and reflecting on the here and now. This can take many forms, such as meditating, practicing gratitude, or refocusing on long-term goals. By taking a pause and questioning your emotional impulses, you can gain a better understanding of the underlying reasons behind your decisions. This practice acts as a circuit-breaker, helping you avoid making rash decisions and leading to more favorable outcomes.
Additionally, developing mindfulness can also help to cultivate discipline when it comes to financial decision-making and better manage emotions during volatile markets.
5 Things to Know Before the Stock Market Opens
Before engaging in any kind of investing activities, it is essential to be well-informed and prepared. Here are 5 things to know before the stock market opens today: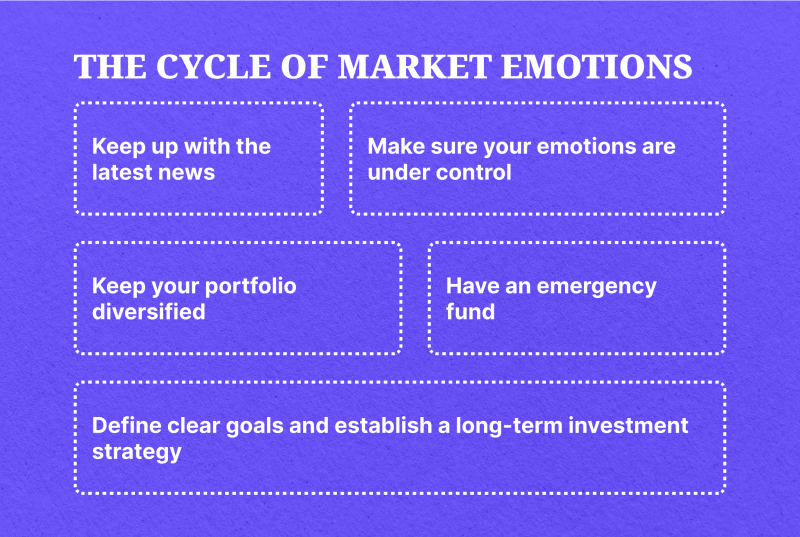 Stay Informed: Keep up with the latest news and updates related to the market. Understanding current events and financial trends can help inform sound decisions.
Set Clear Goals: Define clear goals and establish a long-term investment strategy that aligns with those goals. This will help guide decision-making and prevent impulsive actions based on short-term fluctuations.
Keep Your Portfolio Diversified: Spread assets among a variety of industries and asset classes to reduce risk. Diversification helps protect against the impact of individual stock or sector-specific downturns.
Keep an Emergency Fund: Maintain an emergency fund separate from your portfolio. As a rule of thumb, the emergency fund shough cover at least three to six months' worth of living expenses and act as a safety net during unforeseen circumstances.
Make Sure Your Emotions are Under Control: Avoid making emotional decisions when it comes to investing. Don't invest based on speculation or gut feelings. Always do your research and evaluate your decisions before making them .
Conclusion
The stock market has a long history of going up over time despite short-term fluctuations. The key to financial success is to adopt a long-term mindset, remain invested, and follow investor's key principles. Remember to keep your eyes on the long-term picture and ignore the noise of short-term price swings. Monitor your portfolio regularly and adjust accordingly to make sure you're on track.
Disclaimer: This article does not constitute financial advice, and readers should conduct their own research and seek professional guidance on financial matters.
FAQ
Is it worth investing a small amount of money?
Investing with a small amount of money is totally worth it. Small investments can add up to substantial financial gains over time, even if they are made regularly. For example, investing just $20 a week for 30 years at an average return rate of 8% (which is the average rate that the S&P 500 has returned over the past 30 years) can result in a nest egg of over $130,000.
How much profit should I expect when investing in financial markets?
The amount of profit one can expect from investing will depend on multiple factors, such as the type of investments made, the amount of money invested, the time frame, current interest rates, and the overall market conditions on a specific trading day. Generally, the more money that is invested and the longer the investment is held, the higher the potential total return.
Over the last 20 years, the average annual percentage return for the S&P 500 has been around 5% to 6%. However, there have been years with much higher returns and others with significantly lower ones. While this historical data of past performance can provide some indication of what's to come, it's essential to understand that future performance is by no means guaranteed. Therefore, investors should approach their expectations for returns with caution and a realistic understanding of the volatility of the market.
Can alternative investments, such as cryptocurrency, be a good investment?
While cryptocurrency can offer potential returns, keep in mind that it is a highly volatile and risky asset. Cryptocurrency is not backed by any government or central bank, and its value can fluctuate drastically and without warning. Crypto may be a valuable option for day trading, which is a different approach to profiting from the market. Instead, it will be better to focus on increasing contributions to low-cost mutual funds and prioritizing saving money.
While alternative investments may seem appealing, investors should be aware of the potential risks and stick to a stable and proven strategy for long-term success.
Also, if you are considering investing in cryptocurrencies, check this article.
How can I protect my long-term investments from market volatility?
One way to protect long-term investments from peaks and valleys is to diversify the portfolio. This means investing in different asset classes such as growth and value stocks, bonds, real estate, mutual funds, and ETFs. Diversifying helps to spread out the risk and can help mitigate losses from any one asset class.
Additionally, it can be helpful to invest in low-cost index funds, which track a specific index, such as the S&P 500. This helps to provide exposure to the broad stock market with less risk than investing in individual stocks.
Lastly, investing should be done with a long-term perspective in order to avoid committing mistakes based on short-term fluctuations.