Is IUL a Good Investment Strategy? — A Guide for Beginner Investors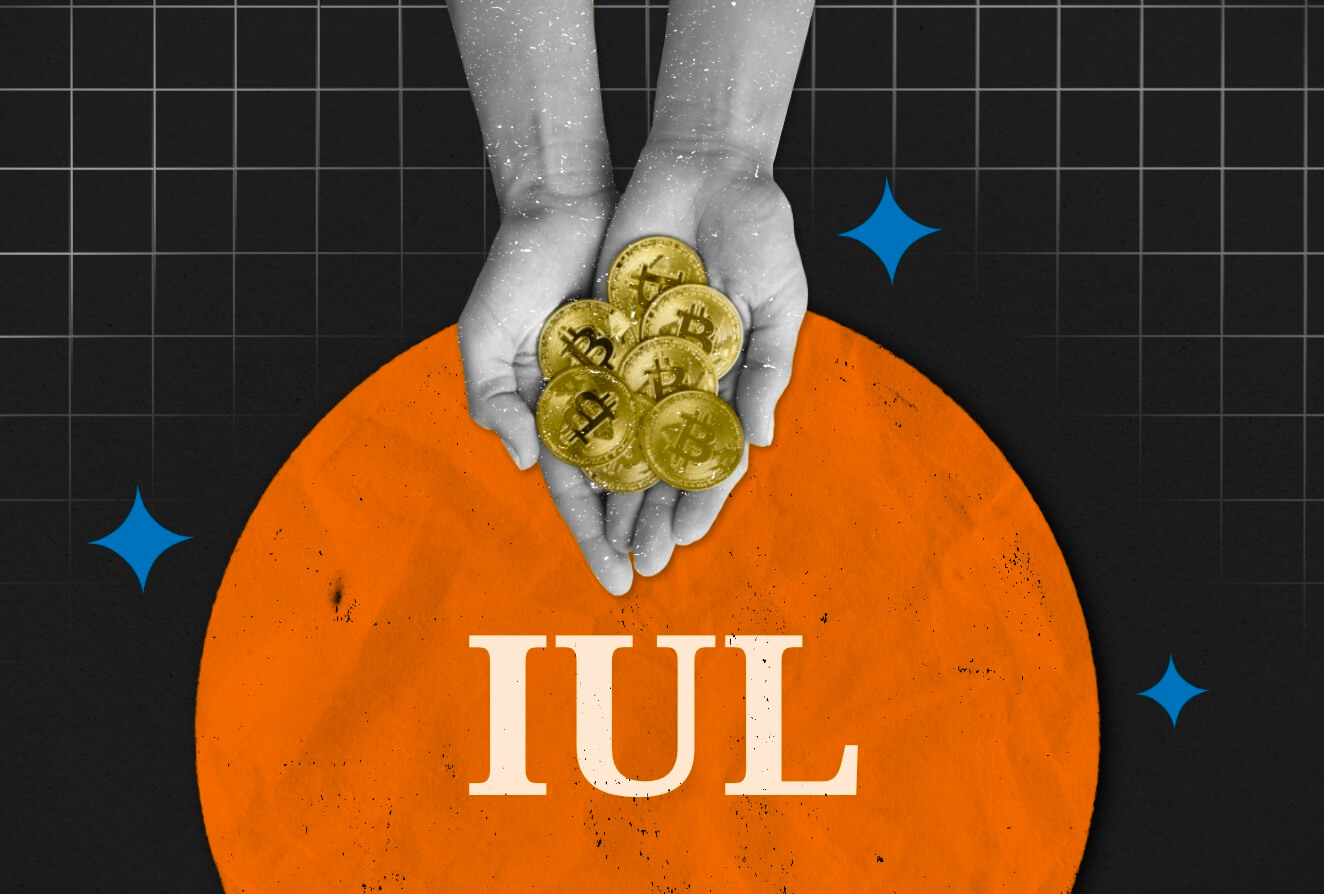 Funding retirement, saving for college tuition, and building wealth are important goals for many households. Investing in Indexed Universal Life (IUL) insurance can be a great way to help reach these objectives while also providing death benefit protection and tax advantages.
However, there is still confusion among those unfamiliar with the concept of IUL, as with any complex financial product. This guide will provide a brief overview of IUL, dispel common misconceptions, and help explain the potential benefits and risks associated with investing in IUL policies.
Key Takeaways:
IUL insurance policy provides a unique financial solution that combines the security of life insurance with the potential for market-related growth.
It is important to understand the associated fees and costs of IUL policies, as well as their potential volatility and limits on returns.
An IUL insurance policy can be a great choice for investors seeking higher potential returns, but it is important to consider the associated risks and costs before making an investment.
What is Indexed Universal Life Insurance?
Indexed Universal Life insurance (IUL) combines the benefits of a life insurance policy with an investment account, offering a comprehensive financial solution.
When you make premium payments, a portion of the payment goes towards the death benefit, ensuring the protection of your loved ones in the unfortunate event of your passing. Simultaneously, another portion of the payment is allocated to an investment account that provides tax advantages, allowing your money to grow more efficiently.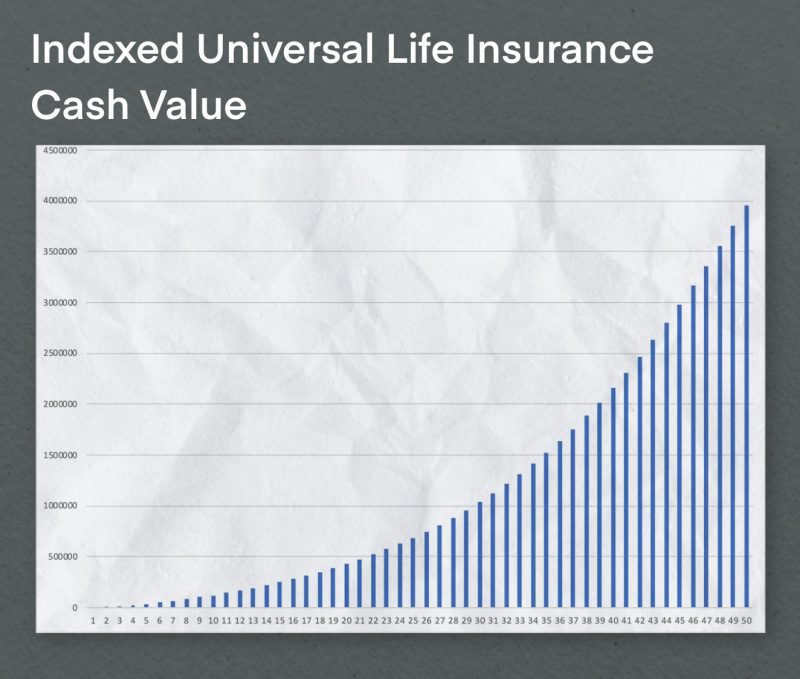 Market Opportunities
The investment account associated with IUL policies is linked to market indices such as the S&P 500 or Dow Jones Industrial Average, giving you exposure to the potential growth of these indices. While direct investment in these indices is not possible, IUL policies are designed to align the value of your investments with the performance of the market. This means that as the market thrives, your investments have the potential to grow in tandem, offering you the opportunity to build wealth over time.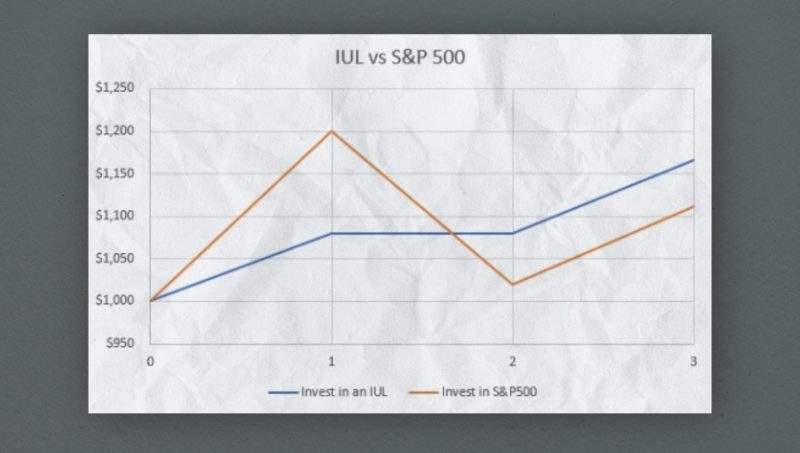 It is important to understand that, with an IUL policy, you're not directly investing in the stock market. Instead, your return is tied to the performance of a market index, which offers potential growth opportunities. This unique policy structure allows for a balance between the security of a life insurance policy and the potential for market-related gains.
Limitations of IUL
IUL insurance usually comes with caps and floors. A cap represents the maximum amount you can earn, while a floor signifies the minimum.
Let's say you have an account with a cap of 10% and a floor of 1%. This means that in any given year, even if the market performs exceptionally well and returns a higher value, the most you can earn is limited to 10%.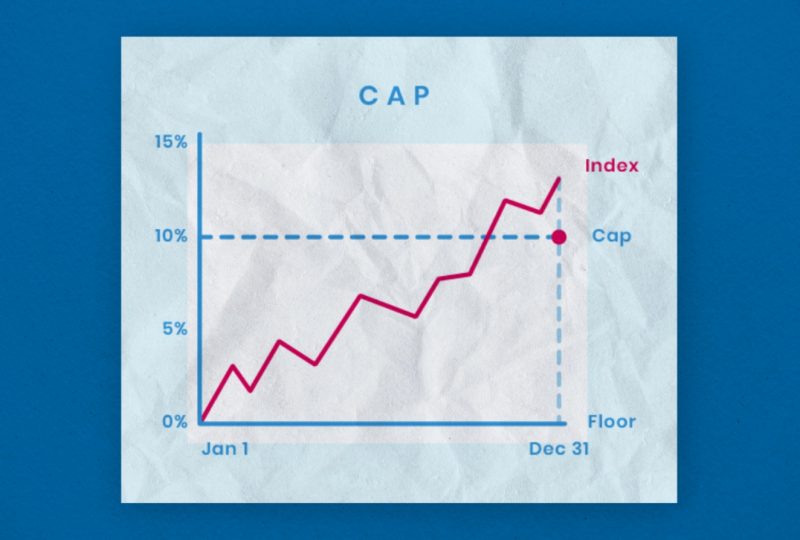 Conversely, with a floor of 1%, if the market experiences losses, you will still earn 1% – a modest amount, but certainly better than losing money altogether. These caps and floors provide a level of stability and protection, ensuring that your earnings are not overly influenced by market volatility.
IUL vs. Other Policies
In general, IUL insurance policies provide a variety of advantages that make them an appealing choice for specific groups of individuals. Despite requiring higher premiums and carrying certain risks, the potential returns and distinctive features they offer often justify the investment.
In comparison to other life insurance policies, such as whole life and traditional universal life, investors can benefit from higher return rates. This means that by choosing this particular policy, individuals have the potential to receive greater financial gains over time, enhancing their overall investment portfolio and providing a secure future.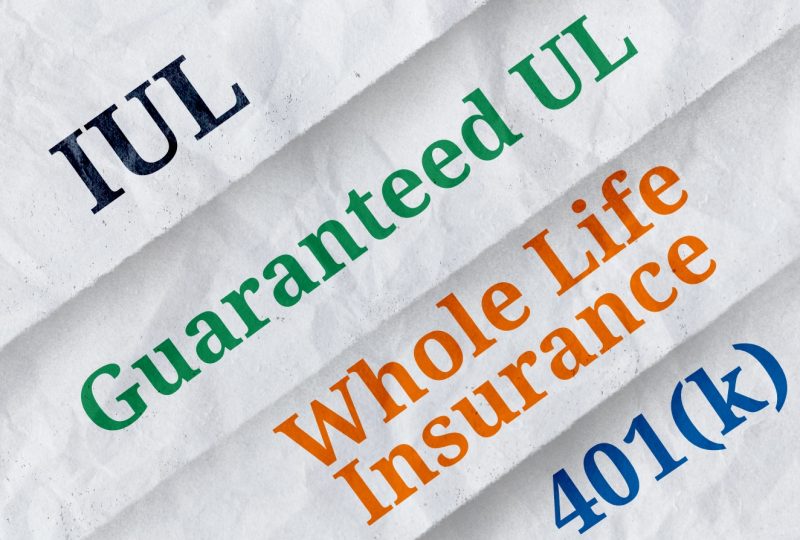 However, it's important to note that this investment strategy may not be suitable for everyone. The combination of high premiums, additional fees, and potential volatility in indexed policies can make it challenging to maintain such a policy over the long term. Additionally, there is a risk of losing the invested money if the policy lapses or is cancelled prematurely.
While an indexed policy may provide security and steady growth for those who prioritise it, individuals with a higher risk tolerance may find a greater potential for returns by diversifying their investments across various asset classes, such as stocks and bonds.
What Are the Benefits of IUL as an Investment Strategy?
IUL policies provide a unique financial solution that combines the security of life insurance with the potential for market-related growth. Here are some of the key benefits of investing in an IUL policy: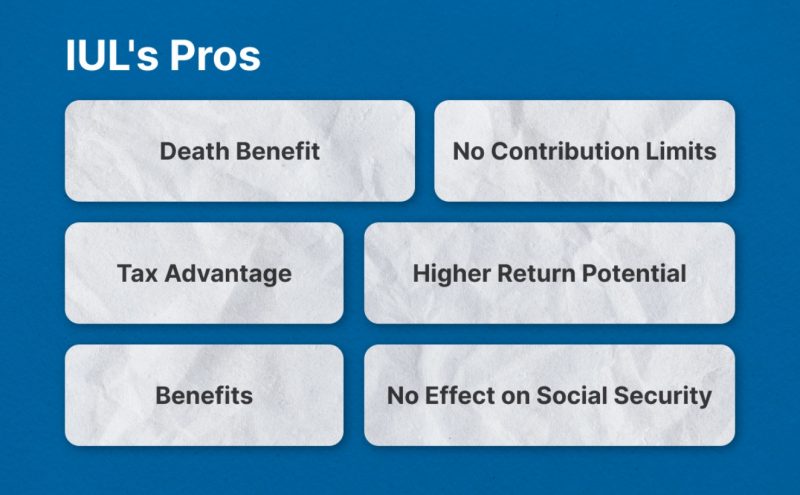 Death Benefit
Indexed Universal Life policies provide a distinct advantage compared to traditional retirement products like stocks or mutual funds – the inclusion of a death benefit. This unique feature not only allows you to accumulate cash value over time but also provides financial security and peace of mind for your loved ones in the event of your passing. It offers a safety net to cover funeral expenses and support your family during a challenging time.
Tax Advantage
IUL policies offer an array of benefits, with one of the most appealing being their tax advantages. In IUL policies, withdrawals and loans from the cash value account are completely tax-free. This means that any amount you take out or borrow won't be subjected to taxes. It's a significant advantage that makes IUL policies stand out.
By utilising the cash value account, you can enhance your retirement income without the worry of taxes eating into your funds. Even if you choose not to repay the loan, it won't affect the death benefit. This flexibility allows you to focus on your primary goal of boosting your retirement savings.
In contrast, withdrawing from your 401K or IRA account to supplement your retirement income would subject you to long-term capital gains tax. Depending on your income at the time of withdrawal, this tax rate can range from 15% to 30%. Opting for an IUL policy enables you to avoid these tax implications and maximise your retirement savings.
No Contribution Limits
When it comes to retirement planning, it's important to be aware of the IRS-imposed contribution limits for different retirement accounts such as 401(k), IRA, and Roth IRA. In 2023, the maximum contribution for an IRA or Roth IRA is set at $6,000 ($7,000 for individuals aged 50 and above).
In contrast, an IUL insurance policy offers a unique advantage: it has no contribution limits. As long as it stays a non-MEC (Modified Endowment Contract), you can contribute as much money as you desire. This feature makes IUL an exceptional option for high-income earners who have reached their maximum contributions to other policies, allowing them to enhance their retirement savings strategy to the fullest extent.
Higher Return Potential
IUL policies offer investors a moderate level of market exposure with the potential to earn higher returns. The return rates depend on the performance of the chosen index, but they often range between 4-7%.
Also, these policies employ call options to capture potential gains from equity indexes, protecting against losses. In contrast, whole life insurance policies and guaranteed universal life insurance policies offer a paltry interest rate that may not even be assured. It is worth noting that the annual return of an IUL insurance policy depends on the index that underlies it. Still, you can still receive a guaranteed minimum return from your insurance institution even when the markets are down, which provides you additional peace of mind and stability.
No Effect on Social Security Benefits
Retirement planning usually involves making informed decisions about Social Security benefits, which can often be complicated. When it comes to IUL insurance policies, the money you contribute is not subject to taxes when you withdraw it. This means that it doesn't affect your Social Security benefits since they are based on taxable income.
Depending on your financial situation, a substantial portion of your Social Security benefit, up to 85%, may be subject to taxation. Specifically, if you file as an individual and your earnings surpass $34,000 (based on your adjusted gross income or AGI), 85% of your benefits will be taxable. However, it's important to note that the cash value obtained from an Indexed Universal Life insurance policy does not factor into your AGI. This exemption can provide some relief and potentially decrease the taxable part of your Social Security benefit.
What Are the Potential Risks of Investing in IUL?
Investing in IUL insurance policies can be a great option for many people, but there are some potential risks associated with it. Some of the key ones include: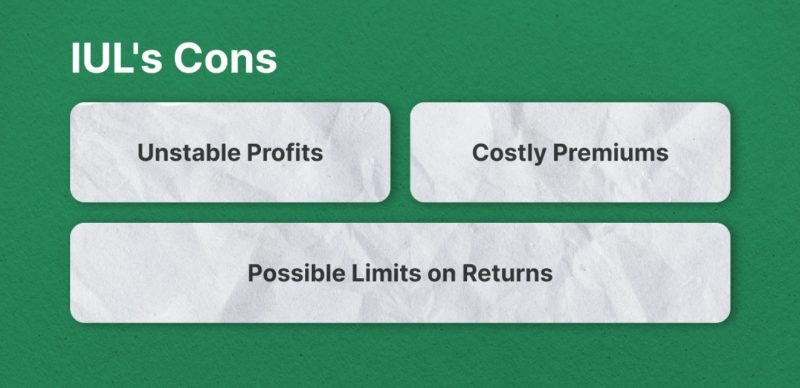 Costly Premiums
Basically, the premiums you pay towards your IUL policy have to cover both life insurance and the index-linked feature. These features make an IUL policy attractive but can be quite costly compared to other traditional investment options. Also, the premiums are fixed and non-refundable. If your current financial situation prevents you from paying them, it may impact your ability to benefit from the policy in the future.
It's crucial for policyholders to have a comprehensive understanding of the associated fees and costs of IUL. These can include premium expense charges, administrative expenses, riders, fees, commissions, and even surrender charges. Taking the time to thoroughly comprehend these costs before investing in an IUL insurance policy will empower you to make informed decisions and ensure your financial security in the long run.
Volatility
Investing in an indexed universal life policy offers potential growth, but it's important to acknowledge the associated market risks. While call options can provide protection against losses, they also limit your potential upside.
Furthermore, the performance of the selected index fund is generally not assured and can be influenced by market volatility. Consequently, if the index experiences a significant decline, the amount of money credited to your policy will also decrease.
Different indexes present varying return potentials, accompanied by differing levels of risk. Therefore, it is crucial to thoroughly assess the policy and comprehend the index's mechanics. Additionally, diversifying your portfolio with other investments is a prudent move as it aids in mitigating losses resulting from market volatility.
Possible Limits on Returns
One of the main benefits of IUL policies is their ability to offer higher returns than other traditional life insurance products. However, life insurance companies usually impose a cap on the possible returns. This means that if the index you have chosen performs exceptionally, you may not be able to benefit from it fully.
For example, a company may choose to limit the annual rate of return to 10% for its clients, even if the underlying index or market conditions have the potential to yield higher returns.
Given the circumstances, you might find it more advantageous to invest directly in the market or explore a variable universal life insurance policy. However, it's crucial to evaluate your own risk tolerance and investment objectives to ensure that either option aligns with your overall strategy.
Is Investing in IUL Right for You?
After thoroughly evaluating the aforementioned benefits, it is crucial to acknowledge that in specific scenarios, an Indexed Universal Life insurance policy might not be the optimal retirement investment strategy. Particularly, if you are in a situation where financial protection for your loved ones is not needed, meaning that no one depends on you financially, then contemplating IUL or any life insurance product might be unnecessary.
If you don't have any financial dependents, it's wise to prioritise investing in a Roth IRA account or even a retirement-focused investment brokerage account. By consistently saving and investing, you can pave the way for a financially secure future.
However, if you're in search of a smart strategy to supplement your retirement income tax-free while also ensuring permanent life insurance coverage, you might want to consider an IUL policy. With its unique cash value component, an IUL policy can provide you with an additional financial cushion, working in harmony with your Social Security benefits to help you achieve a secure and comfortable retirement.
By harnessing the potential for growth in the indexed accounts, an IUL policy offers flexibility and the opportunity to accumulate wealth over time, giving you peace of mind as you plan for the future.
FAQ
Is an IUL policy tax-deductible?
In most cases, no. An IUL policy is not tax-deductible when structured as an individual investment vehicle. However, it is important to note that some employers may offer an IUL policy within a workplace retirement plan, such as a 401(k), which could potentially make it tax-deductible in certain instances. It is always advisable to consult with a financial advisor or tax professional to understand the specific tax implications and benefits associated with an IUL policy in your unique situation.
Are there any additional fees for owning an IUL policy?
Indeed, when comparing IUL policies to other investment options and markets like stock market or mutual funds, it becomes apparent that IUL policies typically incur greater ongoing costs. One of the primary fees associated with IUL policies is known as a "mortality and expense" fee. This annual fee compensates the insurance company for its risk in investing on your behalf, as well as other administrative costs it incurs. In addition to this, there may also be surrender charges (if you decide to cancel your policy within a certain timeframe) as well as policy premium fees.
Can an investor make withdrawals from their IUL policy?
Yes. As long as you do not exceed the maximum withdrawal limit set by your insurance company, you can make withdrawals from an IUL policy without any taxes on those funds.
Can an investor use their IUL policy as collateral for a loan?
Yes, depending on the specific IUL policy and insurance provider. Most insurers allow their customers to borrow from their IUL policies, although this will incur additional fees and interest charges. It is important to keep in mind that taking a loan against an IUL policy may reduce the death benefit, so it should be done with caution.