Top Rising NFT Artists to Watch Out for in 2023 And Beyond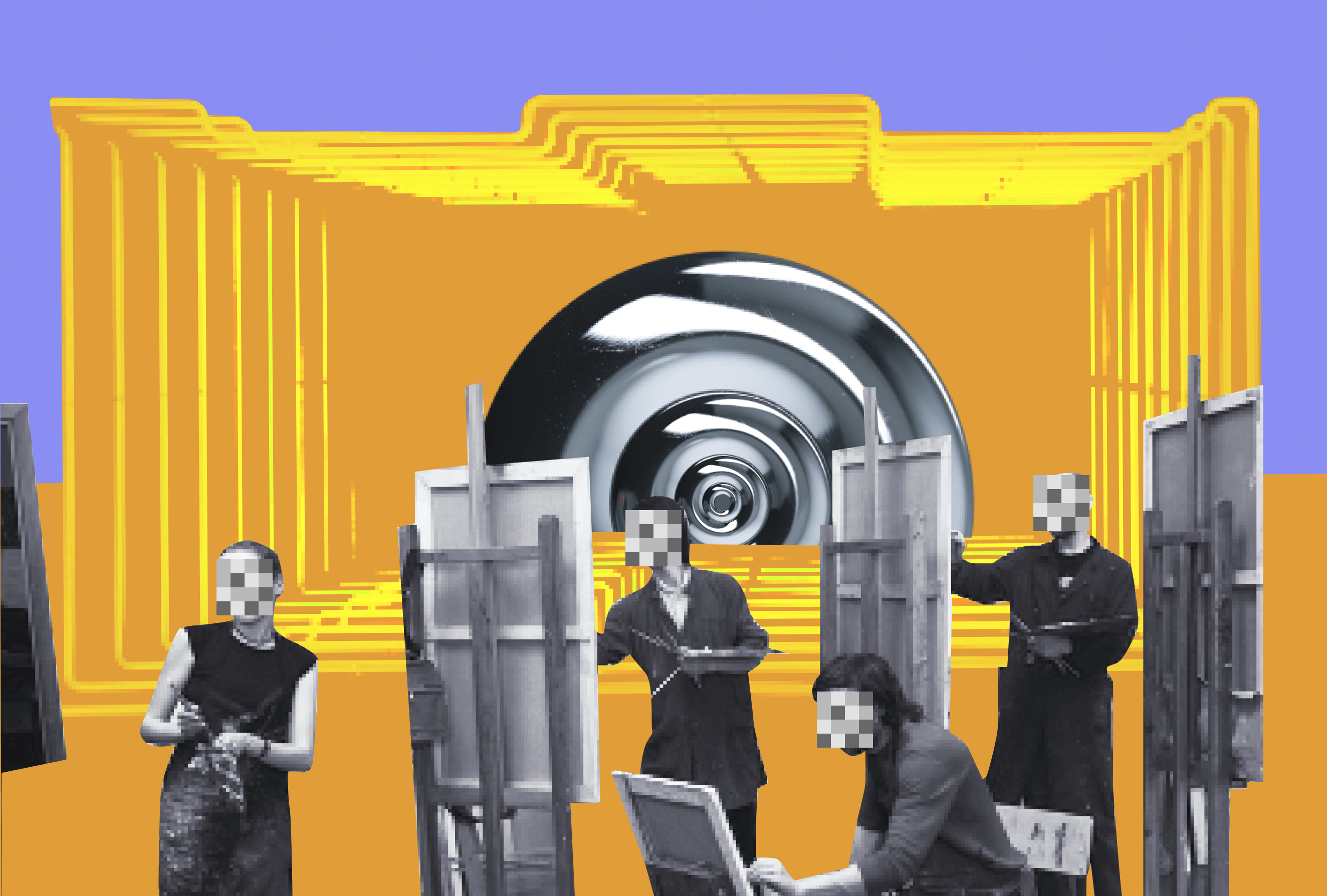 The NFT (Non-Fungible Token) market has been experiencing a tremendous surge in popularity in 2022, with artists from various backgrounds embracing this new form of digital art. Currently, it is estimated that there are over 10,000 active wallets engaged in NFT transactions every day, with over 6,000 unique buyers involved.
As we enter 2023, the NFT market continues to surprise and inspire, with a wave of talented artists making their mark. In this article, we will explore the top rising NFT artists to watch out for in 2023 and beyond.
Listed in no particular order, some of these artists sometimes go unnoticed, yet they have all contributed greatly to Web3 space culture and should be recognised.
Key Takeaways:
NFTs are unique assets that represent art, physical objects, etc.
NFTs become increasingly popular, with more and more artists joining the space every day.
Rising NFT artists have the potential to become household names, and they have already created some impressive works.
To trade NFTs, you need to create a cryptocurrency wallet and then connect it to one of the many NFT trading platforms.
Ed Balloon: A Multi-Talented Player in the NFT World
Ed Balloon is a multidisciplinary artist who fuses digital art, music, animation, and community leadership to create unforgettable NFT projects. In 2022, Balloon's Run Ed collection stood out as a generative sound and motion project that blended various animation techniques and music.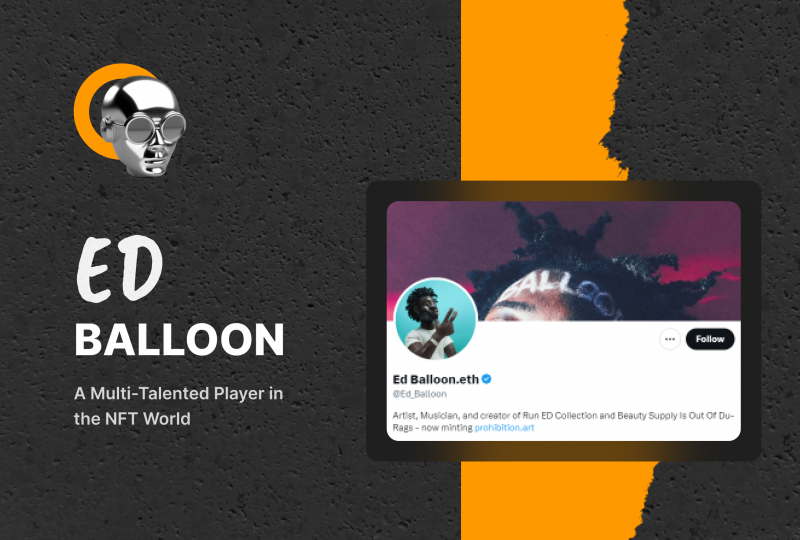 What sets Ed Balloon apart is his commitment to uplifting other artists. As a founder and artist of colour, Ed dedicates a significant portion of his secondary sales to The Ed Balloon Generational Wealth Fund, which he uses to buy NFTs from other under-represented artists, providing them with crucial exposure and opportunities.
Sasha Stiles: The Poet and AI Researcher
Sasha Stiles is an artist who pushes the boundaries of what NFT art can be. In 2022, she sold a poem at Christie's, showcasing her ability to merge traditional forms of art with the future of technology and expression.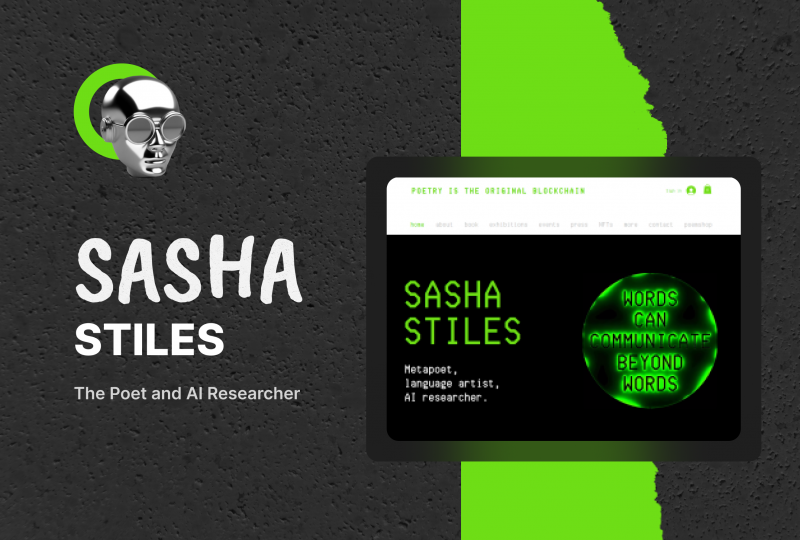 Stiles' work challenges the perception of art in the digital age and encourages viewers to think critically about the value and meaning behind NFTs. She has created numerous NFT projects that experiment with natural language processing and blockchain poetics, such as Poemshop (a generative poetry platform), Metapoet (a metafictional character), The Verseverse (a crypto literary collective), BINA48 (a humanoid AI robot), among others.
Daniel Isles (Dirty Robot): The Neo-Precisionist
Daniel Isles, also known as Dirty Robot, is an independent illustrator and comic artist whose Renga project dominated the PFP (Profile Picture) market in 2022. Isles created a new archetype for large-scale avatars with his unique and captivating artwork.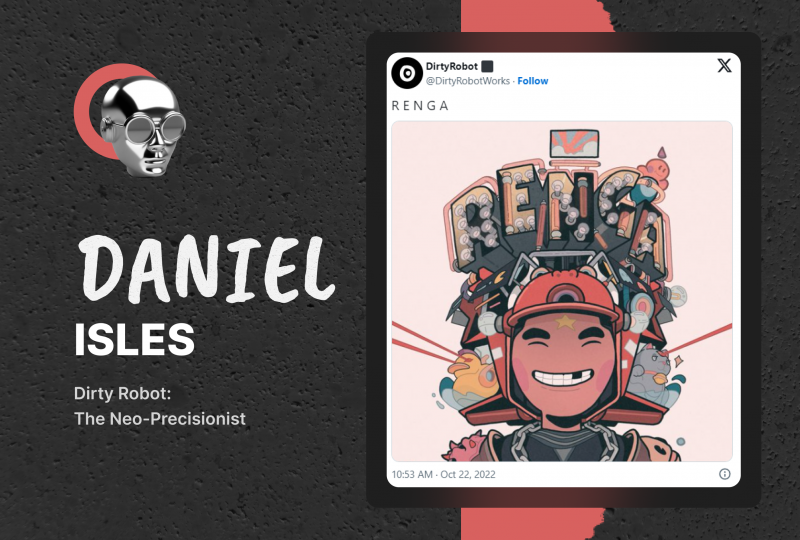 This artist creates mesmerising NFT art inspired by sci-fi, cyberpunk, anime, and street culture. The success of Renga propelled him to the forefront of the NFT space, and his 1/1s continued to garner significant sales throughout the year.
Markus Magnusson: The Whimsical Animator
Markus Magnusson, also known as Motion Markus, is a digital artist and animator whose clean and slick animation style has garnered a large following. He gained recognition in the space with his Invisible Friends collection, a series of NFTs featuring invisible characters wearing various outfits and accessories.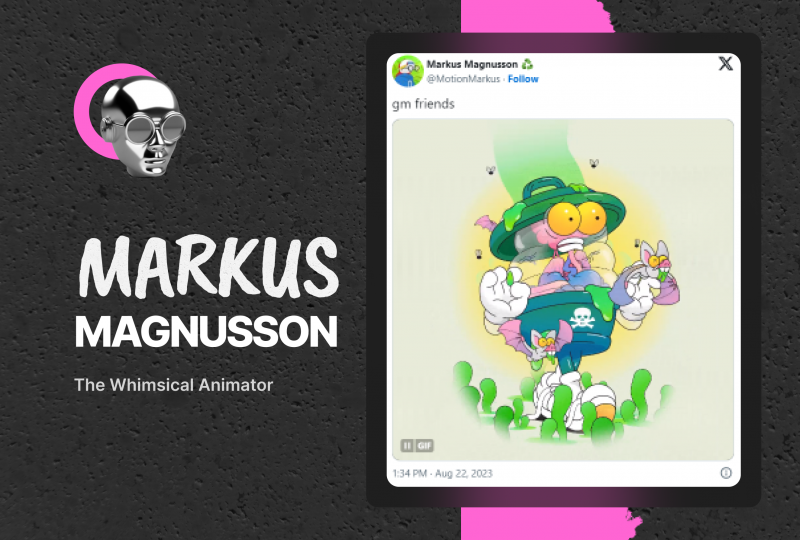 Magnusson's recent project, Garbage Friends, also became popular and further solidified his influence in the PFP NFT market. With his unique animation style and ability to create engaging characters, Markus Magnusson is among rising NFT artists to watch in 2023 and beyond.
Cath Simard: Bridging the Gap Between Art and the Environment
Cath Simard is a talented wilderness photographer and digital artist known for her composite images and advocacy for fair compensation and recognition for artists. In 2022, Simard made history by releasing the rights to her image, #freehawaiiphoto, after its 1/1 NFT sale on the blockchain.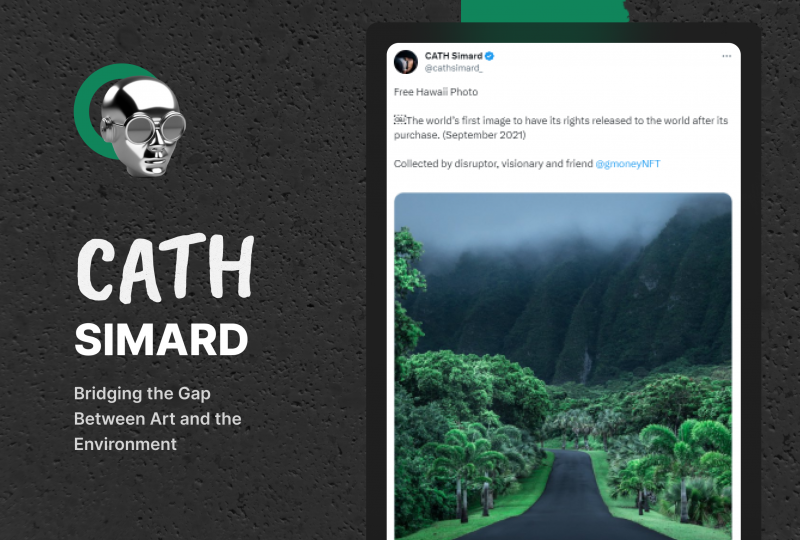 She has also used her art to raise awareness about environmental issues. Through auction sales at prestigious institutions such as Sotheby's and Christie's, Cath Simard's work continues to make a profound impact on the NFT's art industry.
Iman Europe: Empowering the Web3 Music Scene
Iman Europe is a singer-songwriter and producer who creates soulful and empowering NFT music projects that showcase her diverse musical influences and talents. In 2022, she became Head of Artist Relations at Sound, a platform for Web3 music, and played a crucial role in the platform's success.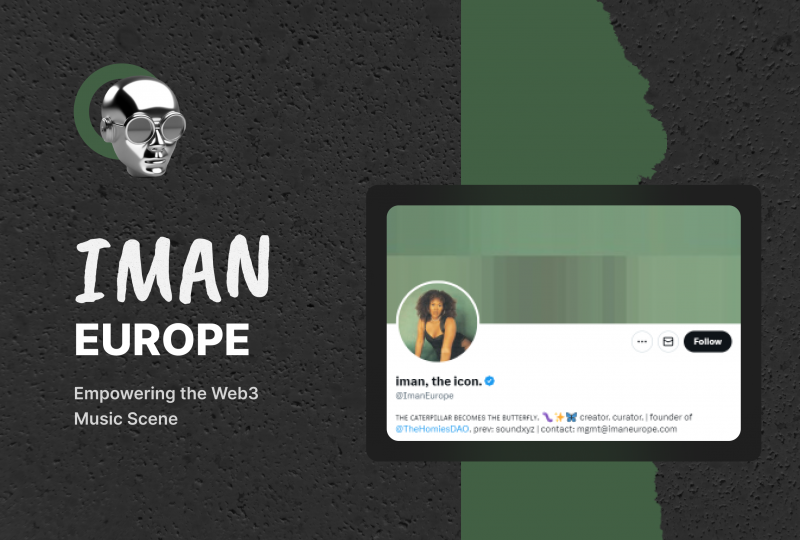 In addition to her behind-the-scenes work, Europe has minted numerous unique music NFTs and contributed to an NFT mix released by Snoop Dogg. Her most successful project, 'Prouda Me', is a series of NFTs featuring her song of the same name, which sold out in less than an hour and generated over $200,000 in sales. Her dedication to empowering artists and her innovative approach to music in the Web3 space make Iman Europe one of the rising NFT artists to watch in 2023 and beyond.
Grant Yun: Blending Fine Art and NFTs
Grant Yun is an NFT artist and medical student who creates visually arresting NFT artwork using neo-precisionism, a term he coined to describe his artistic approach. His works are influenced by his studies in medicine and biology, as well as his fascination with nature and technology.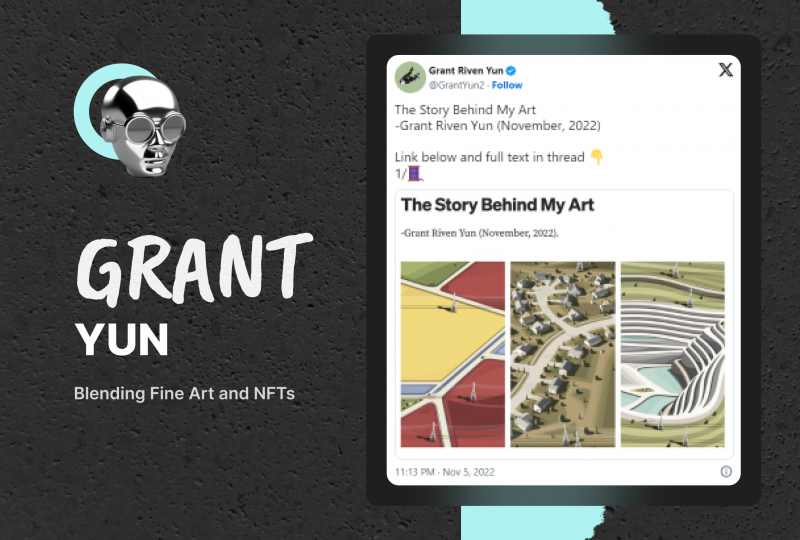 Yun's artwork "Cow" sparked a discussion about the value and utility of fine art NFTs, challenging the traditional notions of art in the digital age. His other NFT piece, called "Citrus", was sold for an impressive 69.42 ETH. His ability to create thought-provoking artwork and push the boundaries of what art can be makes Grant Yun a rising star in the NFT space.
Emonee LaRussa: Redefining the Future of Digital Art
Emonee LaRussa is an Emmy award-winning motion graphics artist who has worked with renowned artists such as Kanye West, Lil Nas X, and John Legend. In 2022, LaRussa gained further recognition when she was selected as one of the artists to create NFTs to celebrate the Grammy Awards.
However, it was her philanthropic efforts that truly set her apart. LaRussa spearheaded a campaign for her non-profit organisation, JumpStart Designers, and successfully raised $50,000 to provide computers and digital art programs to underserved communities. With her talent and commitment to making a positive impact, Emonee LaRussa is definitely among rising NFT artists to watch.
Jack Butcher: The Visual Storyteller
Jack Butcher is a graphic designer who uses his minimalist and hard-hitting aesthetic to create impactful NFT artwork. One of his most notable works is 'Checks', which challenges the concept of digital veracity and notability.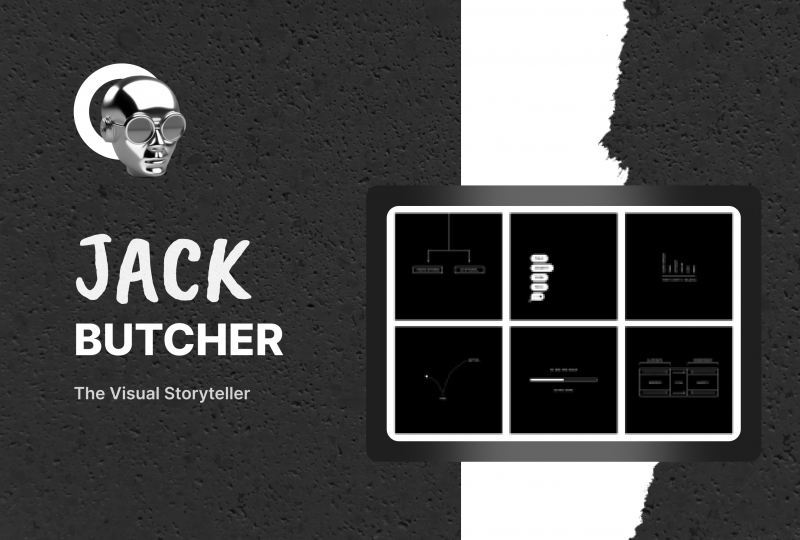 Butcher's innovative approach to metadata and the mutable nature of NFTs have led to intriguing discussions about what buyers are truly acquiring when they invest in an NFT.
Damien Hirst: The Contemporary Art Legend
Damien Hirst takes his place among the world's most famous and influential artists who have embraced NFTs as a new form of artistic expression.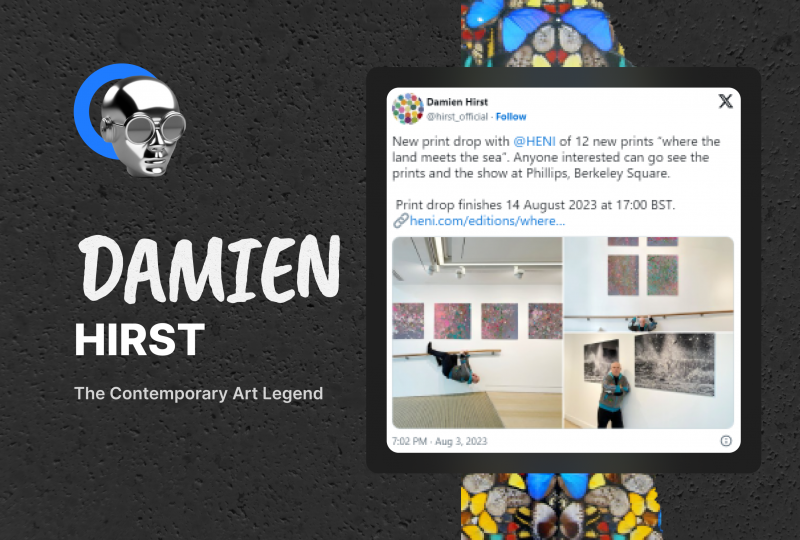 His most ambitious project, 'The Currency', is a series of NFTs based on Hirst's physical paintings. The objective of the project is to explore the themes of value, trust, and authenticity in the context of the art world and beyond.
Understanding NFTs
Fungible assets, such as money or cryptocurrencies, are those that can be traded or exchanged for one another. In contrast, the term "non-fungible" refers to something that is unique and cannot be replaced.
So, NFTs, or non-fungible tokens, are unique digital assets that cannot be replaced and can be bought and sold online. These assets are being explored as a way to create value and trust in the art world and beyond, as well as to create authenticity.
NFTs can represent various types of digital data, including photos, videos, audio files, and more. They have found a place in the art world, with examples ranging from digital artwork to sports collectables and trading cards.
How do NFTs work?
NFTs are basically cryptographic tokens on a blockchain, which is a distributed public ledger that records transactions. Each NFT has a unique identification code that distinguishes it from other tokens. This code enables easy transfer of ownership and verification.
The value of an NFT is determined by supply and demand, similar to physical assets. NFTs are bought and sold on various online marketplaces, with the most popular being OpenSea. Ethereum is the most popular blockchain technology used to create and store NFTs.
According to security.org numbers, NFT ownership has doubled over the past year, with 9.3 million people in America owning NFTs in 2022.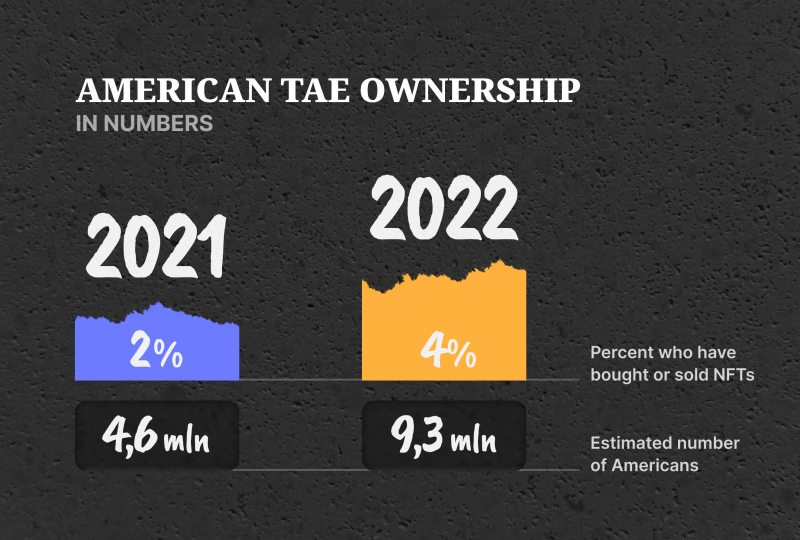 Buying NFTs
Before delving into the process of buying NFTs, do not forget the risks associated with the NFT market.
As NFTs are new and unregulated, there is a risk of fraud and manipulation. It is important to research the NFT market carefully before buying any NFTs and to be aware of any potential scams. Additionally, NFTs can be volatile, and their value can fluctuate significantly.
However, for those willing to navigate this space, here are the steps involved in purchasing NFTs:
1. Set Up a Crypto Wallet
A crypto wallet is necessary to store the keys that grant access to your digital assets. There are two types of wallets: software wallets, which are installed on computers and other devices, and hardware wallets, which are physical devices used to store your keys. Hardware wallets are more secure, but software wallets are easier to use. Whichever type of wallet you choose, make sure that it serves all the security requirements.
2. Research and Choose an NFT Marketplace
The next step is to open an account on an NFT trading platform or exchange. The most popular platforms for buying NFTs include OpenSea, Rarible, Nifty Gateway, and some others. Research different platforms to find one that suits your needs in terms of features, fees, and ongoing support.
3. Connect Your Wallet to the NFT Marketplace
After choosing an NFT marketplace, you need to connect your crypto wallet to the platform. This connection allows you to interact with the marketplace, browse available NFTs, and make purchases. Follow the instructions provided by the marketplace to link your wallet successfully.
4. Browse and Select Preferable NFTs
Once your wallet is connected, you can start browsing through the available NFTs on the marketplace. Take your time to explore different options and find NFTs that align with your interests.
5. Place a Bid or Make a Purchase
When you find an NFT you want to acquire, you can either place a bid or make an immediate purchase, depending on the marketplace's options. Bidding allows you to compete with other buyers to secure the NFT at the best price, while an immediate purchase allows for instant ownership. Follow the instructions provided by the marketplace to complete the transaction.
6. Transfer and Store Your NFT
Once you have successfully purchased an NFT, it will be transferred to your crypto wallet. Ensure that you have a secure storage solution for your NFTs. Consider using hardware wallets or encrypted storage options to protect your digital assets.
The Future of NFTs
NFTs have made a significant impact on the art world, providing new opportunities for artists and collectors. They have expanded the possibilities of digital art, enabling artists to monetise their creations in ways previously unimaginable. Moreover, NFTs have the potential to revolutionise ownership rights and provenance tracking, making it easier to authenticate and verify the ownership of digital assets.
However, the NFT market is still evolving, and challenges remain. Critics argue that the market is speculative and prone to scams, while others express concerns about its environmental impact due to the energy consumption associated with blockchain transactions.
FAQs
I want to create my own NFT. What should I do?
You should research the NFT market and the available tools, such as marketplaces and platforms, that can help you create, store, and trade NFTs. For instance, OpenSea allows users to create NFTs and deploy smart contracts for free. To begin creating, simply click "Create" at the top right corner of the page.
What is the purpose of NFTs?
NFTs are digital collectables that are stored on a blockchain and can be used to buy and sell digital items. They are often used as a way to prove ownership of digital items, such as artwork, music, or videos, and can be used to fund creative projects.
Are NFTs a good investment?
NFTs can be an excellent investment if they are bought at the right price and sold at the right time. However, investing in NFTs can also be risky, as there is no guarantee that the value of the NFT will increase over time. Additionally, NFTs are subject to market volatility, so the value of the NFTs could fluctuate significantly.
Is it possible to copy NFTs?
No, and Yes. NFTs are unique and cannot be replicated, as their codes are stored immutably on blockchains. However, it is possible to create copies of the content that this NFT represents. However, only the original NFT piece will retain its private key.