Where to Exchange Currency Without Paying a High Fee — Planning Your Travel Beforehand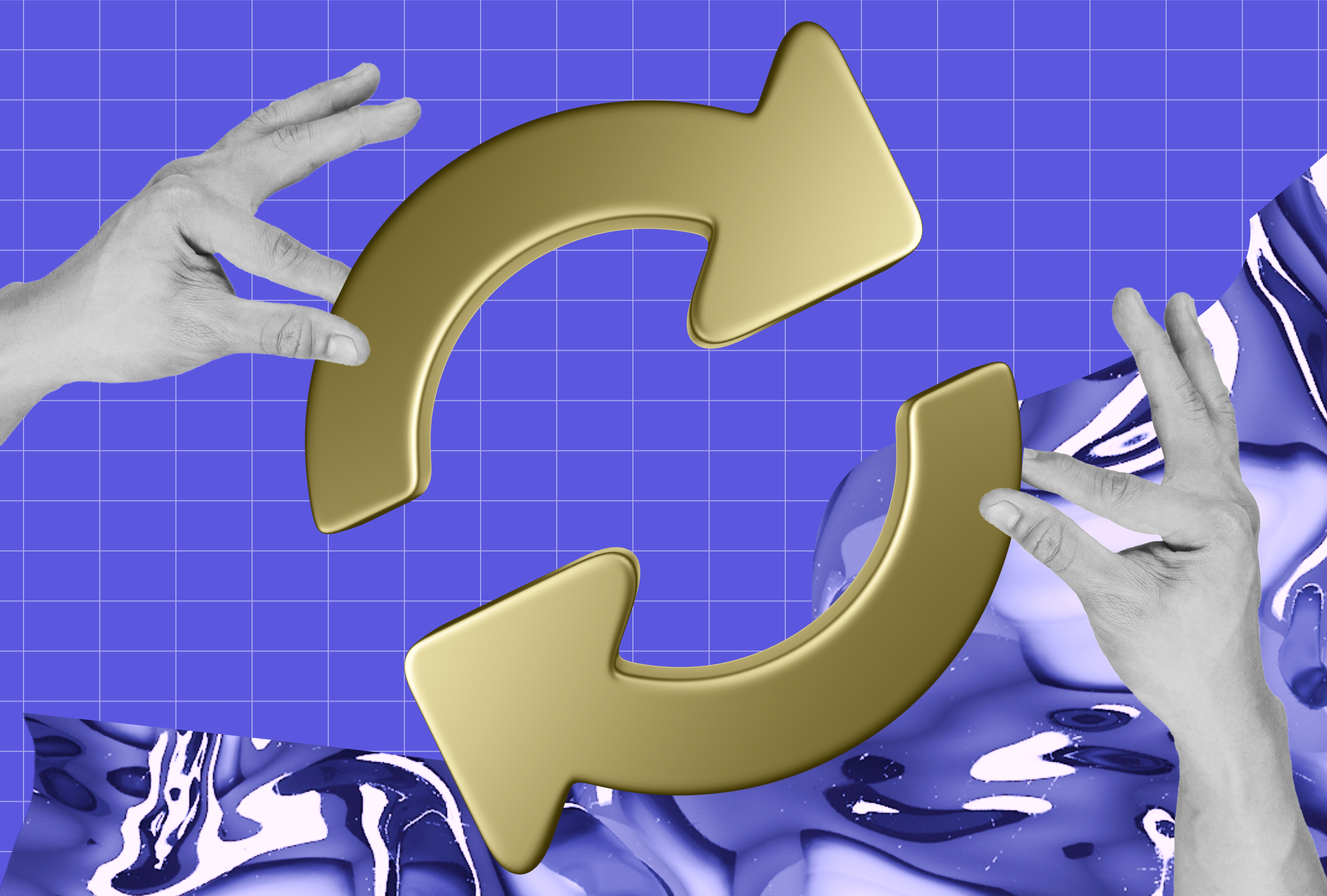 When planning an overseas trip, one aspect that often gets overlooked is currency exchange. Many travelers find themselves in a difficult situation when they need to convert their currency and end up paying high fees and unfavorable exchange rates. It is estimated that, on average, travelers lose a minimum of 6%-8% and a maximum of 12%-15% of their money while exchanging foreign currency.
However, with a little preparation and knowledge, you can avoid these costly pitfalls and find the best places to exchange currency without breaking the bank. In this guide, we will explore the various options available to you, both before you embark on your journey and while you are abroad.
Key Takeaways:
The best time to exchange currency is before you leave your country.
Airport kiosks are not the best place to exchange currency.
In certain situations, cash is more useful than credit cards. A good strategy is to have a combination of credit cards and cash at hand.
A number of travel-related services accept cryptocurrency payments as well.
Understanding the Importance of Currency Exchange
Before we delve into the details of where to exchange money, it's important to understand why this is a crucial aspect of international travel.
A currency exchange rate is the value of one country's currency compared to another country's currency. It is a reflection of the economic strength and stability of a particular country.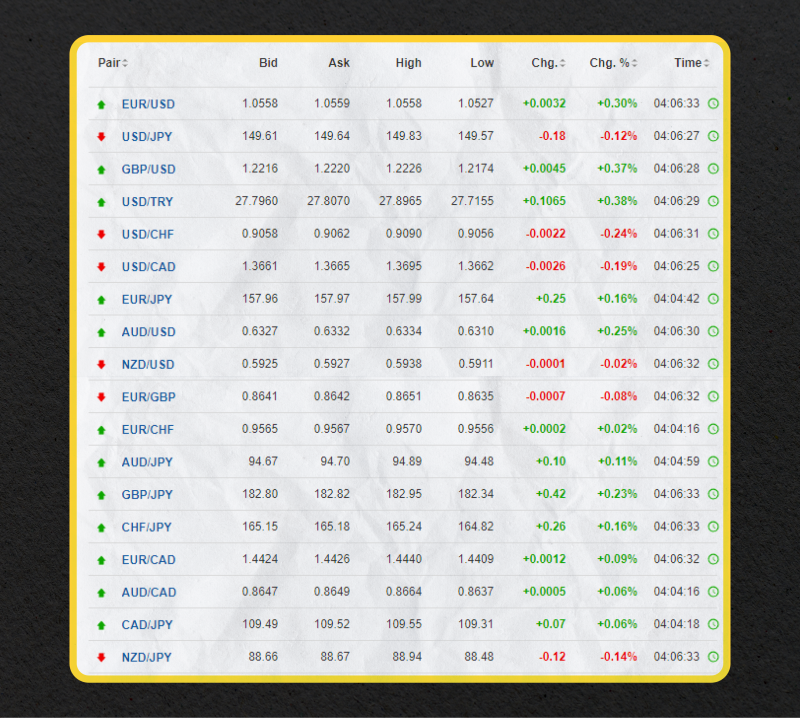 Currency exchange rates can fluctuate throughout the day due to various factors such as interest rates, inflation, and political events. These fluctuations can have a significant impact on businesses and individuals who engage in international trade and travel. For example, if the value of the U.S. dollar increases compared to the euro, it means that it will take fewer dollars to purchase euros, making European goods and travel more affordable for Americans.
Currency exchange allows you to convert your local currency into the currency of the country you are visiting, enabling you to make purchases, pay for services, and navigate financial transactions while abroad. However, if you don't plan ahead and choose the right method of currency exchange, you may end up spending unnecessary money on fees and undesirable exchange rates.
Buying foreign currency without planning ahead is like driving without a map – you may end up getting lost and end up paying too much. It's important to research and plan ahead to make sure you get the best deal.
Exchanging Currency at Home: Banks, Credit Unions, and Online Bureaus
When it comes to exchanging currency, one of the best options is to do so before you leave your home country. This gives you the advantage of better rates and lower fees compared to exchanging currency in a foreign country. Here are some of the most reliable and cost-effective options for exchanging currency at home: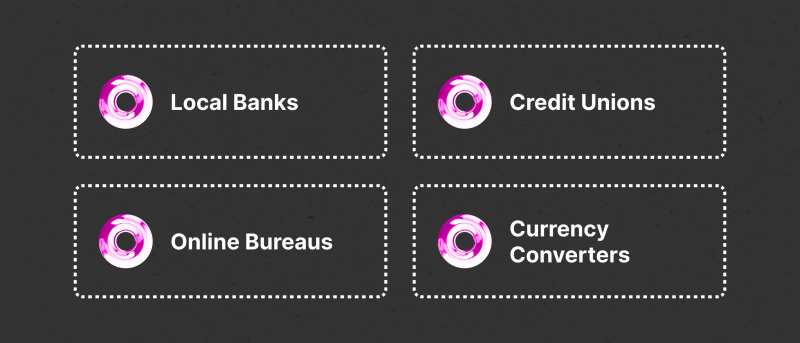 Local Banks and Credit Unions
Local banks and credit unions are often the first choices for many travelers when it comes to currency exchange. These financial institutions typically offer competitive rates and lower fees compared to other options. It's recommended to check with your bank or credit union for their exchange rates and fees before making a decision. Additionally, some major banks, such as Chase or Bank of America, have ATMs overseas, which can further simplify the currency exchange process.
Banks play a crucial role in determining 24 hour currency exchange rates. While exchange rates fluctuate a lot from minute to minute, most banks update their rates once each business day. These rates are based on a variety of factors, such as market demand and supply, economic indicators, and government policies.
Online Bureaus and Currency Converters
In recent years, online bureaus and currency converters have gained popularity as convenient and cost-effective options for currency exchange. Different services offer competitive rates and allow you to order cash online, which can be delivered to your doorstep. While online currency exchange may include delivery charges and slightly less favorable exchange rates compared to banks, it is still a better option than some of the alternatives we will discuss later.
Currency Exchange Options While Abroad
Once you have arrived in your destination country, there are several options available to exchange your currency. It's important to choose the method that offers the best rates and lowest fees. Here are some of the most recommended options for currency exchange while abroad: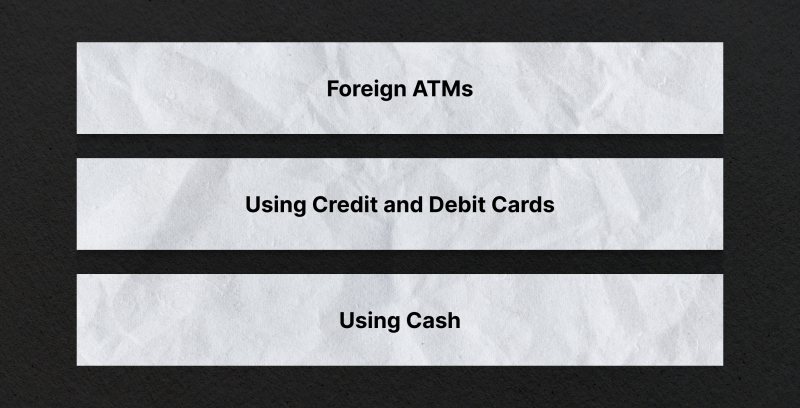 Foreign ATMs
Using a foreign ATM is often the most effective way to exchange currency without paying more while abroad. Look for ATMs operated by local banks or your own bank's ATMs if they have international branches or partnerships. By using a foreign ATM, you can withdraw cash in the local currency, usually at a reasonable exchange rate. However, it's important to be aware of any fees your bank may charge for international ATM withdrawals.
Credit and Debit Cards
Credit and debit cards are widely accepted around the world, making them a convenient option for making purchases and accessing cash while abroad. Many credit and debit card issuers offer cards that do not charge foreign transaction fees, making them an attractive choice for international travel. It's important to notify your bank and credit card companies about your travel plans to avoid any disruptions in card usage.
Paying with Local Currency
When making purchases abroad, it's generally recommended to pay with the local currency rather than using your own currency or paying in U.S. dollars. Merchants may offer to convert your payment into your home currency, but this often results in unfavorable exchange rates and additional fees. By paying with the local currency, you can ensure you are getting the best value for your money.
Most experts recommend having $50 to $100 in cash per day for each traveler. The amount could, however, vary greatly based on where you plan to travel.
Avoid Airport Kiosks and Stores
One option to avoid is using airport currency exchange kiosks and stores. While these may seem convenient, they often charge extremely high fees, and their exchange rates are usually unfair. According to USA Today, travelers often lose up to 8%-10% by using airport kiosks and stores for currency exchange.
As an example, imagine that you could exchange £400 for $500 at a bank. However, the same transaction at the airport kiosk would cost you £440, adding to your expenses. A £40 difference would have been yours if you'd exchanged it at home.

It's best to plan ahead and avoid exchanging currency at the airport if possible. However, if you have leftover foreign currency before departing the country, it may be your only option for converting it back to your home currency.
Using Credit Cards vs. Cash for Foreign Transactions
When it comes to deciding between using credit cards or cash for foreign transactions, there are several factors to consider. While credit cards offer convenience and certain benefits, cash can be useful in certain situations. Let's explore the pros and cons of each option: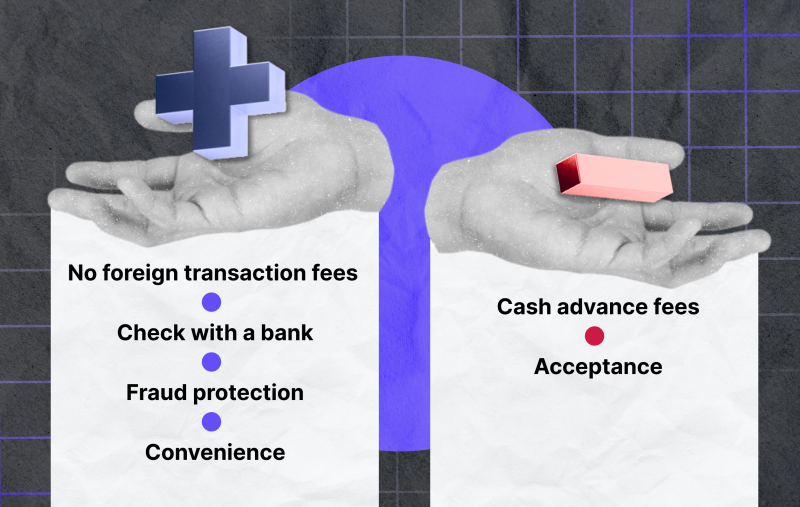 Credit Cards
Using a credit card for foreign transactions can be advantageous in many ways. Here are some of the benefits:
No foreign transaction fees: Many credit card issuers offer cards that do not charge foreign transaction fees. This means you can make purchases overseas without incurring additional costs.
Fraud protection: Credit cards offer fraud protection, which means you are protected against unauthorized transactions.
Convenience: With credit cards, you don't have to carry large amounts of cash, you can easily track your purchase history, and you don't have to wait for funds to clear before making a purchase.
However, it's important to keep in mind the following considerations:
Cash advance fees: Avoid using your credit card for cash advances to obtain foreign currency. This can result in cash advance fees and high interest rates from the moment you make the transaction.
Acceptance: While credit cards are widely accepted, there may still be instances where merchants only accept cash. It's always a good idea to have some local currency on hand for such situations.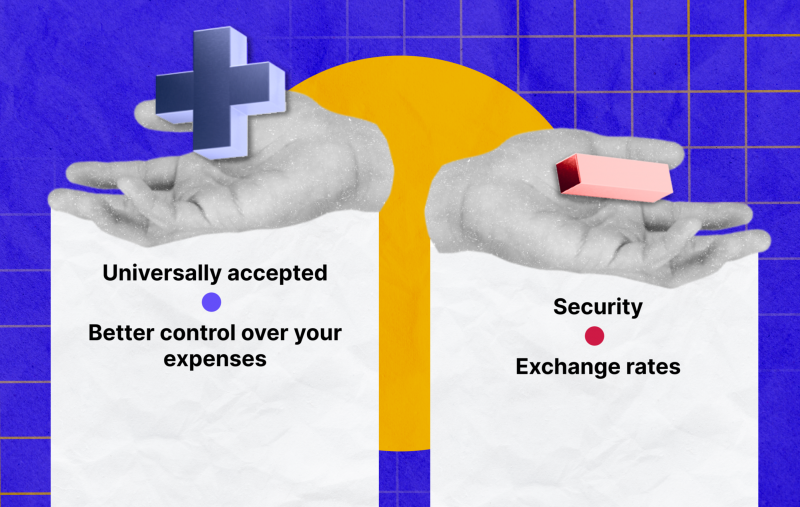 Cash
Carrying cash can be a useful backup option when credit cards are not accepted or for smaller transactions. Here are some advantages of using cash:
Acceptance: Cash is universally accepted, ensuring that you can make purchases even in situations where credit cards may not be accepted.
Budgeting: Using cash can help you stick to a budget and have better control over your expenses.
However, there are also drawbacks to consider:
Security: Carrying large amounts of cash can be risky, as it can be lost or stolen. It's important to take precautions and ensure the safety of your cash while traveling.
Exchange rates: When exchanging your currency for local currency, it's important to be aware of the exchange rates and any fees involved. Exchanging large amounts of cash at unfair rates can result in significant losses.
Ultimately, the best approach is to have a mix of credit cards and cash, depending on the specific circumstances of your trip and the country you are visiting.
What to Do With Leftover Foreign Currency
At the end of your trip, you may find yourself with leftover foreign currency. It's important to have a plan for what to do with this currency to avoid unnecessary losses. Here are some options to consider:
Convert it back to your home currency: If you have a significant amount of foreign currency left, you can convert it back to your home currency at your local bank or currency exchange bureau. However, it's important to check with your bank beforehand to ensure they accept the specific currency you have.
Save it for future travels: If you frequently travel to the same country or plan to visit again in the future, you can save the leftover currency for your next trip. This way, you won't have to go through the process of exchanging currency again.
Donate it: Another option is to donate the leftover foreign currency to charitable organizations or causes that accept foreign currencies. This allows you to contribute to a good cause while putting the leftover currency to good use.
Fast Fact
It is quite common to have leftover currency. According to Visa's 2018 Global Travel Intentions Study, 87% of all travelers report returning with unused cash.
The Rise of Cryptocurrency Exchange Options
In recent years, cryptocurrencies have gained popularity as an alternative form of currency. Cryptocurrencies offer a borderless and decentralized form of currency that can be accessed from anywhere in the world. Unlike traditional fiat currencies, cryptocurrencies are not tied to any specific country or government, making them ideal for international travel.
While not widely accepted yet, there are some travel-related services that allow you to pay with cryptocurrencies. For example, some airlines accept cryptocurrency payments for booking flights, while others allow you to pay for your hotel reservations in cryptocurrency.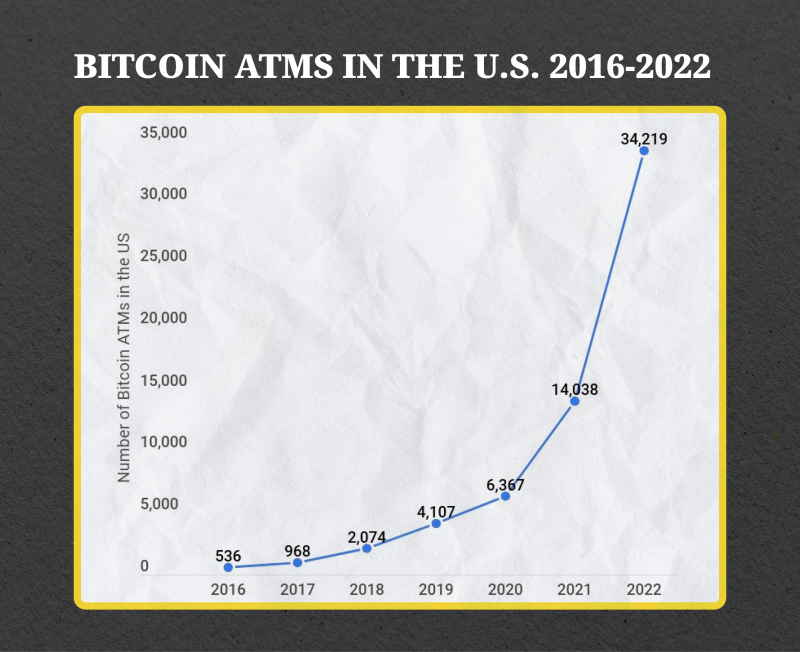 Additionally, there are fiat-to-crypto exchange and P2P crypto exchange services where you can convert your cryptocurrency into local currency. However, it's important to note that the acceptance of cryptocurrencies varies by country and establishment. It's recommended to research the specific destination and check for any cryptocurrency exchange options available.
Also, if you are a business owner who works with foreigners and travelers, you may want to access crypto payments for your customers' convenience. While there may not be a large number of customers currently paying with crypto, there is a demand for it, with 40% of surveyed consumers already using digital assets for online shopping.
To accept crypto payments as a business owner, there are several steps you can follow. First, you can utilize the services of crypto payment providers like BitPay, CoinBase Commerce, CoinPayments, or B2BinPay. These companies offer various tools and integrations to make accepting crypto payments easy. They provide services such as hosted checkout pages, payment buttons, and invoicing. The fees charged by these companies are typically lower than credit card fees, making it a cost-effective option for businesses.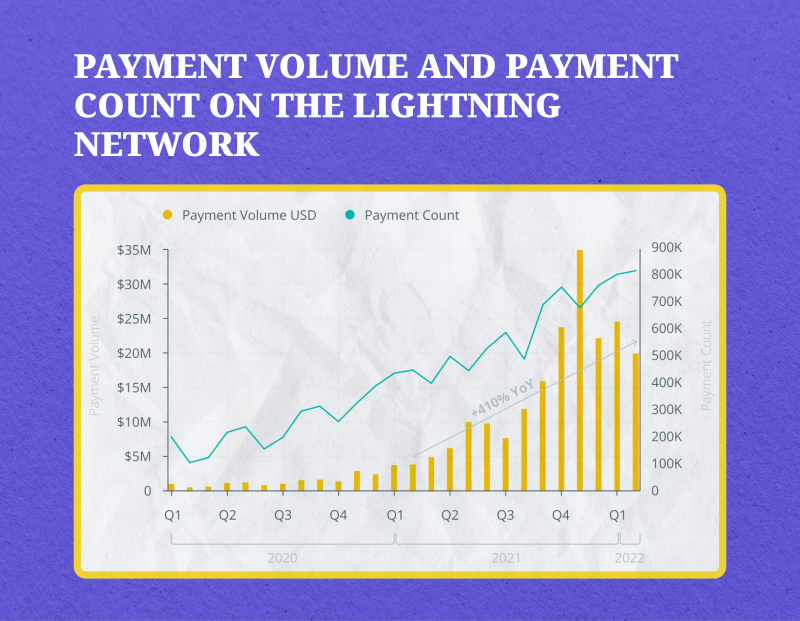 It is important to note that while crypto offers many advantages, there are also risks associated with its use. As of 2023, the cryptocurrency market remains largely unregulated, which can present certain risks and challenges. Additionally, the cryptocurrency market is highly volatile and subject to rapid price fluctuations.
However, if you prefer, you can accept or use stablecoins, which are backed by fiat currencies, commodities, or other cryptocurrencies. This makes them less volatile than traditional cryptocurrencies and more attractive to businesses and investors.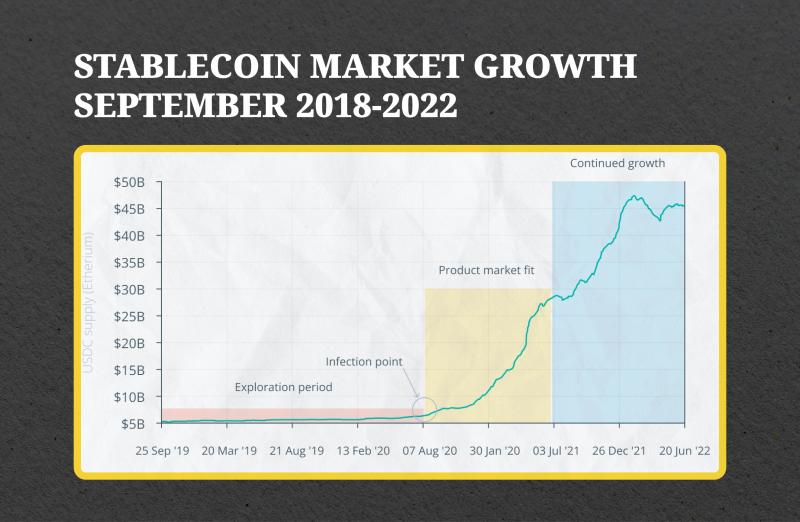 Conclusion
Currency exchange is an essential aspect of international travel, and choosing the right method can save you from paying high fees and unfavorable exchange rates. By planning ahead and utilizing the options discussed in this guide, currency exchange can be done at a reasonable cost.
Whether it's exchanging currency before your trip or using foreign ATMs and credit cards while abroad, make sure to prioritize cost-effectiveness and convenience. Remember to stay informed about the current exchange rates, notify your bank and credit card companies about your travel plans, and always be cautious when carrying cash.
FAQs
How do I know what the current exchange rate is?
You can find the current exchange rate by checking online resources such as the website of your local bank or the websites of currency exchange companies. Additionally, you can use a currency conversion app on your phone to get up-to-date information on exchange rates.
What is the best way to exchange foreign currency when traveling?
The best way to exchange currency when traveling is to plan ahead and research the best options available. This may include using local currency exchanges, using debit or credit cards, or withdrawing cash from ATMs.
Are there any fees associated with exchanging currency?
Yes, there are typically fees associated with exchanging currency. These fees can vary depending on the method of exchange and the provider.
Should I notify my bank before traveling?
Yes, it is a good idea to notify your bank before traveling to ensure that your cards will not be blocked for suspicious activity. Additionally, it is a good idea to check with your bank to see if they have any special offers or discounts for using their services abroad.