Insider News: Amazon's CEO Andy Jassy Shares A Bold Vision For The Company's Healthcare Business.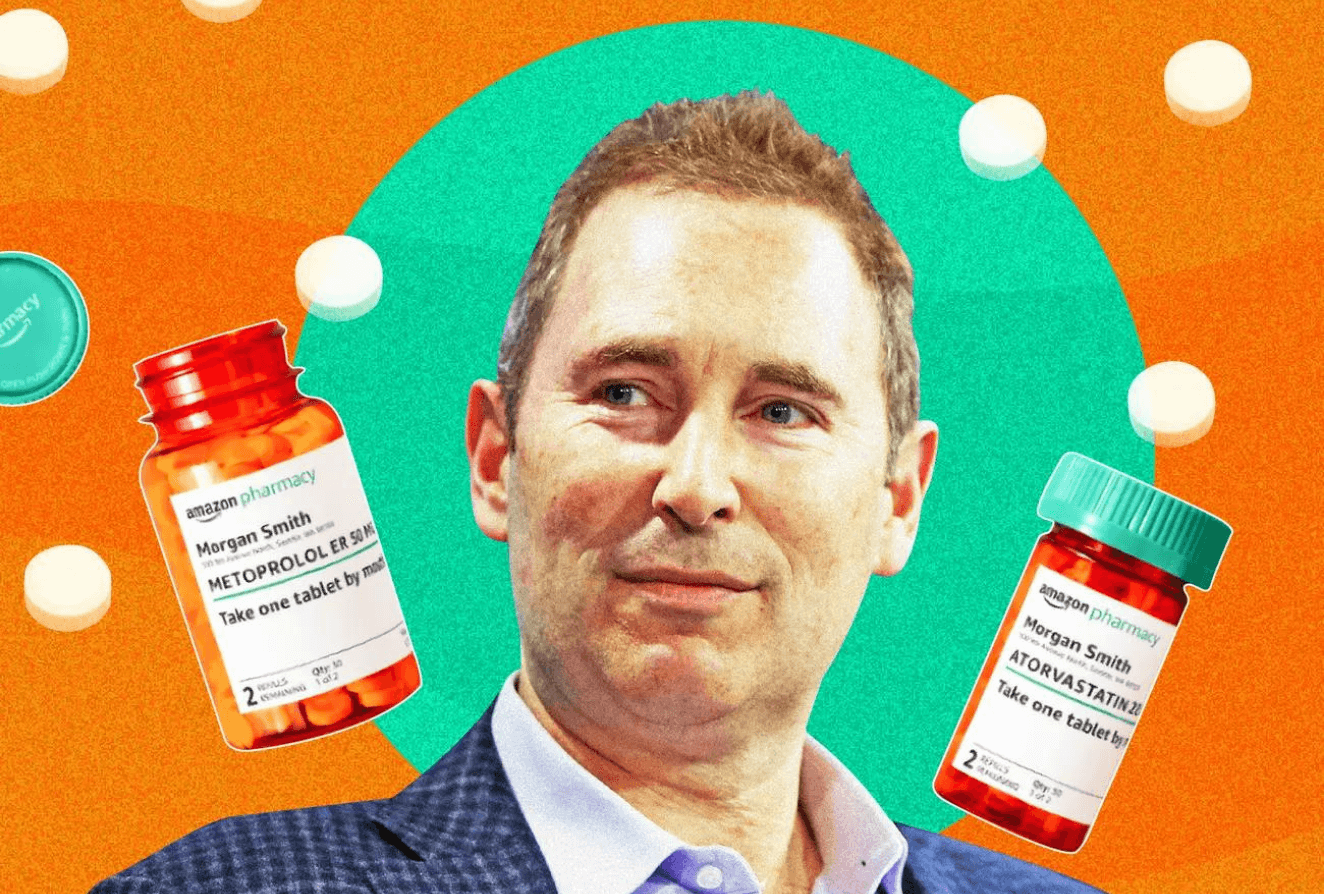 During a November all-hands meeting, an Amazon employee requested CEO Andy Jassy to reveal the company's most exciting "innovations."

According to the audio of the conversation, Jassy named Amazon Care, the company's new primary-care operation, without hesitation as one of his top options.

Jassy emphasized the potential advantages of Amazon Care, which links patients with specialists by text and video — and, in certain regions, distributes medications and sends a nurse to people's homes for checkups and tests.

He said that the company's on-demand telehealth capabilities may dramatically enhance the medical-care process, which is now characterized by lengthy wait times, uncertain scheduling, and extra pharmacy visits for medicine pickup. He noted that ten years from now, the usual experience of visiting a doctor would seem "insane."

"That experience, which has been the standard for the previous, maybe, a hundred years, will not be the way things are done going forward," he said. "What we're doing with Amazon Care and telehealth — which we're now spreading out nationwide and have tested with our own staff in Seattle — fundamentally alters that game."

Jassy's remark provides a rare glimpse into the CEO's unwavering support for Amazon's healthcare division at a time when big tech is competing for a piece of the $4.1 trillion healthcare market. Since purchasing PillPack for $750 million in 2018, Amazon has considerably expanded its healthcare offerings, investing extensively in a growing company that now encompasses primary care, prescription delivery, and medical diagnostics.

Amazon is now doubling down on its healthcare efforts, internally consolidating the team and looking at potential expansion across multiple sectors, according to internal documents and seven people familiar with the matter who spoke on the condition of anonymity out of fear of retaliation from Amazon.

Amazon did not respond to requests for comment.
'The stool's three legs'
Amazon's healthcare business is primarily divided into three segments: primary care, online pharmacy, and health diagnostics. According to one source, the corporation has a lofty goal of eventually combining the three different divisions into a one-stop-shop for all things health-related. At the moment, two sources said, the teams are essentially not cooperating.

That idea is reflected in an internal planning document delivered to Amazon's diagnostics leadership last year. Using a parent with a sick child as an example, Amazon's healthcare team proposed a comprehensive healthcare package that included virtual medical advice (via Amazon Care), at-home testing kits with same-day results (via Amazon Diagnostics), and follow-up treatment (via Amazon Pharmacy) — dubbed the three segments "three legs of the stool."

"While each of these businesses is in its infancy at Amazon, we are excited about the prospect of combining at-home testing, telemedicine, and pharmacy offerings to create a far superior customer/patient experience than most are accustomed to in primary care, and at a significantly lower cost," the document stated.

Amazon centralized its healthcare staff in late 2021 under Neil Lindsay, the former SVP of Prime and marketing, in a newly established role heading Amazon's primary healthcare operations. Lindsay's new post suggests a greater emphasis on health, with Lindsay reporting to Doug Herrington, Amazon's chief of consumer business, according to two Amazon workers. Lindsay's team includes leaders in pharmacy, care, and diagnostics, according to an internal org chart revealed by insiders in January.

According to the chart, the team comprises Lindsay's chief of staff, Ashwin Muralidharan; Amazon Care's Kristen Helton; John Love, the new head of Amazon Pharmacy; and Kenneth Bedsted, the director of Amazon Diagnostics.

Lindsay also reports to Claudine Cheever, Manish Singh, and Simon Morris, the marketing and Prime leaders and advisers, as well as T.J. Parker, the pharmacy's previous chief and a cofounder of PillPack, the chart said. According to Bloomberg's report, Aaron Martin, the chief digital officer of Providence Health Services, will join Lindsay's team.
Amazon is making a significant investment in primary care
Amazon Care is a critical component of Amazon's health strategy that evolved from the company's clandestine Grand Challenge team. The IT behemoth piloted the health business with its own employees in Seattle before expanding it to other companies in the summer of 2021.

Amazon Care is off to a modest start, with just a few customers, including Peloton manufacturer Precor, as sources previously revealed.

However, it is developing initiatives that might put Amazon on a fast route to becoming your doctor.

In 2021, the venture hired consulting firm PwC to do a feasibility study on expanding into Medicare Advantage, the lucrative private health-plan market for seniors, according to two workers. As it was reported in July, Amazon Care is also in negotiations with health plans, notably regional Blue Cross Blue Shield insurers, to become an in-network benefit, allowing users to pay for Amazon Care using their health insurance and copays. According to the company, their deal with Amazon-owned Whole Foods Market, another customer, and its insurer provides for such insurance coverage.

It is also trying to expand its offerings in the future. Amazon's division already covers a broad range of requirements, from mental health to diabetic care, but the company wants to expand its offerings by partnering with startups and health systems, according to two workers and a source familiar with the topic.

Amazon Care is already using the health startup SteadyMD to provide the majority of its clinical team — in addition to Care Medical, an Amazon-exclusive medical practice — for the company's continuous nationwide growth, workers said.

Additionally, Amazon Сare may work with organizations such as Crossover Health, a clinic startup that delivers on-site care to a number of Amazon employees. Its money was redirected internally under Beth Galetti, Amazon's director of benefits, who was instrumental in establishing Amazon Care, signaling that the alliance will continue to expand, a source familiar with the situation said.

SteadyMD did not respond to a request for comment. Crossover did not immediately reply to a request for comment either.
Amazon's pharmacy is attempting to expand its business
Amazon's pharmaceutical division is in need of a new chief after Love's appointment in January.

Two sources said that Amazon Pharmacy's business has been "unimpressive" since its November 2020 debut. According to one of the persons, it's not been easy to attract new clients, and the majority of the service's growth has come from commercial customers. For example, according to the individual, Amazon stores and handles orders for a variety of pharmaceutical firms, including the prescription skincare brand PruGen.

To compete more effectively with in-person pharmacies that can provide medication within hours, Amazon has considered opening a Walgreens-style pharmacy store using its Just Walk Out cashierless technology and incorporating pharmacies into Whole Foods Market locations, as it was previously reported.
Amazon is trying to expand its testing capabilities
For the time being, Amazon Diagnostics seems to be primarily focused on COVID-19 testing capabilities. However, the team has loftier goals, including plans to give testing for infections that cause respiratory and sexually transmitted illnesses, as previously reported by insiders.

The diagnostics team now has its own jobs website, which has around 30 employment positions.

Among the jobs for which it is recruiting: a new leader. Cem Sibay, a former vice president of diagnostics at Prime Video, took on a new job this year, leaving his previous post empty.

"We have much more work to do to enhance clients' medical diagnostics healthcare experience and link them to the treatment and care they need," one of the job ads said.