Media Companies Lost Over $500 Billion in 2022 – What's Next for the Industry?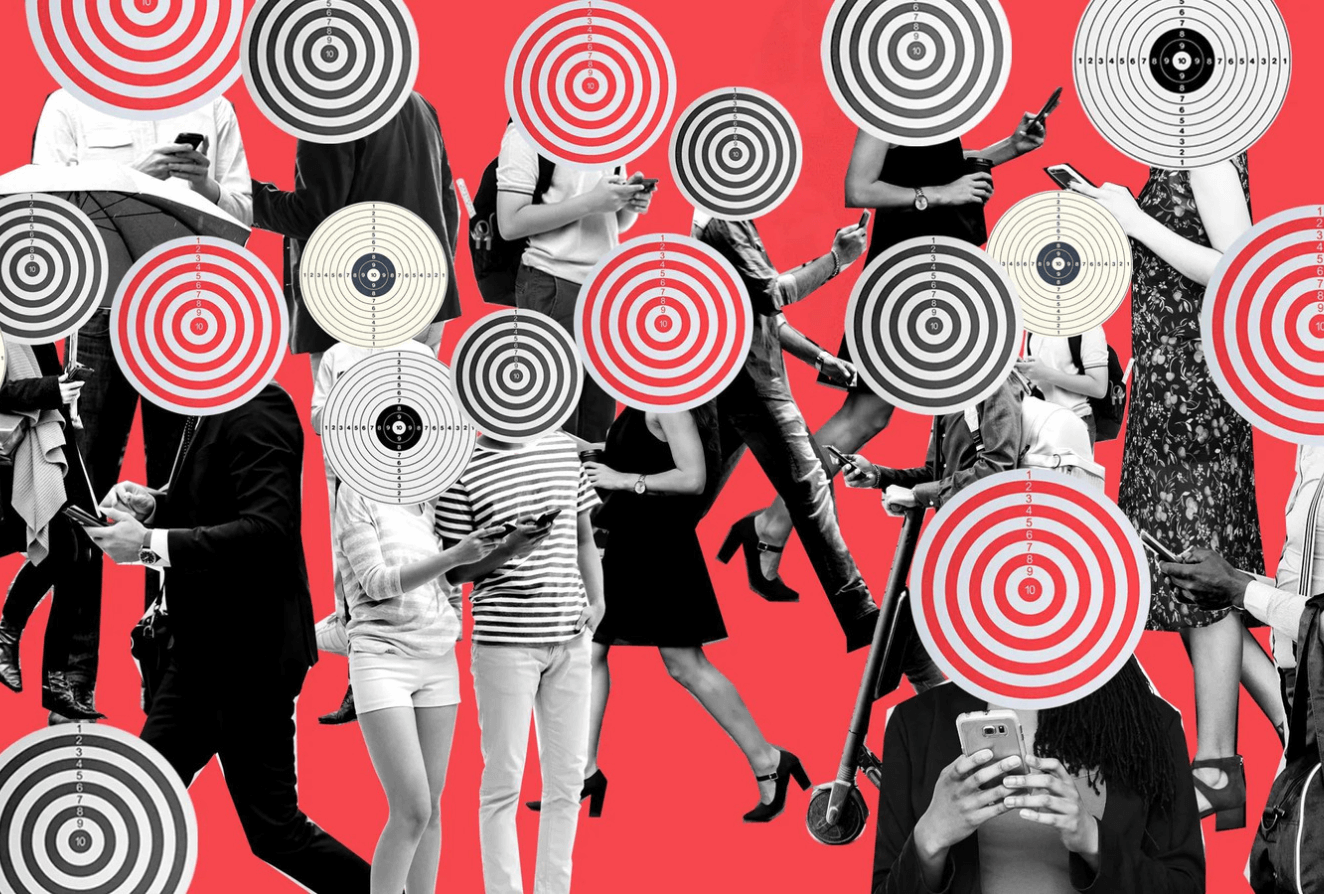 The media industry faced a challenging year in 2022.
The sector found itself in a difficult position as costs rose and debt levels grew while companies unable to earn profits were swiftly penalized by an unforgiving market.
Shares of Netflix have fallen about 50% this year, with Warner Bros. Discovery and Spotify experiencing losses of more than 60% and Roku losing 80% of its value.
Among the cable operators, Fox and Comcast declined by around 20% and 30%, respectively, as Paramount Global lost over 45% of its value.
The year has been extremely difficult for Disney as well, which, once revered on Wall Street, is now down 45% and is en route to experiencing its worst performance since 1947 after the highly anticipated "Avatar sequel" saw disappointing opening weekend box office figures.
In 2022 alone, the market has dealt a significant blow to media and entertainment giants around the world by wiping away more than half of their collective $500 billion in total value. Unfortunately, this may only be the beginning, as higher interest rates and adverse economic conditions could make things even worse next year.
How did all that happen? How could the future unfold?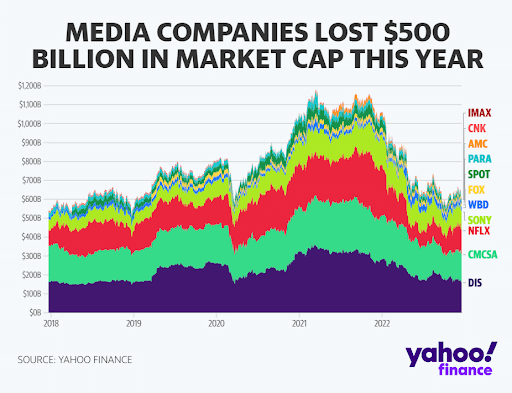 Market Pushes for Profits
2022 was a year of steadiness for the entertainment sector after it had endured an unpredictable journey during the COVID 19 times, with remarkable highs and disheartening lows.

As the "stay at home" trend passed, streaming firms rapidly saw their growth flatten after reaching their highest subscriber levels during the pandemic.

Streaming giant Netflix observed a historic loss in subscribers as the company's market cap dropped from approximately $267 billion in 2021 to less than $130 billion in 2022.

The industry's stagnant subscriber growth has sparked criticism of production expenditures, which have skyrocketed due to intense competition. This year, Netflix has allocated around $18 billion solely for content development, while Disney has increased its budget to an impressive total of $33 billion – up by about $8 billion.

Wells Fargo data shows that for companies that started switching to streaming content, expenditures have risen from $2.7 billion to $15.6 billion – from 2019 to 2022.

In 2022, the number is anticipated to almost double to $24 billion, despite a decline in streaming revenues.

Disney's direct-to-consumer unit is projected to lose a staggering $4 billion during its fiscal 2022, which concluded on October 1. Furthermore, Paramount revealed a loss from streaming of approximately $1.8 billion this year – surpassing Wall Street predictions.

Warner Bros. Discovery's market capitalization has been slashed by half due to its difficult restructuring procedures. In the third quarter of 2022 alone, it incurred losses totaling $192 million, as opposed to operating profit of $705 million the year before. By 2024, the business intends to write off $3.5 billion in content impairments and development costs.
Advertising Tiers
With the competition to drive profits, the ad model is proving to be a promising opportunity for companies – in spite of the world's slowing down on advertising expenditures.

In 2022, Netflix and Disney have embraced the ad-supported model to keep up with industry rivals such as Warner Bros. Discovery's HBO Max, NBCUniversal's Peacock, and Paramount Global's Paramount+.

In November, Netflix launched its $6.99 offering, which was followed by Disney+'s $7.99 offering in December. Wall Street strategists are generally optimistic about the money-making potential of ad-tier offerings, while advertising specialists have described the launch as a critical juncture for the media sector.

With a finite number of customers willing to shell out money, advertising can help to alleviate the costs associated with subscription fees, analysts believe.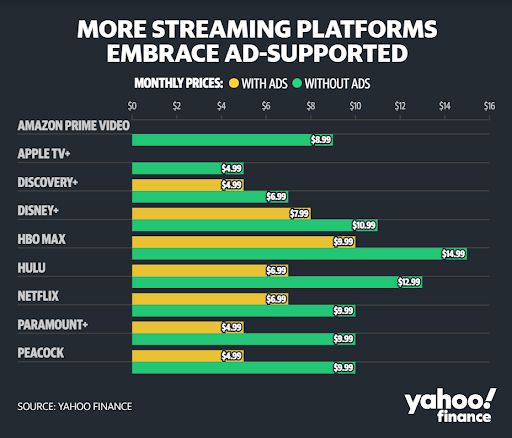 It is widely accepted by media analysts that lower-priced, ad-tier models will help reduce customer loss – something streaming services are trying to prevent in the face of increasing competition.

"I support providing consumers with the option of choosing an ad tier," said Jon Christian, EVP of Qvest, which specializes in media and entertainment consulting.

As advertising becomes more targeted in 2023, Christian believes data will be a major driver (and potential money maker).

While ad-models may benefit eventually, their effects may take time to become apparent.

There have already been reports of Netflix's ad tier experiencing some significant challenges, such as low sign-up rates and a failure to meet viewership guarantees. Analysts warn that there is still a long way to go.
Media Mergers in 2023
In addition to content spending and advertising, the market can also witness more mergers and acquisitions in 2023.

Steve Cahall from Wells Fargo recently noted in a report that the Media and Cable sectors are likely to face difficult times, both due to cyclical and structural issues. These hard times will demand tough decisions being made.

An acquisition target in 2023 and beyond could be Warner Bros. Discovery, which is currently facing some difficulties.

As part of its restructuring process, entertainment company Lionsgate is planning for its film and TV studio to be spun off into an independent company intended for sale. Meanwhile, AMC Networks may potentially go through an acquisition as it continues to restructure itself.

In a recent client note, Needham's Laura Martin noted that Paramount could be a potential buyer, while WWE, Curiosity Stream and Chicken Soup for the Soul were likely to sell due to their smaller size.

The new Disney CEO Bob Iger, who returned to the media conglomerate in November, also will have many decisions to make — like whether or not to sell Hulu to Comcast and what to do with ESPN.
Massive Job Cuts
As media businesses faced rising financial problems, they began to initiate mass job cuts and hiring freezes. Challenger, Gray & Christmas data indicates that over 3,000 jobs were eliminated only in October of this year alone.

In May, Netflix dismissed 150 of its 11000 employees due to a decrease in revenue and subsequent budget cuts.

Last month, Warner Bros. Discovery announced that a number of its senior executives would be leaving after it had shut down CNN+ and laid off several of its CNN workforce members as well as 14% of their HBO Max personnel.

There have been more than 1,000 job cuts across the company as WBD's CEO David Zaslav expanded his restructuring plans, which involved a number of project and program cancellations.

In November, Paramount Global initiated job cuts in their ad sales group. Meanwhile, AMC Networks announced that 20% of its U.S. staff would be let go with the departure of CEO Christina Spade.

The AMC Chairman, James Dolan, has allegedly informed personnel that the network is having a hard time matching cable losses as cord-cutting accelerates; he mentioned the company's streaming services, such as AMC+ and Shudder.

In the same vein, Comcast's cable division laid off staff members in November. Also, Roku laid off 200 employees – that amounts to 5% of its labor force – shortly after announcing the third quarter earnings.
Does the Cinema Industry Have a Chance to Recover?
2022 was a year of recovery for the cinema industry following pandemic losses – but it is unclear whether the sector is on the verge of a full rebound.

Films like "Top Gun: Maverick" surpassed expectations, while Marvel's "Black Panther: Wakanda Forever" and "Doctor Strange in the Multiverse of Madness" earned over $100 million domestically.

Despite the grandeur of Disney's "Avatar: The Way of Water," it only managed to acquire $134 million in local markets during its three-day opening weekend, falling short of predictions and causing Disney stock prices to plummet down to their lowest point since March 2020.

Despite the poor opening, theater executives remain optimistic about the debut of this movie – predicting it will make a steady impact in terms of box office revenue throughout the holiday season and beyond.

Streaming titans are investing in theatrical releases, with Netflix's "Knives Out: Glass Onion" enjoying success over the Thanksgiving holidays. Furthermore, Amazon is rumored to be spending a considerable $1 billion annually on producing 12-15 movies specifically for theater viewing only.

Optimistically, the domestic box office is projected to bring approximately $7.4 billion this year. Indeed, that figure still lags behind pre-covid levels by around 30%, but hopefully, a busy release calendar in 2023 will help bridge the gap in ticket sales.