Microsoft VS. Google in The New Search Engines War.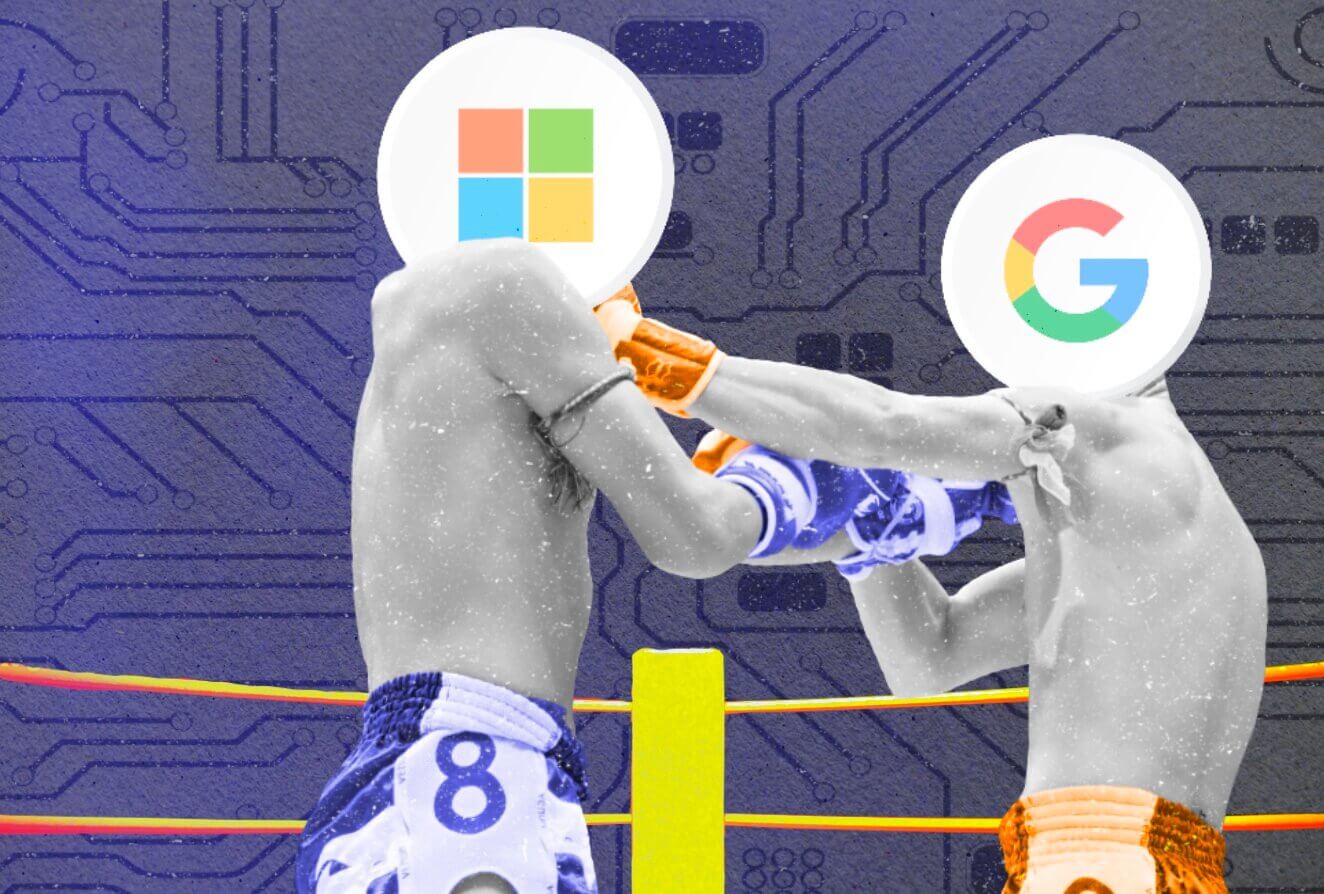 After several years of peace, Microsoft and Google's computer titans have put on their boxing gloves. The two companies played nice for a while - until last April. Then Google accused Microsoft of threatening the workings of the open Internet.

AI is rekindling the war between Google and Microsoft. In the past, the software giant has run newspaper ads attacking Google over privacy concerns. In 2012, Microsoft even made a parody video called "MailMan" with anti-Google trappings. Microsoft made Google Maps non-functional on Windows phones. Google blocked the Windows Phone version of YouTube.

Microsoft (MSFT) sees the new generation of chatbots as an opportunity to reshuffle the deck in the search-engine sector, which Google (GOOGL) has dominated for the last decade.

As the Redmond, Wash. based software giant issued invites to journalists for a last-minute event on February 7, Google attempted to derail its rival's plans and bring attention to itself.

Indeed, the Mountain View, California based search, cloud, and advertising company has abruptly pulled the veil on its new conversational robot.
Bard (GOOGL) vs. ChatGPT (MSFT)
Alphabet's technology, known as Bard, is a direct competitor to ChatGPT, which has dominated practically every tech-related debate since its launch at the end of November.

In addition, Google has scheduled an event to discuss AI. This is set for February 8, 24 hours following Microsoft's event.

Alphabet, led by CEO Sundar Pichai, essentially wants people to forget about the Microsoft event by making announcements before and after it.

The two businesses are vying for supremacy in the next generation of internet searches. They both want to be the first place customers investigate any subject.

ChatGPT (generative pre-trained transformer) has shown the future of search engines in a little over two months: shorter, more concise results and precise answers to the questions people are asking instead of the current set of links. Until now, the user had to scan for links and click on the ones most likely to answer the question posed.

The new artificial intelligence search engines are also more human-like, allowing interaction with the user in conversation. This greatly reduces the time it takes to search, increasing efficiency.

This artificial intelligence interface is unique because it is completely comfortable in conversational mode: you can ask a bunch of questions one by one and expect clear answers. ChatGPT is a generalist robot: you can ask it to create a movie script, a thesis proposal, or a computer code. And its ability to break down a complex task into many simple fundamental tasks, like a computer program does to provide solutions for users, is one of its strengths.

According to the teaser Google provided on February 6, the Bard chatbot can reply to questions in the same way as ChatGPT can.

Pichai stated in a blog post that Bard can be a creative outlet as well as a launchpad for curiosity, allowing you to explain new discoveries from NASA's James Webb Space Telescope to a 9-year-old or learn more about the best strikers in football right now, and then get drills to improve your skills.

Bard also uses online information to deliver current, high-quality replies, which means the robot can answer questions regarding recent topics, whereas ChatGPT cannot.

Microsoft is expected to announce a new version of the Bing search engine with a ChatGPT-like interface that will answer queries in a way that no other search engine has ever done. It will no longer be about showing a list of links.

Also, leaked information last week suggested that during the February 7 event, MSFT would announce that Bing-ChatGPT would be immediately available to the public. Starting February 8, consumers searching with Bing will be able to see results similar to the responses offered by ChatGPT. If so, Microsoft will put tremendous pressure on Google.

Bing was the world's second most popular search engine in 2022 - with a measly 3.04% market share, according to Statcounter. That's far less than Google, which has about 92.6% of the market. Yahoo is in third place with 1.24% of the search market, followed by Russian search engine Yandex with 1%.

The war between the two tech giants is also taking place within the technology of their respective chatbots. ChatGPT is based on GPT-3.5, a big language model. But there are rumors that Bing will be based on the GPT-4 model, which is even more powerful.

Bard is based on LaMDA, its language model. Alphabet/Google has often been cautious in its use of artificial intelligence, fearing the risks this technology poses to its image.

Experts have specifically warned about potential problems associated with the intentions of its human developers. GPT-3.5 and LaMDA language models spew hate speech and inaccurate information.

"We need to be very careful about the downsides, ranging from the need to address IP ownership, the rights of original content owners, the people behind generative AI-driven content, and more," Jeetu Patel, executive vice president, and general manager for security and collaboration at Cisco, (CSCO) - TheStreet on Feb.1. "To me the biggest risk is humans with bad intentions. Imagine if AI could understand emotion and started having emotion itself with negative intentions taught by its human creators. You can't even imagine the consequences of this."