Full Bitcoin Price History: From 2009 to 2022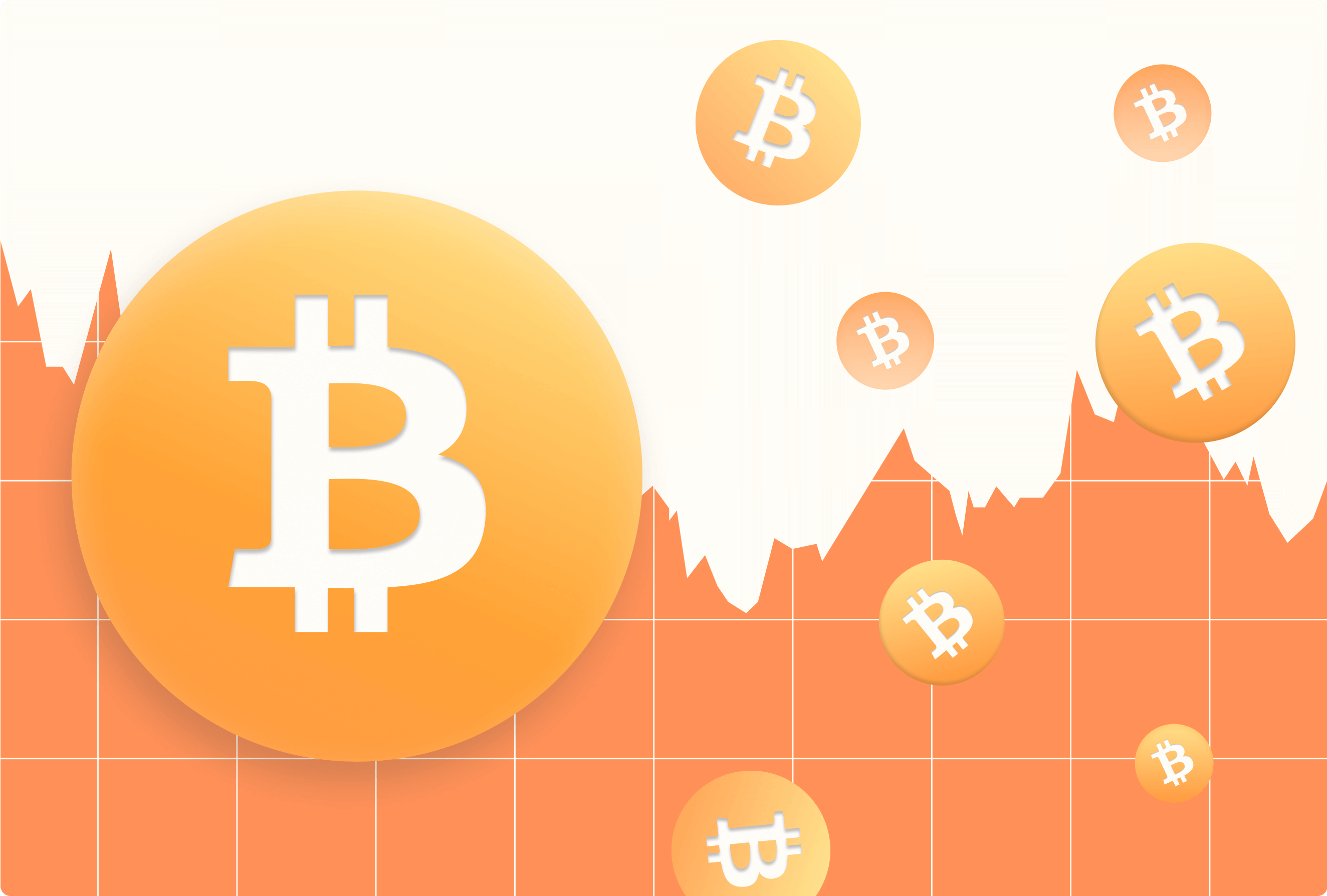 Bitcoin is the most prominent cryptocurrency in circulation today, accounting for more than 41% of the crypto sector – although compared to the centuries-long US stock market, it is still in its infancy. Since its emergence back in 2009, Bitcoin has taken several wild rides – starting at a mere 0.0008$ to an incredible all-time high of $68,789.63 in 2021.
KEY TAKEAWAYS
Bitcoin's price history is a set of incredible price surges and setbacks.
Factors such as geopolitical instability, economic uncertainty, and regulations can affect the value of Bitcoin.
Despite its volatility, cryptocurrency still remains an attractive investment option due to its decentralized nature and blockchain technology.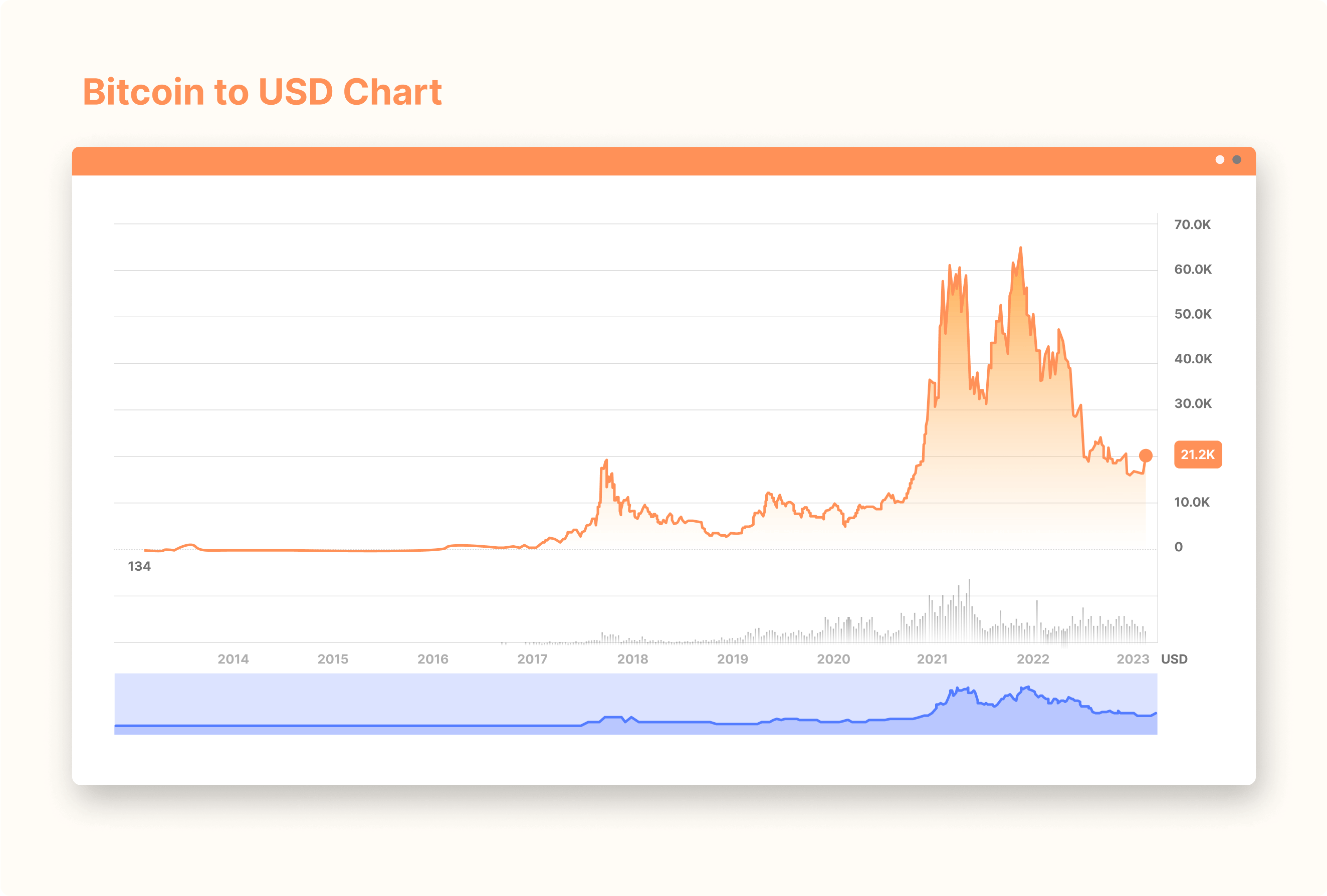 Let's take a closer look at how Bitcoin's price history has evolved over time.

Early Years (2009-2014)

The Beginning

Bitcoin was the first of its kind in history. Its inception marked not just the creation of cryptocurrency but also blockchain technology. Satoshi Nakamoto, the mysterious anonymous creator(s) of Bitcoin, released it back in 2009, and the coin's price at the time was practically $0.

The coin experienced its first crucial surge in the summer of 2010, skyrocketing from a mere fraction of a penny to $0.09 by July – an impressive feat for an asset that was mostly obscure and unknown even amongst the mainstream public and the financial world. In October, Bitcoin's price continued to rise, reaching around $0.10 per coin.

First Major Gains And Losses of 2011

In the spring of 2011, the price skyrocketed and broke $1, initiating its first bull run. In a mere three months, its price experienced an increase of an astonishing 2,960%, reaching between $29-$32 at its apex in June. This marked the first huge surge in the digital currency's value and showed investors that it has massive potential for profits.

Nonetheless, this surge was short-lived – by November of that same year, Bitcoin's price had plummeted all the way back to just $2. This was the result of a sharp recession in digital assets. In 2012, the price of Bitcoin experienced a short increase – from $4.85 on May 9th to $13.50 by August 15th.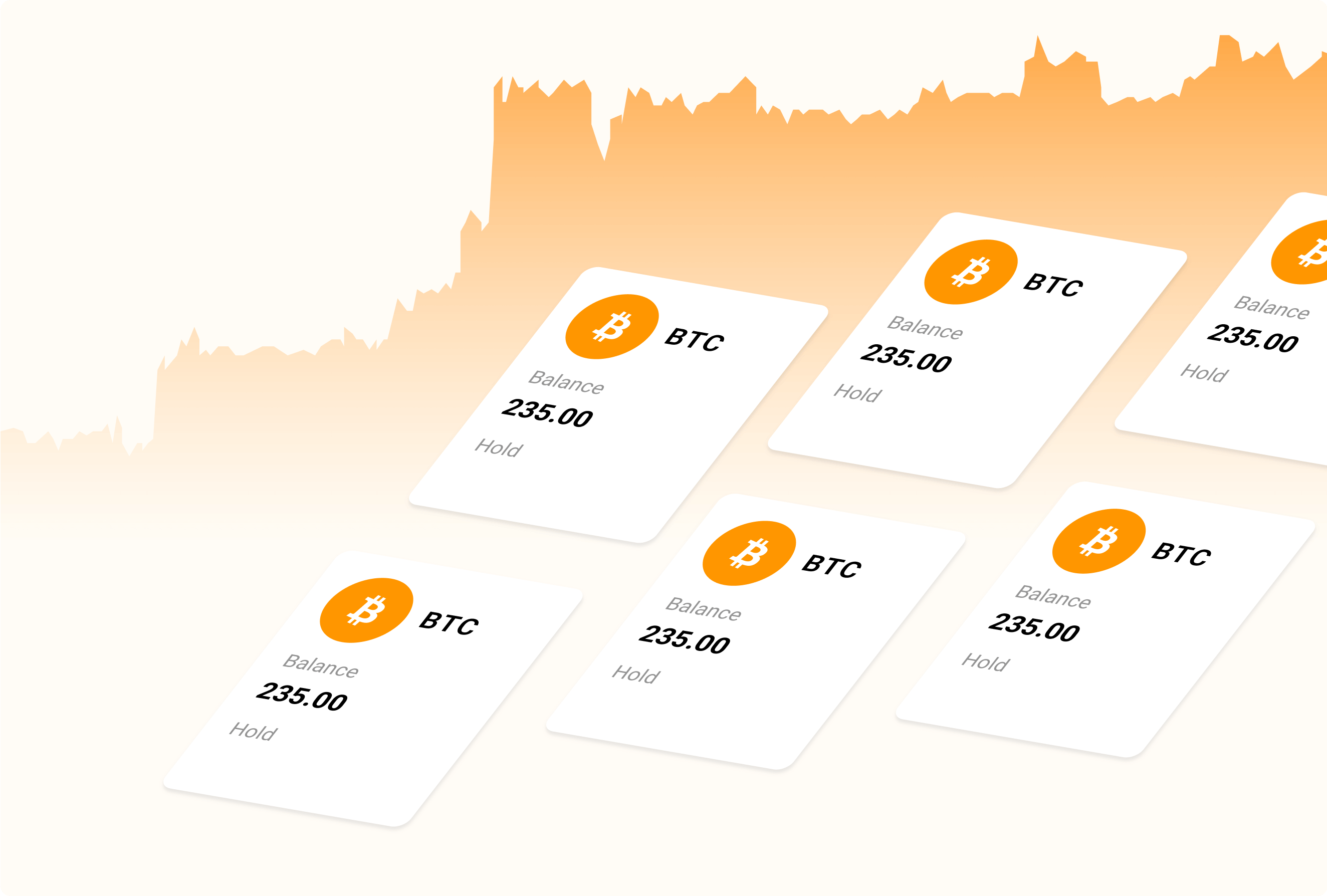 Volatile 2013

2012 was a rather mundane year in Bitcoin's history. However, 2013 proved to be an incredibly successful one. To put it into perspective – at the start of 2013, the price was sitting around $13.28 USD, yet by April 1st, Bitcoin reached $100!

What's more, the coin reached $230 on April 8th, meaning Bitcoin's price doubled in just seven days. Intrigued by its power, users flocked to Reddit forums to explore why a digital asset devoid of any commodities had such potential. Many talked about the cryptocurrency's potential on their Twitter accounts.

However, the price then plummeted two days later, all the way down to $45.

Closer to the end of the year, the coin experienced a remarkable price surge of up to 820%, with its value rising from $125 at the start of October all the way to an amazing high of $1,160 in December. By December 18th, the cost had drastically plummeted back down to around $400-$500.

Bitcoin Peaks & Dips of the Modern Era (2015-2020)

2014-2016 - The Calm Before the Storm

Throughout 2014, Bitcoin witnessed a gradual decline in its price, and by the start of 2015, it had reached a low of $315. Despite this slump, however, many saw potential in the cryptocurrency and its underlying technology and predicted that it would soon make a comeback.

During the 2015-2016 period, Bitcoin made a turnaround. Prices started to rise steadily, eventually reaching a strong figure of over $900 by the 2016 conclusion. This marked a major milestone for Bitcoin, as it demonstrated that the cryptocurrency was continuing to gain traction with more and more people investing in it.

The New Bull Run of 2017

After prices had bounced between $100 and $900 for several years, Bitcoin finally climbed above the symbolic milestone of $1,000 in January 2017. This was followed by a marked uptrend that saw it reach an astonishing peak of more than $19,000 just 12 months later! At the end of the year, Bitcoin's price reached $19,345.

All of a sudden, many prominent people and organizations started to pay attention – investors, governments, tech professionals, and financial institutions. Furthermore, developers began creating their own cryptocurrencies and blockchains in light of Bitcoin's success.

Numerous reputable companies have begun to contemplate adopting Bitcoin payments into their operations.

Bitcoin experienced sluggish growth in 2018 and 2019, with only intermittent periods of activity. For instance, the price jumped to over $10,000 in June 2019 before dropping back down to around $6,000 in December.

The Pandemic Period

The economic slowdown caused by the COVID-19 pandemic in 2020 provided a tailwind for Bitcoin's price.

As investors looked with trepidation toward an unstable global economy and financial market participants worried that a surge in inflation could erode the value of the US dollar, Bitcoin began its powerful ascent from $6,965 at the start of the year – rising steadily and far beyond anyone's expectations.

On November 23rd, Bitcoin closed at a staggering $19,157. Then, the price skyrocketed to nearly $29,000 by December 2020 – an impressive 420% surge from the start of that same year. The 2020 year closed with a record-breaking $29,374.

Bitcoin Today (2021-2022)

2021 was the most successful year for Bitcoin yet.

In a mere month of 2021, Bitcoin rocketed past its 2020 price record and eclipsed the $40K milestone. In April, it achieved new unprecedented heights of over $60K when Coinbase – a big crypto exchange – went public. This was quite an accomplishment that gave investors confidence to pour more into the cryptocurrency market. This era was a tumultuous time for the financial instrument, yet it resulted in incredible gains for traders and investors.

During the summer of 2021, Bitcoin dropped to a low of $29,000 marks. But with September came another bull run, pushing prices up to an impressive mark of $52,693. Though this increase was short-lived and two weeks later saw a significant drawdown leaving it with a closing price of $40,000. Finally, Bitcoin prices soared to an all-time high of $68,789 on November 10th, 2021, before closing the day at a still impressive figure of $64,995.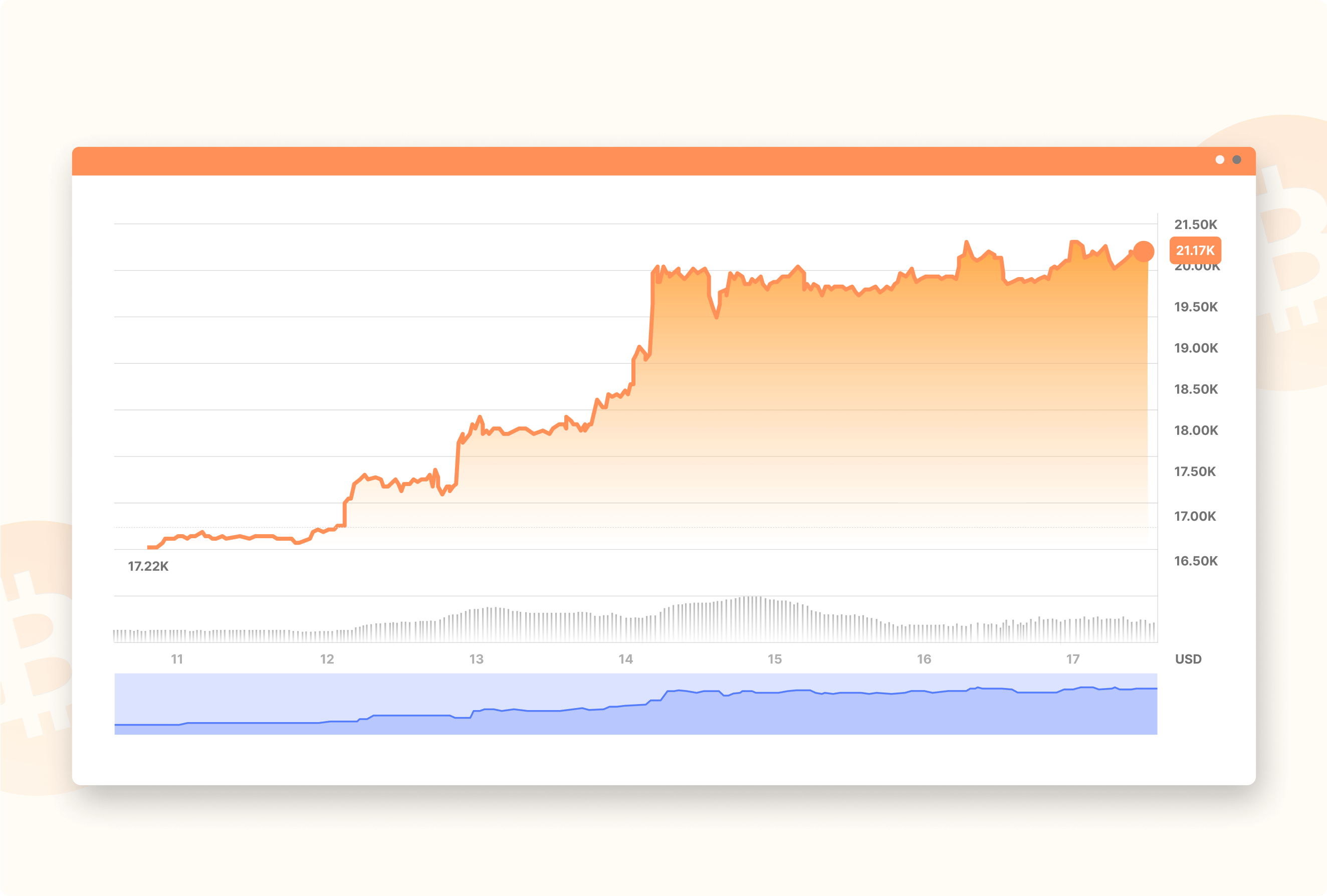 The Bear Market of 2022 and Its Impact on the Crypto Industry
The end of 2021 signaled the beginning of the "crypto winter," which lasted throughout 2022.

Bitcoin began a slow decline in price during this period – peaking at $47,000 in March before steadily falling to around $19,000 by the beginning of 2023.

Investors were spooked by increasing uncertainty, inflation, and the emergence of a new strain of COVID-19, Omicron, causing prices to become increasingly volatile. This led to an unpredictable market. Not to mention geopolitical and economic factors that had a great impact on the overall crypto industry.

The bearish sentiment was further aggravated by the collapses of some major projects like Terra-Luna stablecoin and the FTX exchange, with more regulations being imposed by governments that made it harder for cryptocurrency companies to do business.

In spite of all the pessimistic news reports, some investors maintained an optimistic outlook. This optimism was proven at the start of 2023, when Bitcoin's price rose from November's $16,000 to $21,000 on December 17th. Who knows how things will turn out in the future?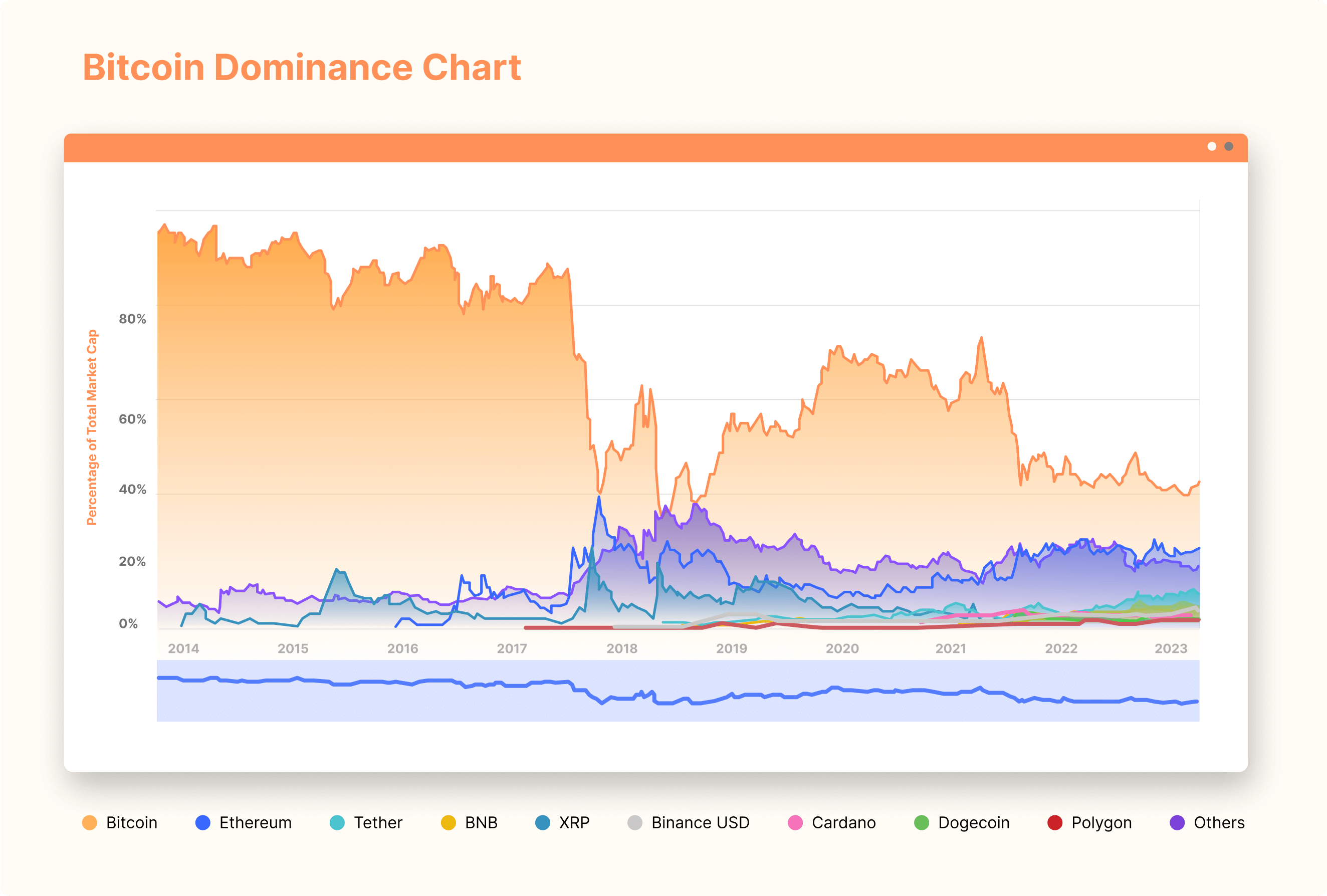 What Affects the Bitcoin's Price History
Bitcoin's value is determined by the laws of supply and demand. As more individuals are buying Bitcoin, its cost is driven up; similarly, as people are offloading their BTCs, the value is decreasing.

Limited Supply

As opposed to paper money and other fiat currencies, there will only ever be 21 million Bitcoin in circulation. The limited supply makes Bitcoin a scarce currency and this, in turn, increases its desirability among investors.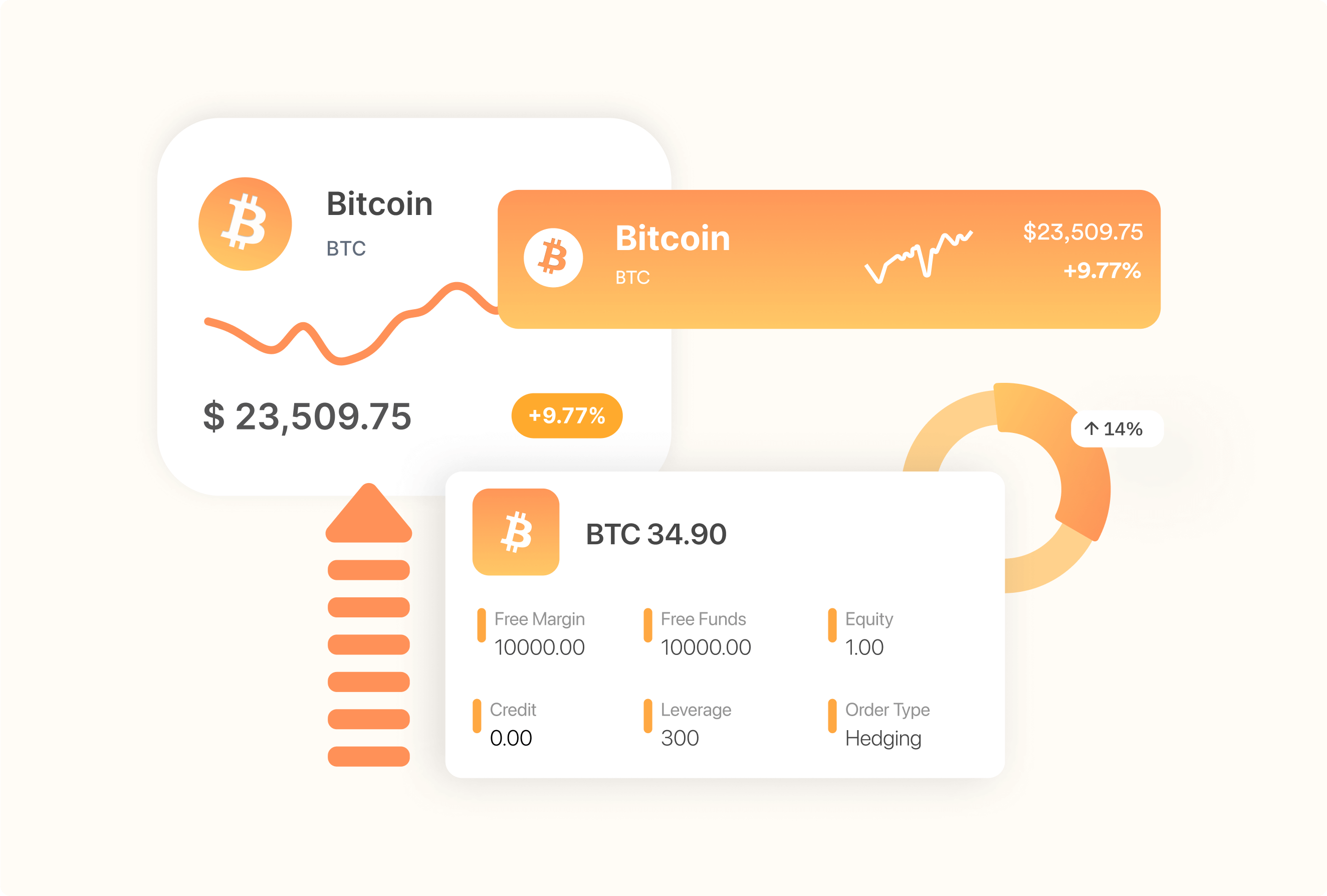 FAST FACT

Bitcoin is generated through the crypto-mining process. The rate of generation is halved every four years, which reduces rewards and slows down the process over time.

High Demand

Bitcoin has become a highly sought-after digital currency, captivating investors with its decentralized nature. This offers an appealing alternative to traditional fiat currencies and financial systems, as well as providing confidence in the system through secure Bitcoin's blockchain technology.

Also, the currency's volatility makes it attractive for Bitcoin trading.
Conclusion
In recent years, the Bitcoin market has been highly unpredictable – with prices fluctuating drastically in a short span of time. Though it's impossible to ascertain what lies ahead precisely, different factors could impact its value either positively or negatively.

FAQ
Will Bitcoin go up?
Answering the question of what Bitcoin will be worth in the future can be tricky, as its price is highly volatile and subject to sudden fluctuations. Nevertheless, many experts are optimistic regarding its long-term prospects due to its potential for further adoption and utilization.
Why does Bitcoin fall?
Bitcoin's price can fluctuate for multiple reasons like global economic instability, adjustments to regulations, or a sudden spike in selling.
Should I invest in Bitcoin?
While there may be potential rewards to investing in cryptocurrency, it is important to recognize the significant risks associated with its highly volatile nature. Prior to investing, you should fully grasp both the risks and rewards of doing so, as well as have a firm understanding of the technology behind each currency.