Guide to Craiyon: How To Use a New DALL-E Mini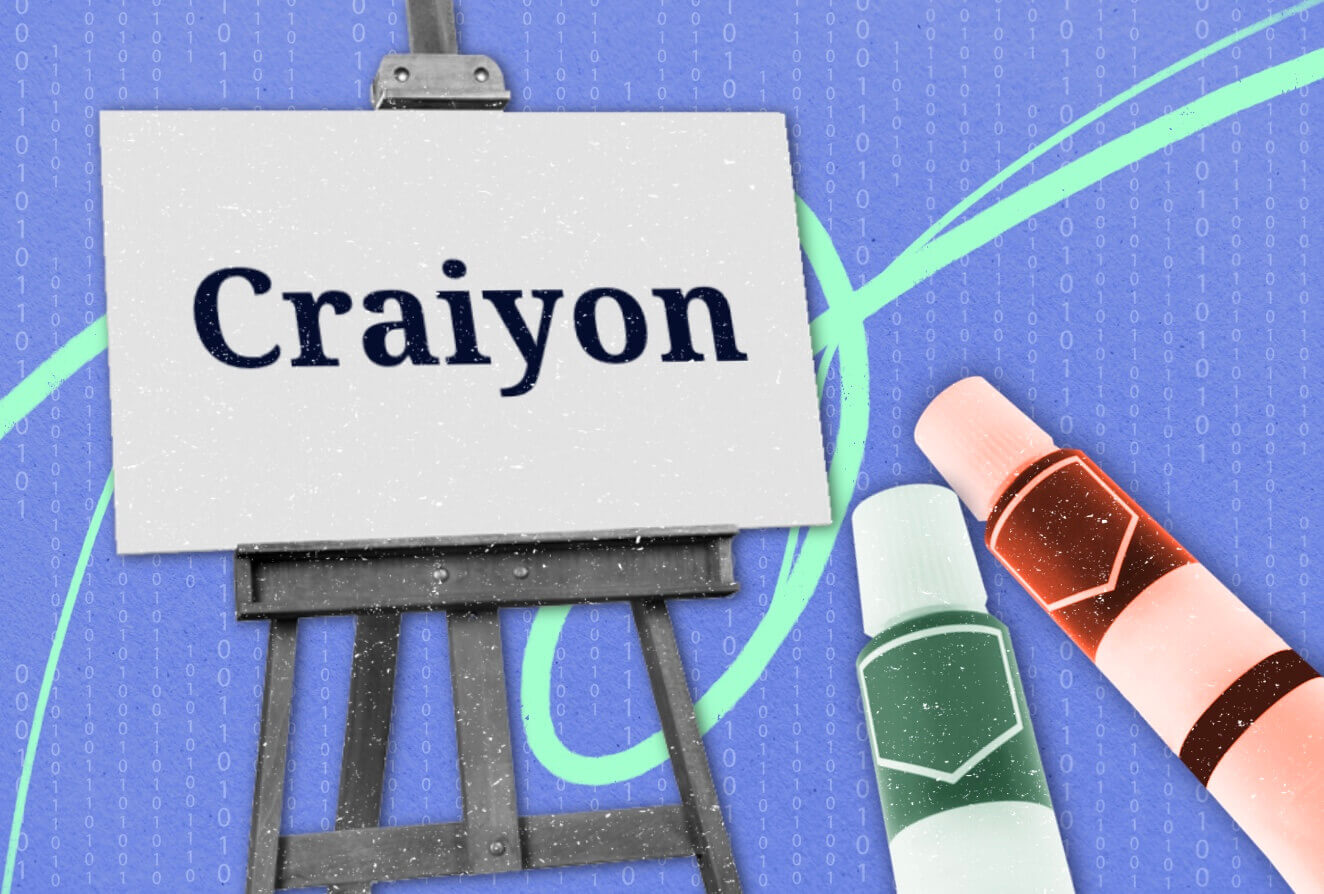 Artificially intelligent picture generators are now trending everywhere. Dall-E 2, a product of OpenAI, has enabled users worldwide to generate high-quality pictures in response to written inputs.
Soon after OpenAI's inception, Google released Imagen, a direct rival that uses OpenAI's open-source code to build similarly stunning AI graphics that can again make images from basic sentences.
Despite the revolutionary nature of both AI technologies, they were initially made available to a tiny group of people via waitlists before gradually opening up to the general public.
However, shortly after then, homemade Dall-E photos, although of poorer quality, proliferated around the internet. Craiyon, formerly known as Dall-E mini, gained popularity not because OpenAI suddenly opened the floodgates but because someone forked the original and improved upon it.
Today, Dall-E mini is rebranded as Craiyon. So, let's discuss what a Craiyon AI generator is and how you can use it.
Key Takeaways
Craiyon is an AI-powered image generation tool that transforms text prompts into visually stunning images.
It offers both free and paid versions, providing users with the flexibility to choose the features and services that suit their needs.
One limitation of Craiyon is its struggle in generating accurate facial images, often resulting in less satisfactory outcomes in that aspect.
Users may also explore alternative tools such as Midjourney, Dream Studio, Lensa AI, and Jasper AI, which offer different functionalities and pricing options.
What Is Craiyon?
Like OpenAI's DALL-E, Craiyon is a remarkable text-to-image generator that can transform textual prompts into visually captivating images. Despite the common misconception, it is essential to note that Craiyon is not a product of OpenAI. In fact, the team behind this generative AI model decided to rebrand the DALL-E Mini as Craiyon.
The development of Craiyon involved training the AI to recognize different elements within images based on textual descriptions. This was achieved by combining extensive visual data with Natural Language Processing, enabling the AI to comprehend language and associate it with corresponding visual cues.
The Genesis Of Craiyon
DALL-E Mini was created by machine learning consultant Boris Dayma, who was motivated to start an open-source project after reading OpenAI's DALL-E research report. Boris studied the document intently for a full six months before beginning his endeavor. His decision to take action was sparked by his access to Tensor Processing Units (TPUs) during a Hugging Face and Google Hackathon. This moment marked the beginning of the life of DALL-E Mini, better known as Craiyon.
DALL-E Mini's first iteration was trained on a massive dataset that Boris Dayma painstakingly gathered from web sources, including 400 million pairings of pictures and related text. DALL-E Mini's core technique is quite similar to the original DALL-E method, which used Zero-Shot text-to-image creation instead of Diffusion. Since it attempts to anticipate the full image simultaneously, this method is more computationally efficient. However, the quality of AI-generated photos remains poor, although recent advances in diffusion models have shown encouraging outcomes.
The DALL-E Mini was such a huge hit that it allowed Boris to raise the funds to train the even more ambitious DALL-E Mega. Notably, the DALL-E Mega model is what drives Craiyon's website, although it is sometimes still referred to as the DALL-E Mini.
How Does Craiyon Work?
As said, the Craiyon AI platform is able to function by utilizing sophisticated natural language processing and machine learning methods. This means that the internet, social media, and other online channels are only some of the many data sources it draws from to guarantee the quality of the output.
Of course, Craiyon does not really understand the words typed but attempts to visualize their meaning. This is the outcome of combining many models:
A pair consisting of an image encoder, which converts raw images into a numerical sequence, and a corresponding decoder;
A model that encodes a picture based on text input;
A model that evaluates the output pictures' quality to improve filtering.
Craiyon AI has been carefully designed to provide a simple and straightforward experience, making it ideal for users with no background in AI or content production software. Since it is hosted in the cloud, the platform may be used from anywhere there is an internet connection.
The user interface was created with the visitors in mind, so it is simple to use and has powerful yet intuitive tools for making and modifying content. This ensures that users can easily navigate the platform and execute their concepts.
Notably, Craiyon extends its support beyond generating images by assisting users with formulating their next text prompt. The platform utilizes ChatGPT to provide users with timely ideas that would logically align with their imaginations.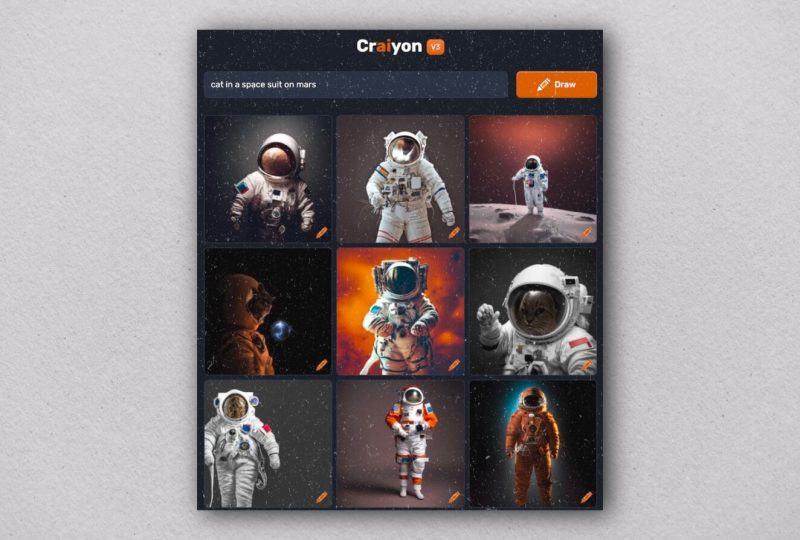 How To Generate Images With Craiyon
Craiyon is one of the easiest-to-use AI image generators on the market. Here are quick steps on how to use it.
Visit the Craiyon website
Start by navigating to the official Craiyon website. While signing up for a free account is an option, you can also explore the site without creating an account initially.
Describe your image
Begin by typing a description of the image you wish to generate. You can also include negative words to specify any elements you want to exclude from your query. Additionally, choose the desired image type, such as art, drawing, or photo.
Take a moment before submitting
Before submitting your query, take a moment to consider how you describe the image you want carefully. Correct text prompt that will include specific words and desired art styles will greatly impact the accuracy and quality of the generated results.
Craiyon also reminds you to select the style that interests you the most. You have the flexibility to experiment with different keywords like "illustration," "photorealistic," "oil painting," or "high definition." Additionally, consider joining the Craiyon community on Discord to engage in conversations with other users and explore previously requested AI artwork.
Generate results
Once you have entered your description and selected a style, click the "Draw" button. Please note that with the free tier, you may need to wait a minute or longer for the image to appear. In response, Craiyon will display several thumbnail images as results.
Select an image
Click on an image that catches your attention, and it will appear in a larger size. From there, you can further enhance the resolution and quality by clicking the "Upscale" button. To save the image as a PNG file, use the "Screenshot" button.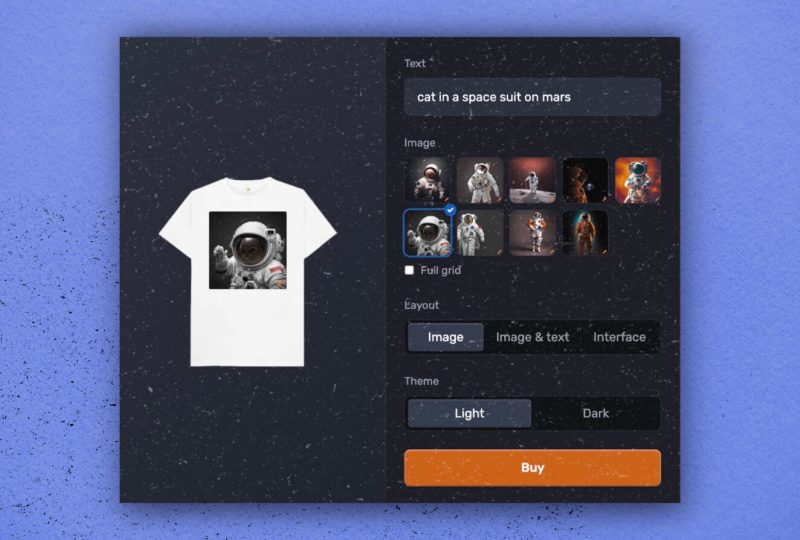 Purchase a T-shirt with your favourite image (optional)
To support Craiyon and own some cool merchandise, you can buy a T-shirt featuring your favorite image. To do this:
Open the desired image and click the "Print on a T-shirt" button.
Confirm the image, select a light or dark theme, and then click "Buy."
Follow the prompts to confirm your size and place your order.
Subscription Options And Pricing
Craiyon AI image generator operates with a combination of ad-supported and subscription-based models, offering users various access options. Alongside a free tier, it provides additional subscription plans for enhanced features and services.
Craiyon offers three distinct account types: Supporter, Professional, and Enterprise, each tailored to different user needs. These accounts come with varying features and services, allowing individuals to choose the most suitable option for their requirements.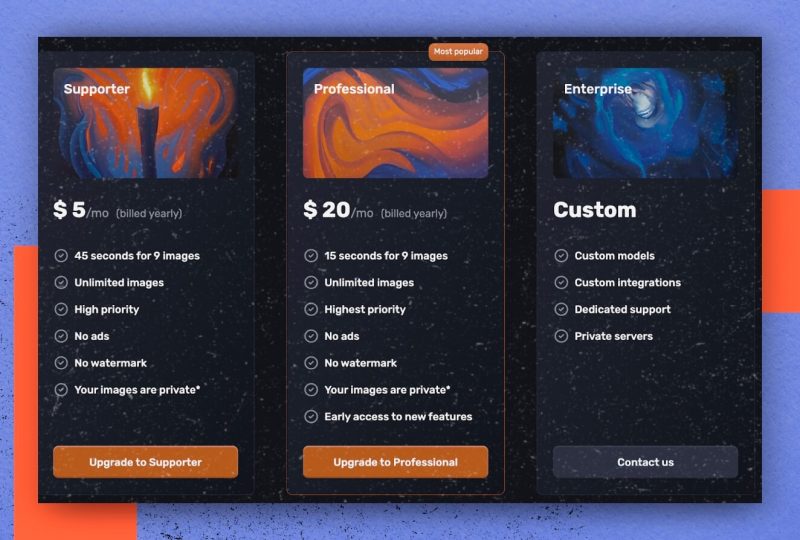 The pricing for Craiyon's subscription plans is designed to be affordable, ensuring accessibility for a wide range of users.
Here're the details about the prices and account features:
Supporter
$ 5/mo (billed yearly)
45 seconds for nine images
Unlimited images
High priority
No ads
No watermark
Your pictures are private*
Professional
$ 20/mo (billed yearly)
15 seconds for nine images
Unlimited images
Highest priority
No ads
No watermark
Your pictures are private*
Early access to new features
Enterprise
Custom Price
Custom models
Custom integrations
Dedicated support
Private servers
Craiyon Use Cases
Craiyon's extraordinary ability to transform text prompts into breathtaking visuals has the potential to revolutionize various industries, including art, design, advertising, marketing, entertainment, gaming, e-commerce, education, and many more.
It is important to note that this transformative potential extends beyond Craiyon alone; any text-to-image AI tool with comparable capabilities can partake in this groundbreaking revolution. So, what benefits do apps like Craiyon actually bring to society?
Brainstorming and Idea Development
With Craiyon, brainstorming sessions take on a whole new dimension. This technology proves invaluable in generating innovative visual concepts based solely on text descriptions, allowing teams to explore and refine their ideas more effectively.
Advertising and Marketing
Craiyon's text-to-image capabilities open up new possibilities for advertisers and marketers. AI-generated images have the power to create visually striking marketing materials and advertisements that fit target audiences and enhance brand recognition.
Craiyon's technology holds immense potential in the entertainment and gaming industries as well. Game developers and content creators can leverage AI-generated images to craft immersive gaming environments, distinctive characters, and visually captivating graphics.
E-commerce and Product Visualization
Craiyon's text-to-image capabilities can also be useful for the e-commerce industry as it offers exciting prospects for product visualization. Online retailers can utilize AI-generated images to showcase products in a visually appealing and realistic manner, providing customers with a more accurate representation of the items they are considering purchasing. This can lead to better customer engagement, increased conversion rates, and improved customer satisfaction.
Craiyon's AI technology can also find valuable applications in education and learning. By generating visual representations based on textual descriptions, Craiyon can assist educators in creating engaging educational materials, illustrations, and diagrams. This can improve students' comprehension and retention of information, making complex concepts more accessible and stimulating their curiosity and creativity.
Craiyon's Limitations
Despite Craiyon's rising profile, its shortcomings should not be overlooked. As for picture quality, it's not up to pace with OpenAI's first-gen model or Google's latest Imagen.
When trying to create images and illustrations of well-known people or cartoon characters, one obvious constraint becomes clear. These pictures often look like hazy blobs that only somewhat resemble the real thing. In addition, a fascinating difficulty appears when dealing with human faces.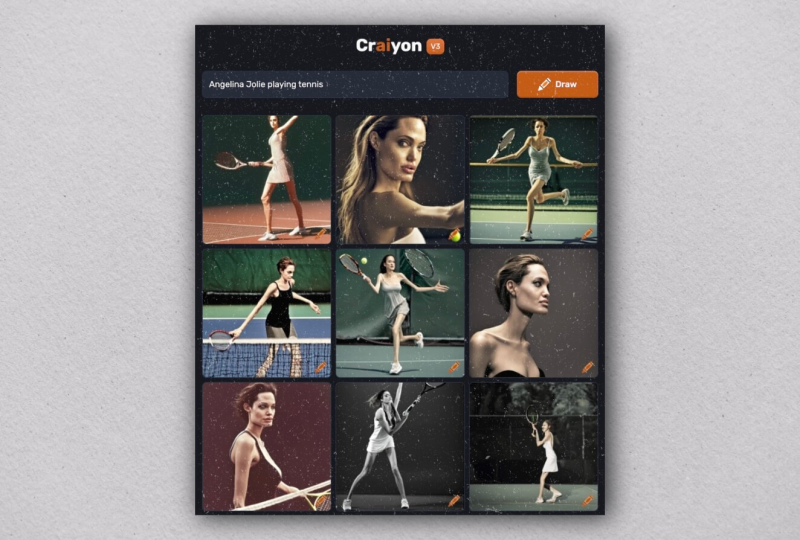 It's important to remember that Craiyon isn't totally helpless when making expressions; it just takes a bit more work on the user's part to get good results. Users have found that they may lead the model to create more recognized face pictures by providing lengthy, comprehensive suggestions, including explicit instructions for the size and position of each facial feature.
The developers of the model stress that it works similarly well or poorly across different picture kinds. However, due to our inherent tendency to focus more on facial features, any inconsistencies or misshapen elements become more evident and can create an uncanny appearance.
Overall, Craiyon's limitations in depicting faces should be considered when deciding whether or not to use the platform for a certain application.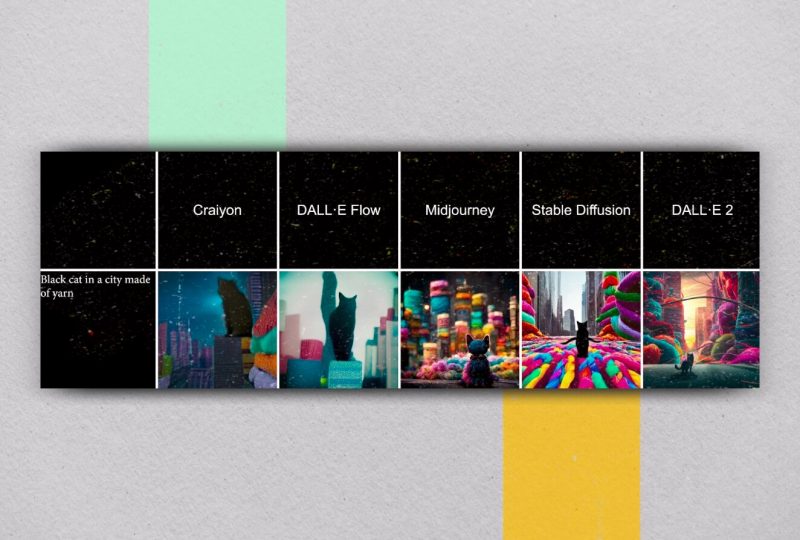 Exploring Alternatives And Competitors to Craiyon
While Craiyon offers an enjoyable and exciting experience, alternative options are worth considering if you seek more specific content and high-quality images.
Here are some alternatives that you may find interesting:
This tool tops the list for its ability to generate AI-generated images in a wide range of styles quickly and with remarkable quality.
Using Midjourney is straightforward; join their Discord community, head to one of the newbie rooms, type in the command /imagine and let your creativity soar. Typically, the longer and more detailed your text description, the better the image. You might personally find joy in exploring the artwork created by the Midjourney Bot and other users.
This alternative offers a slightly more complex experience, catering to more advanced AI users. However, if you possess the necessary expertise, Dream Studio can produce truly stunning visuals.
For those with a deeper understanding, the open-source image generator called Stable Diffusion provides the opportunity to create beautiful artwork. While it is free forever, setting it up may require some technical know-how.
This tool gained significant popularity in December 2022. Lensa AI allows users to input a set of selfies and choose a specific art style. The result is the generation of impressive and visually appealing portraits that can be easily used as profile pictures.
While primarily used for text generation, Jasper AI can also be employed for artistic purposes. It may not excel specifically in the art field, but it can still produce satisfactory results. One aspect to consider is the pricing; the lowest tier subscription starts at $24 per month, and whether the tool justifies this price point might be debatable.
Overall, when considering alternatives to Craiyon, it's essential to evaluate your specific requirements and preferences, as each option has strengths and limitations.
Explore the alternatives, test them out, and find the best tool that suits your creative aspirations.
Final Takeaway
Craiyon truly demonstrates the impressive image generation powers of AI. However, it may not be as stunning as other apps because it is free and uses earlier AI developments.
Of course, it's absolutely interesting and worth testing out, but you might also prefer looking at the free samples offered by several paid solutions. These other methods frequently produce better outcomes, allowing users to fully appreciate the power of AI-driven image production.