Elon Musk Is Back on Twitter and This Time He's Here to Stay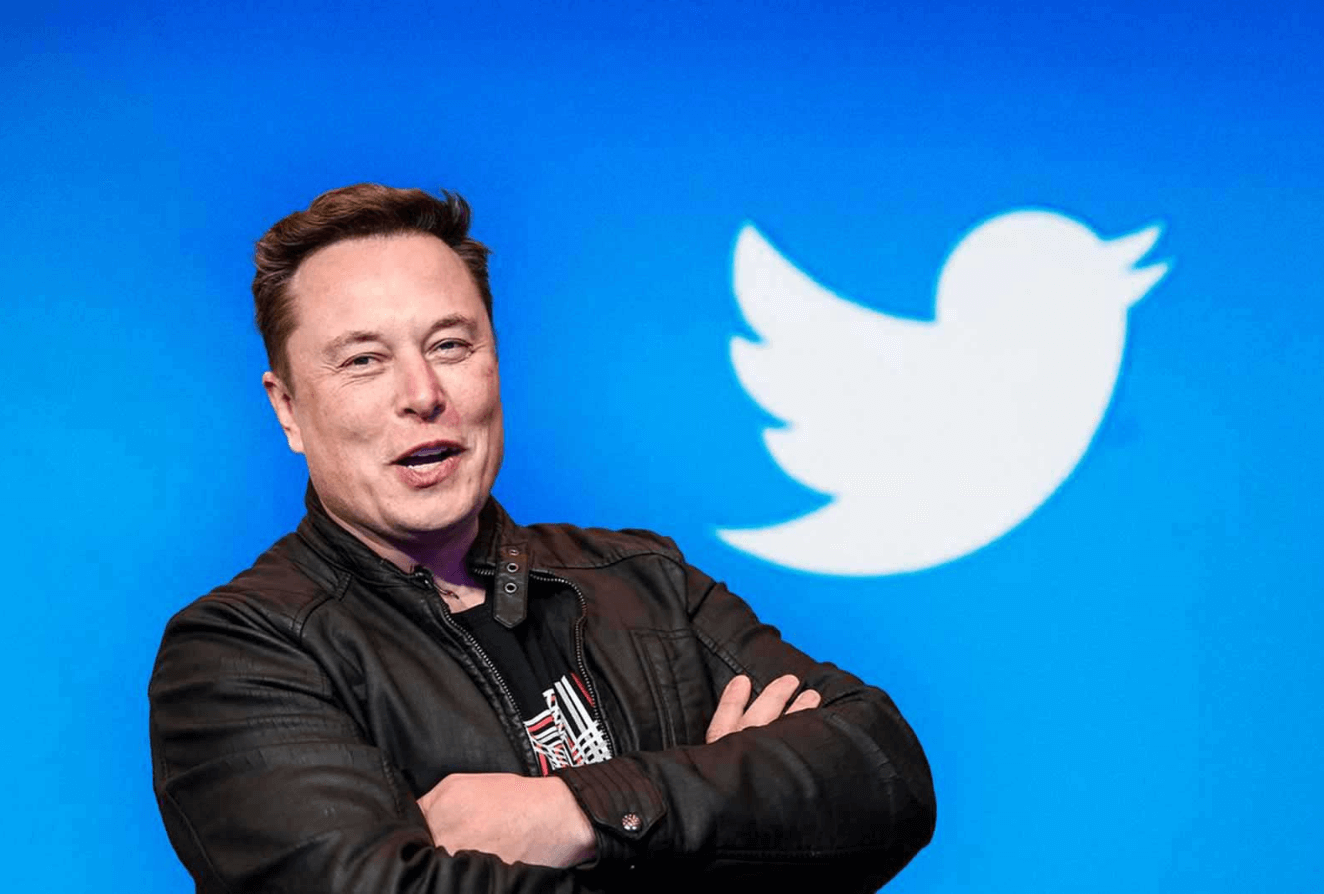 It's stated to be a fantastic start with an autumn cleaning. Elon Musk is ready to take control six months after launching a $44 billion bid to purchase social network Twitter.

According to a source familiar with the situation, Tesla CEO Elon Musk concluded the deal on October 27. Shortly before midnight ET, the millionaire appears to confirm the revelation.

"The bird is freed," Musk posted at 11:49 PM ET, picking a metaphor. The bird is a reference to the Twitter logo.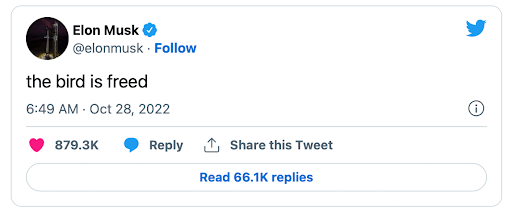 As a result, the world's richest man becomes the owner of the platform he sees as our time's town square, a meeting place for trendsetters and opinion makers.

Twitter's current shareholders will earn $54.20 per share. Musk will next take Twitter private, allowing him to alter the corporation away from market pressures and regulations.
Bye Bye, CEOs !
According to the insider, who requested anonymity, the Musk era began with the symbolic leaving of CEO Parag Agrawal. Agrawal took over for co-founder Jack Dorsey in November. He held his position for a year. Ned Segal, the chief financial officer, is also departing, as is Vijaya Gadde, the director of legal, policy, and trust.

Musk fired all three CEOs, according to the source.

Gadde was in the firing line since she was in charge of Twitter's content standards. And it is her staff that, according to the press, would have proposed that former President Donald Trump's account be banned after the events of January 6, 2021, on Capitol Hill.

Musk was particularly critical of the action, claiming that if he became owner, he would reinstall Trump. Overall, the billionaire believes that all points of view are acceptable as long as they do not violate the law. On October 27, however, he softened his stance significantly.

"Twitter clearly cannot become a free-for-all hellscape," he wrote to advertisers. "Our platform must be pleasant and welcoming to everybody, where you may pick your desired experience based on your tastes, just as you can choose, for example, to view movies or play video games ranging from all ages to mature."

The purchase of Twitter by Elon Musk, on the other hand, raises concerns about the comeback of racist, bigoted, and harassing tweets on the social network after months of attempts to clean it up.

Democrats are likewise concerned about the reappearance of misinformation.
Massive Cuts ?
Agrawal's departure is not a surprise. Recent private text conversations from the billionaire that were exposed as part of the Twitter lawsuit revealed tensions between the two men.

"At least it became evident that you can't work together, which was clarifying," Dorsey wrote Musk on April 26, the day after the billionaire's proposal was announced. The previous CEO, who is acquainted with Musk, was attempting to make contact for Musk and Agrawal to collaborate.

"Yes," Musk replied.

Twitter employees are concerned about job cutbacks after the Washington Post claimed that Musk intends to reduce 75% of his workforce. Twitter now employs 7,500 workers, which means 5,625 people would be laid off.

Musk, who arrived at Twitter's offices in San Francisco with a sink in hand on October 26, spoke with staff and apparently rejected the information.

It should be mentioned, however, that Twitter, like many other digital companies, had already suspended recruiting in May due to the economic slowdown.
Super App?
The billionaire intends to utilize the social network to push his plans for a multi-service mega app fashioned after China's WeChat.

On October 4, the billionaire tweeted, "Buying Twitter is an accelerant to inventing X, the everything app."

He has implied that his concept for Twitter was similar to his goal for X, a financial-services business he co-founded in Palo Alto, California, in 1999. During the year 2000, X merged with the software business Confinity.com. PayPal was formed as a result of this merger.

WeChat, his business strategy, combines social networking with payments, gaming, messaging, booking a flight, ordering meals, and shopping, among other things.

Musk's takeover of Twitter was a real war with unexpected developments. On April 14, the Tesla CEO launched a $44 billion proposal to purchase the social network after acquiring a stake of more than 9%.

Twitter accepted on April 25, but due to a series of events, Musk withdrew his offer on July 8. Twitter then filed a case in Delaware Chancery Court, requesting that Musk follow his earlier agreement.

A 5-day trial was scheduled to begin on October 17, but Musk surprised everyone by reintroducing his offer on October 4. In exchange, he requested that Twitter withdraw his complaint.

Chancellor of the Delaware Chancery Court Kathaleen McCormick had given the tech mogul until October 28 to negotiate a settlement with Twitter if he wanted to avoid a trial.