NFT Market Hit by FTX Collapse: Overall Sales Dropped by 20% in November
Overall, NFT sales for November across five of the largest NFT platforms dropped to $394 million, the lowest mark in 2022.

Balthazar DAO, an NFT gaming platform, has compiled data provided by DappRadar that shows OpenSea, Magic Eden, X2Y2, LooksRare, and Solanart have collectively seen more than a 20% drop in volumes in the previous month as compared to October.

November continued the downward slide for NFTs following the collapse of FTX, which rattled investor confidence in the cryptocurrency industry earlier that month, also causing spot markets to plummet.

Platforms were selected based on the highest volume ever recorded, according to Balthazar. Responses to comment requests from each marketplace's representatives were not immediately available.

Magic Eden, Solana's largest marketplace and the exception among its five competitors, endured a turbulent month with a month-over-month sales growth of 60.9%.

As an analyst at Zerocap said, NFT projects based in Solana, including DeGods and y00ts, have appreciated significantly this year, showing the confidence that investors and enthusiasts have in this market sector.

Noteworthy, Solanart, a less popular NFT marketplace based on Solana, suffered the most among competitors — losing 93% of its market value by November from $6.25 million to just $410,000.

Even though sales have been declining, Balthazar CEO John Stefanidis maintains optimism about the technology, which began gaining traction a year ago.

"Clearly, there has been a decline in sales of images and art, but there are some other really cool and interesting applications of NFTs," he explained.

Economic pressures such as surging interest rates, shrinking household incomes, and volatile market conditions affected users' decisions not to engage with NFTs until the market calmed down, resulting in lower sales, the CEO said.

Following the explosive NFT growth in late 2021 and early 2022 — a period when the total NFT market was valued at nearly $40 billion — the market sentiment has changed dramatically, affecting some of the sector's leading players' market shares.
Top NFT Platforms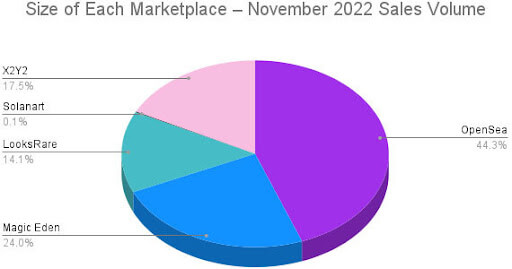 In November, OpenSea, a leader that benefited from being first to the game, saw its market share drop by 1.6% from the preceding month. Despite this, the platform still holds an impressive 44% share, according to data compiled by Balthazar.

In the meantime, Magic Eden and LooksRare each captured 12.1% and 2.5% of the market in November, increasing their numbers slightly.

Additionally, the number of active wallets engaging across all five platforms has decreased significantly since the start of December. The number of users on OpenSea has decreased by 47%, whereas Magic Eden has decreased by 12.5% this month so far.

Over the past four days, Solanart's user activity has declined by 25%, with LooksRare dropping by 41% and X2Y2 dropping by 64%, marking the beginning of a month of low activity in December.