Pepsi, McDonald's, and 8 Other Companies That Have a Lot to Lose in Russia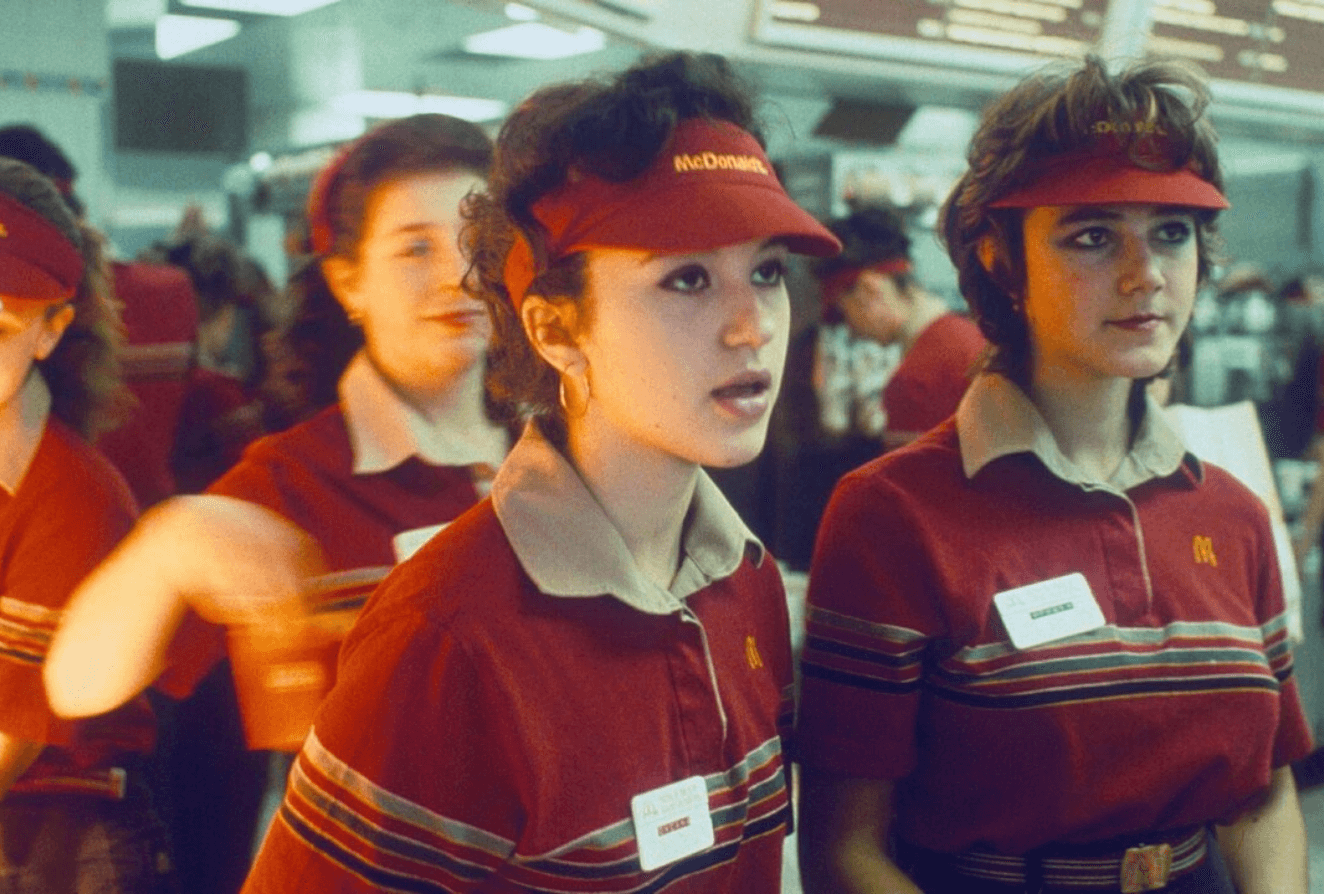 Sanctions imposed on Russia's economy by the US and its allies in response to the invasion of Ukraine have resulted in a mass migration of Western enterprises. Losing the Russian market may result in lower revenue and earnings for individual firms, but the broader direct impact on the fundamentals of US corporations will be minimal.

Nonetheless, the current selloff in the United States has been widespread. Since mid-February, when a Russian invasion of Ukraine looked probable, the S&P 500 has fallen about 7%. These stock declines coincided with a surge in the prices of crude oil, natural gas, and various metals and agricultural commodities.

The raw materials are used as inputs by a diverse range of businesses located both in and outside of Russia. Some on Wall Street are also concerned about the effect on consumer demand if Americans see increased gasoline prices.

As additional supply comes online in nations other than Russia and firms adjust, high commodity prices will eventually self-correct. Oil futures predict that the price of oil will be 30% lower at year's end, according to CME Group statistics, from current levels near $130 a barrel. And businesses have gained more expertise than ever before establishing alternate sources of supplies as a result of the US-China trade conflict and the Covid-19 epidemic.

There is less of a clear route toward the eventual abolition of Western economic sanctions against Russia. President Vladimir Putin's rhetoric signals that there is no likelihood of a negotiated departure on conditions acceptable to Ukraine, the United States, and its allies. It is far simpler to impose penalties than it is to conceive of them being lifted.

For the foreseeable future, Western enterprises may have to essentially say "dosvidaniya" to their Russian revenue. Sanctions on Russian partners and suppliers may target them, or restrictions on interacting with Russian banks may make financing and conducting business in the country impossible.

Numerous Western corporations have either willingly severed connections with Russia or stated their intention to do so in recent weeks. These choices vary from the somewhat symbolic — Walt Disney (DIS) will stop showing new films in Russia — to the more consequential — BP (BP) is exiting a $14 billion investment in Rosneft.

The good news for American investors is that the world's 11th largest economy contributes a little amount to business income and profits. According to FactSet, the S&P 500 earns less than 1% of its yearly revenue from Russia.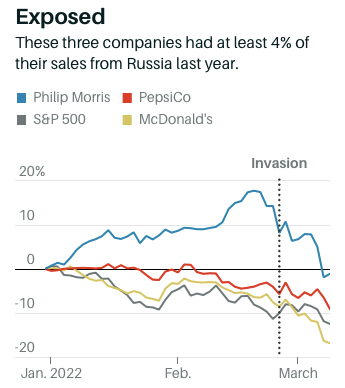 The index's most exposed company is cigarette producer Philip Morris International (PM), which generated 8% of sales last year from Russia. "Our first priority is the safety and security of our employees and their families, and we are actively monitoring the situation," the business said on Feb. 23. "At the moment, we do not think that the announced sanctions would have a major impact on our operations."

McDonald's (MCD) has a 4.5 percent revenue exposure to Russia, PepsiCo (PEP) has a 4.3 percent revenue exposure to Russia, EPAM Systems (EPAM) has a 4.1 percent revenue exposure to Russia, and Mondelez International (MDLZ) has a 3.1 percent revenue exposure to Russia, according to FactSet data.

Here are several American corporations produced at least 1% of their 2021 revenue in Russia: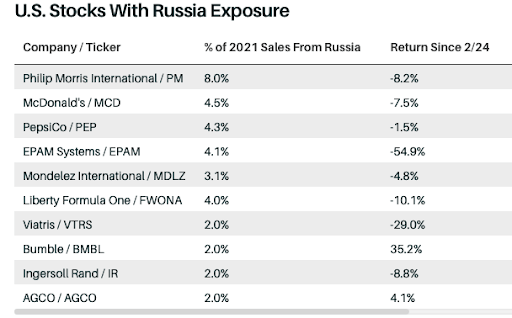 Russian income for those enterprises will not vanish immediately. However, their management teams undoubtedly have more to consider these days.