Invest in the Intelligent Future: The Best AI Stock Market Leaders of 2023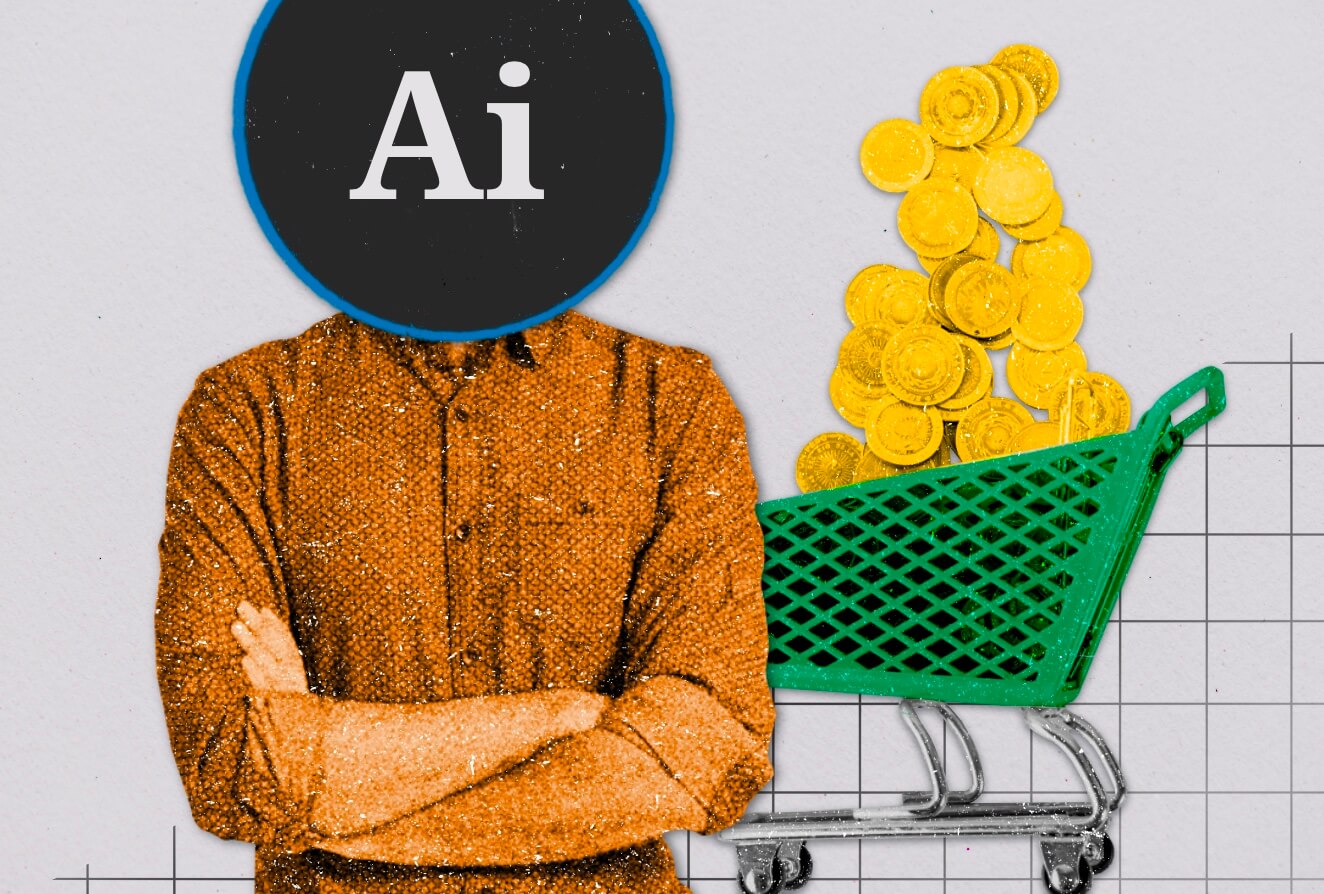 The future of Artificial Intelligence (AI) is here, and it's driving innovation in exciting new ways. In January 2023, ChatGPT reached a milestone with 100 million monthly users – an impressive feat for a platform that was only launched two months prior.
Generative AI, a branch of AI that is able to generate new and original content from existing data and prompts, has taken the world by storm. Many generative AI tools, such as Dall-E, Midjourney and more, have sparked curiosity with their remarkable capabilities, such as writing poetry, coding and creating visually stunning artwork.
Today, tech giants like Microsoft, Google and Facebook are investing heavily in AI research and development – which has made artificial intelligence stocks a hot commodity. But with so many companies to choose from, which ones should you invest in? In this article, we will explore some of the most promising and forward-thinking AI companies that are pushing boundaries in this new and exciting field.
Key Takeaways:
Generative AI, a branch of AI that creates original content from existing data and prompts, has become popular among users.
The top AI leaders in 2023 feature a wide range of tech companies, each with their own strengths and unique approaches to artificial intelligence.
When considering investing in AI stocks, it is important to conduct thorough research and due diligence.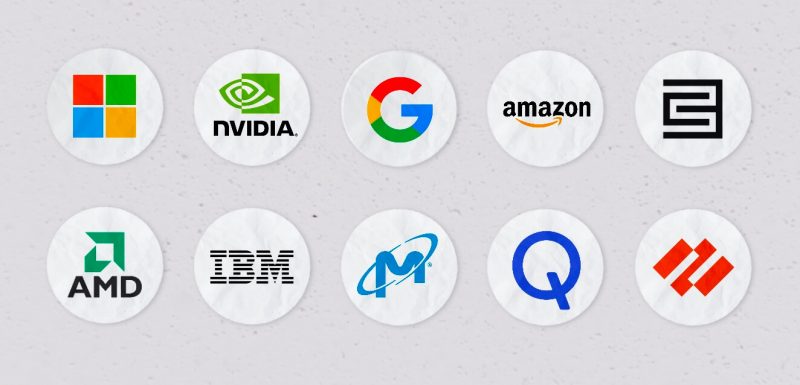 Overview of the Best AI Stocks in 2023
Microsoft Corp (MSFT)
Microsoft Corporation is an American technology company, one of the world's largest software makers by revenue and one of the most valuable companies in the world. Microsoft is well-known for its Windows operating system, Office suite of productivity software, as well as its Xbox video game console. However, Microsoft's focus in recent years has been on AI software and the integration of AI features across multiple products such as Azure, Edge, Office and Bing.
By partnering with OpenAI and providing it with a $10 billion investment following the launch of ChatGPT, Microsoft is positioning itself as an innovation leader in the AI market. The company is also leveraging AI to streamline industries such as healthcare and empowering customers with more efficient tools through Azure.
With strong earnings growth over the last five years and expected 13.5% EPS (Earnings Per Share) growth next year, the company is well-positioned for long-term success, signalling that Microsoft's focus on AI is paying off.
Nvidia Corp (NVDA)
Nvidia Corporation is a leader in developing graphic processors, which are vital to the growth of the artificial intelligence industry. With its graphics processing units (GPUs), Nvidia provides the computing power and performance necessary for crucial phases of machine learning, such as large AI model training, data analysis, and other deep learning tasks.
The company has also seen rapid growth in its data centre business, providing strong financial support for its operations. Additionally, Nvidia's professional visualisation segment has strong potential for future growth as graphics become increasingly essential to remote and virtual collaboration in the workplace.
All in all, Nvidia is well-positioned to continue leading the AI sector due to its current market dominance in the GPU industry. Over the past year, NVDA has been the best-performing AI stock, and while earnings growth in the last five years has been only 5%, analysts anticipate much greater yearly earnings growth over the next half-decade (and EPS growth by 34% next year).
Alphabet Inc (GOOGL)
Alphabet Inc is an American multinational conglomerate, most known for its subsidiary Google. The company has invested heavily in AI research in recent years, having acquired several sector key companies, including DeepMind and Kaggle — both of which are pushing the boundaries in artificial intelligence capabilities in different industries.
Alphabet's focus on AI has been one of the key drivers of its success in the past few years. Their technology has contributed to advances in vision analysis, learning algorithms, voice recognition, and more. Alphabet's AI research has also been the cornerstone of its cloud services, providing businesses with powerful analytics and data collection capabilities.
As a result, many industry experts believe that Alphabet Inc is well-positioned for continued success in the coming years, particularly when it comes to its investments in AI technology. Analysts project that Alphabet's earnings will continue to grow in the next five years, with EPS expected to reach 17.9% for the next year.
Amazon.com, Inc. (AMZN)
Amazon Inc is the world's largest online retail company, but what many people don't know is that it also provides a platform for AI projects to be built and trained on. Amazon offers machine learning capabilities on AWS (Amazon Web Services) to help developers innovate faster with a comprehensive set of AI and machine learning tools, infrastructure, and implementation resources.
Some examples of Amazon's AI-powered products include Alexa and Echo, which answer questions through voice recognition, natural language processing and data retrieval. In addition, the company offers Amazon Lex, a platform for integrating voice and text input into applications, Amazon Polly, a service that converts text into realistic speech for use in voice-activated applications, and more. Additionally, Amazon uses AI to ensure that damaged products do not reach their customers.
Analysts believe that the company's stock will experience growth in the next five years. In 2022, the stock lost nearly half its value; however, it is making a strong bounce back in 2023 as earnings recover.
C3.ai (AI)
C3.ai is a rapidly growing enterprise AI company with a unique strategy and significant potential for the future. C3.ai focuses on providing AI-based SaaS solutions to accelerate software development, reduce costs, and manage risk. This broad range of applications delivers impressive results, such as the U.S. Air Force predicting aircraft system failures and Engie reducing energy expenditures.
With no known direct competitors, C3.ai has an exciting opportunity to lead the AI revolution in the industry over the next few years. However, this market may become more competitive if larger cloud infrastructure providers enter the fray.
The stock began trading in 2020 and has experienced a strong rally over the past year. Analysts expect significant growth for the company, with average yearly EPS growth predicted to peak over the next half-decade.
Advanced Micro Devices, Inc. (AMD)
Advanced Micro Devices, Inc. is a global semiconductor company that designs and manufactures central processing units (CPUs), GPUs, and other related products. AMD has been at the forefront of incorporating AI technology into its chip designs, positioning the company for success in the sector.
For example, AMD is the technology powering some of the world's fastest and most advanced supercomputers, such as Europe's LUMI and Oak Ridge National Laboratory's Frontier systems. The company's Exascale-class computing technologies are ideal for providing the processing power needed to support the most complex Generative AI models.
Over the past five years, AMD has had impressive financial performance and continues to forecast strong growth in the future. Analysts expect AMD to gain market share from competitors such as Intel and Nvidia, further increasing investor confidence in the stock. Despite a recent dip in share price due to global demand fluctuations, AMD's commitment to integrating AI technology into its products and its strong financial performance make it one of the best stocks for investing in AI trends.
International Business Machines Corporation (IBM)
International Business Machines Corporation is a long-standing tech giant in the global market that has proudly been at the forefront of innovation since its founding. IBM is renowned for its ability to provide enterprises with integrated tech solutions and its own unique AI application strategy. The strategy enhances human intelligence, improves efficiency, and can reduce costs.
IBM's AI technology has been successfully implemented in the healthcare and financial services sectors, helping to improve operational effectiveness in those industries. With a fragmented market, IBM is still one of the leaders when it comes to software platforms for AI development, and its year-over-year growth rate speaks for itself. Although IBM is a complex company that is undergoing some transformation, it remains a reliable and profitable option for investors due to its strong AI capabilities as well as the presence of other growth opportunities.
Micron Technology, Inc. (MU)
Micron Technology is a leader in computer memory and data storage solutions. The company has a long history of innovation, having developed solutions that power the modern technology landscape. Micron's expertise in creating memory products capable of storing large quantities of data places it in an advantageous position to capitalise on the growth potential of the AI sector.
In recent times, prices for its DRAM and NAND chips have seen a significant rise, leading to a substantial increase in the company's earnings. This gave rise to a 20-year high in its share price in early 2022. Looking ahead, Micron has an optimistic future outlook, as demand for its products is expected to increase with the growth of artificial intelligence.
Qualcomm Inc (QCOM)
Qualcomm Inc is a technology company whose focus lies in wireless telecommunications and semiconductor manufacturing. The California-based firm boasts a presence across the world, with products touching virtually every corner of the tech industry. Qualcomm's portfolio spans a range of services that enable it to provide end-to-end hardware and software solutions for artificial intelligence technology.
Qualcomm's unique approach to hybrid AI processing is set to propel the company into an even greater leadership role in future years. Its hardware solutions provide superior performance per watt, while its cutting-edge software and Qualcomm AI Stack offer quick and easy development, optimization, and deployment of AI applications across various products and segments.
As artificial intelligence technology continues to proliferate, Qualcomm is an attractive option for investors looking for a company that will remain at the forefront of this rapidly evolving industry in the coming years.
Palo Alto Networks, Inc. (PANW)
Palo Alto Networks provides a comprehensive portfolio of network and cloud security solutions that protect customer data from cyber threats. It also offers next-generation firewalls, identity and access management, cloud migration and orchestration services, threat intelligence services, and more.
With the rapid growth of the Internet of Things, AI systems and cloud infrastructure, Palo Alto's technology is increasingly needed to ensure data safety and security for clouds and networks AI projects are based on. The company has built an impressive network of partners and customers that rely on its cutting-edge security capabilities.
The stock has seen impressive returns in 2023, reaching an all-time high. There is optimism among analysts that Palo Alto will post its first profitable year in 2023, with EPS expected to rise 17.3% in the next year. Subsequent years are expected to see even higher average growth, making this an attractive stock for investors looking to the future of AI development.
How to Choose the Best AI Industry Stocks?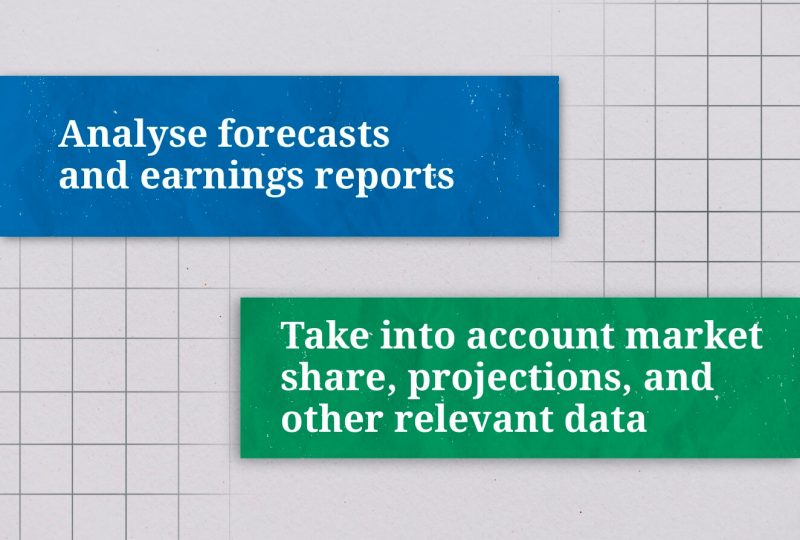 When investing in AI stocks, it's important to have a good understanding of the industry. Consider companies that are both 'pure plays' and those with broader business interests, and decide which kind of exposure you want. You should also analyse earnings forecasts and annual reports for a thorough understanding of a company's performance and financial health.
Analysing the growth of AI stocks is essential. Factors such as earnings, market share, and analyst projections should be taken into account for assessing the strength and future prospects of a particular company. Finally, keeping up with research reports can provide professional insights into the overall AI landscape and help you evaluate individual stocks.
A number of companies have demonstrated that investing in AI stocks can produce solid returns. Nvidia, for example, has seen a steady rise in its stock value due to their increased production of AI chips to meet growing demand.
Is Investing in AI Companies a Wise Decision?
AI technology is becoming increasingly advanced and widespread. This means that investing in AI companies now could lead to substantial returns down the road as the industry grows and matures.
Still, the decision to invest in AI stocks should be made on an individual basis, taking into account one's own portfolio and the risks associated with any investment. While there is great promise in this sector, and many believe it has a bright future ahead of it, nobody can guarantee what will come of the technology or business cycles in the near future.
It is important to conduct thorough research and due diligence when considering any investment, especially in AI stocks. Additionally, it's highly recommended that one consults a financial advisor before making any major investment decisions. Ultimately, the decision to invest in AI stocks should be based on your own personal risk assessment and knowledge of the sector.
FAQs
How can I invest in AI stocks?
Most of the stocks mentioned in this article can be found on major stock exchanges. You can purchase the stocks directly, through a broker, or through an online trading platform. Make sure you do your own due diligence before investing and consider any associated risks with each stock.
What risks are associated with investing in AI stocks?
AI stocks are no different than investing in any other industry. The risks are dependent on the company and their business model. Some of the most common risks with AI stocks include market volatility, regulatory risk, technology risk, and competitive risk. It is important to consider these factors when investing in any stock.
Where can I find more information about the top AI stock market leaders of 2023?
You can find more information about the top AI stock market leaders of 2023 by researching each company's individual website, reading financial news reports, and exploring analyst opinions. Additionally, many websites provide comparison charts and detailed analyses of different AI stocks' performance over time to help investors make informed decisions. This data is usually available free of charge and can be a great resource for those looking to get a better understanding of the industry.