Bitcoin Flexes Dominance Again as Altcoins Suffer Bigger Losses

Even though Bitcoin has had a rough time lately, it has still held up better than other cryptocurrencies, showing that it can remain dominant throughout a downturn.

Babel Finance reports that the market-cap dominance of the currency has increased significantly during the last selloff, soaring to 45%, the highest level from the beginning of the year. As analysts at the firm said in a note, "altcoins are at their worst."

Bitcoin enthusiasts added $299 million to Bitcoin products last week as prices plummeted amid the TerraUSD implosion, with analysts suggesting investors were flocking to it as a safer investment.

"In this asset class, Bitcoin is the best known and the most liquid one, which is why it is viewed as the safest," explained Matt Maley, chief market strategist at Miller Tabak + Co. "Considering the drop in prices of the most volatile members of digital assets in recent weeks, it's not surprising that investors are focused on the safest."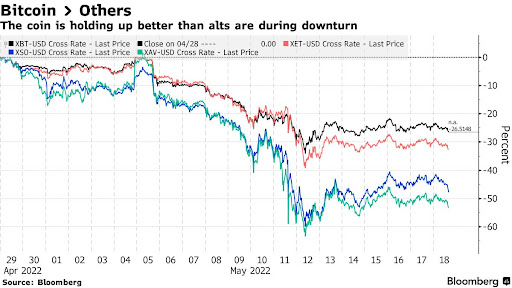 This is a concept that appears every time cryptos go through a challenging period. Among all digital assets, Bitcoin is the oldest and most widely known. There is also a group of devoted crypto enthusiasts, also referred to as Bitcoin maximalists, who believe their coin is the currency of the future.

The returns aren't stellar, however. As with the vast majority of the market, it is mired in a bear market, but it has been performing significantly better than altcoins. Since the beginning of the month, Bitcoin has lost 27%, while Ether has fallen 33%. Several coins have experienced even worse declines, including Solana, which has dropped by 44%, and Avalanche, which has fallen by over 50%. In Wednesday's trading, Bitcoin fell 3%, while Ether fell 4%.

Oleksandr Lutskevych, founder and CEO of CEX.IO, cited aggressive Fed policy measures as the reason for the fear among Altcoin investors.

This year, the crypto market is a mess. A majority of central banks have shifted from loose monetary policy to higher interest rates in an attempt to curb inflation. There's been a detrimental effect on all types of risky investments.

"Most analysts believe that rate hikes will continue in the near future," Lutskevych noted. "This has caused investors to speedily cash out of risk assets like stocks or crypto coins."

It is difficult to predict when the selloff will end. The RBC Capital Markets' Lori Calvasina says she has been closely following the correlation between cryptocurrency and stocks. Before, Bitcoin had been used as an indicator of when the market was about to bottom. However, this is no longer the case.

"At the peak, it was giving us very clear signals. Currently, it does not provide much information, but there have been significant declines," she said. "Equities do not tend to decline as much as cryptocurrency, so it can be argued that it is safer than crypto."

While this is going on, analysts at Babel are expecting a bullish development: Bitcoin is approaching its realized on-chain price of about $24,000. This metric seeks to determine if an asset is overvalued or undervalued in comparison with its fair value. According to them, "green areas often signal a good time to buy, and the market is continuing to move that way."