Elon Musk Leaves Twitter CEO Chair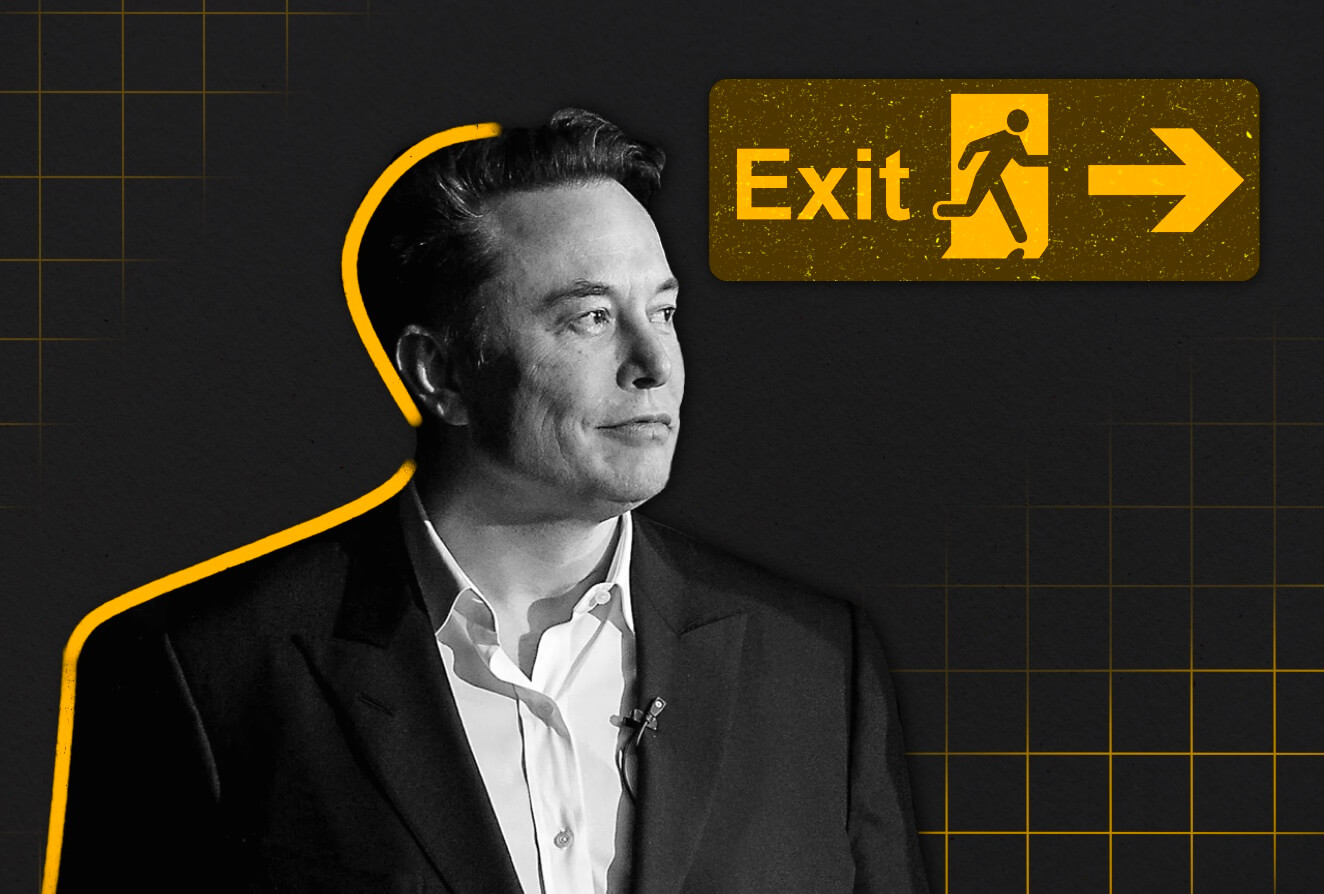 It took some time, but Elon Musk honored his word. The creative and charming visionary will honor the results of a poll he arranged on December 18.
As he regularly does for major issues, the billionaire invited Twitter users to vote on his future as CEO of the company. The question was simple: should he step down as Twitter's CEO?
Voters had only two options: yes or no. Nearly 18 million Twitter users voted, with 57.5% voting yes. Musk has promised to respect the result of the election and do as his followers want.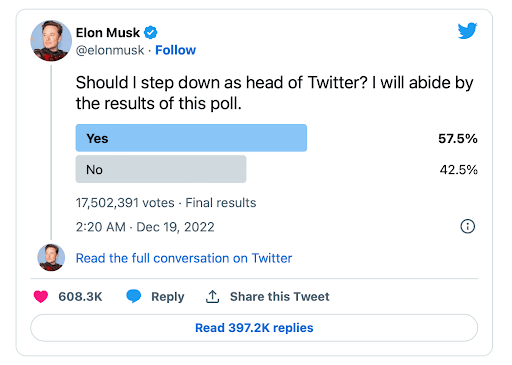 However, after the results were announced, the King of Techno, as Tesla calls him, did not acknowledge them.
Within hours following the outcome, he began reacting to tweets from people claiming that a high number of fake accounts, or spam bots, had voted. This theory prompted the serial entrepreneur to declare that in the future, only customers of Blue, Twitter's $ 7.99 per month subscription service, will be able to vote on critical choices.
If he had followed this regulation, just 140,000 subscribers would have been able to vote, rather than the millions who did. According to the New York Times, Blue has only 140,000 subscribers as of November 15.
I Am Resigning
Musk finally decided to accept the results and draw the conclusions around 24 hours after they were announced. On December 20, the billionaire said he would step down as CEO as soon as he found someone foolish enough to take the position. After that, he will only be in charge of the software and server teams.
He didn't say whether he already had a few candidates in mind. According to CNBC, the billionaire began his quest for a successor even before he arranged the vote.
The billionaire said on December 18 that: "No one wants the job who can actually keep Twitter alive. There is no successor."
"The question is not finding a CEO, the question is finding a CEO who can keep Twitter alive," he added.
Musk used the chance to present two essential requirements for the incoming CEO when podcaster Lex Fridman and a fan volunteered.
Musk stated that the nominee must be a big fan of suffering. And be prepared to spend his life savings on Twitter, which has been on the verge of bankruptcy since May. Question to candidates: Do you still want the job?
Last month, the billionaire stated that the firm is losing more than $4 million daily. He said the platform was on track to generate $3 billion in negative cash flow before his substantial expense cutbacks.
Who Will Take Musk's Place?
Companies, advertisers, influencers, politicians, rights organizations, and others are all waiting to see how the platform's new owner will manage the public dialogues.
But it's virtually chaos less than two months after Musk took over. At least 5,000 of the company's 7,500 employees had been fired or gone after he arrived.
The controls in place to prevent the dissemination of vile, racist, xenophobic, and anti-Semitic speech and disinformation have been eased. Today, any message is allowed on the platform as long as it does not break the law, a lax attitude in the name of free expression.
The issue is that Musk, who describes himself as a free speech absolutist, terminated the accounts of journalists who attacked him, causing many of his critics to beg him to clarify the rules regulating free speech. The famed investor Mark Cuban has called the Techno king a "king," and he criticizes the lack of transparency in Twitter's policies.
The unpredictability and opaque rules of Musk, who has also grown quite political, have had major financial consequences for both Twitter and Tesla, another Musk business that appears to be paying the price for its CEO's partisanship and activity on Twitter.
Advertisers have abandoned the social network, despite Musk's claims that the number of members has climbed. Many companies, including General Motors, have paused their advertising on the platform to see what Musk plans to accomplish with the platform.
However, several names have emerged to replace Musk. His lieutenants include investor and podcaster Jason Calacanis and former PayPal Holdings executive David Sacks.
Musk has already turned down an offer from John Legere, the former CEO of T-Mobile. Sheryl Sandberg, Facebook's former COO, is also mentioned.