Metals Haven't Crashed This Hard Since the Great Recession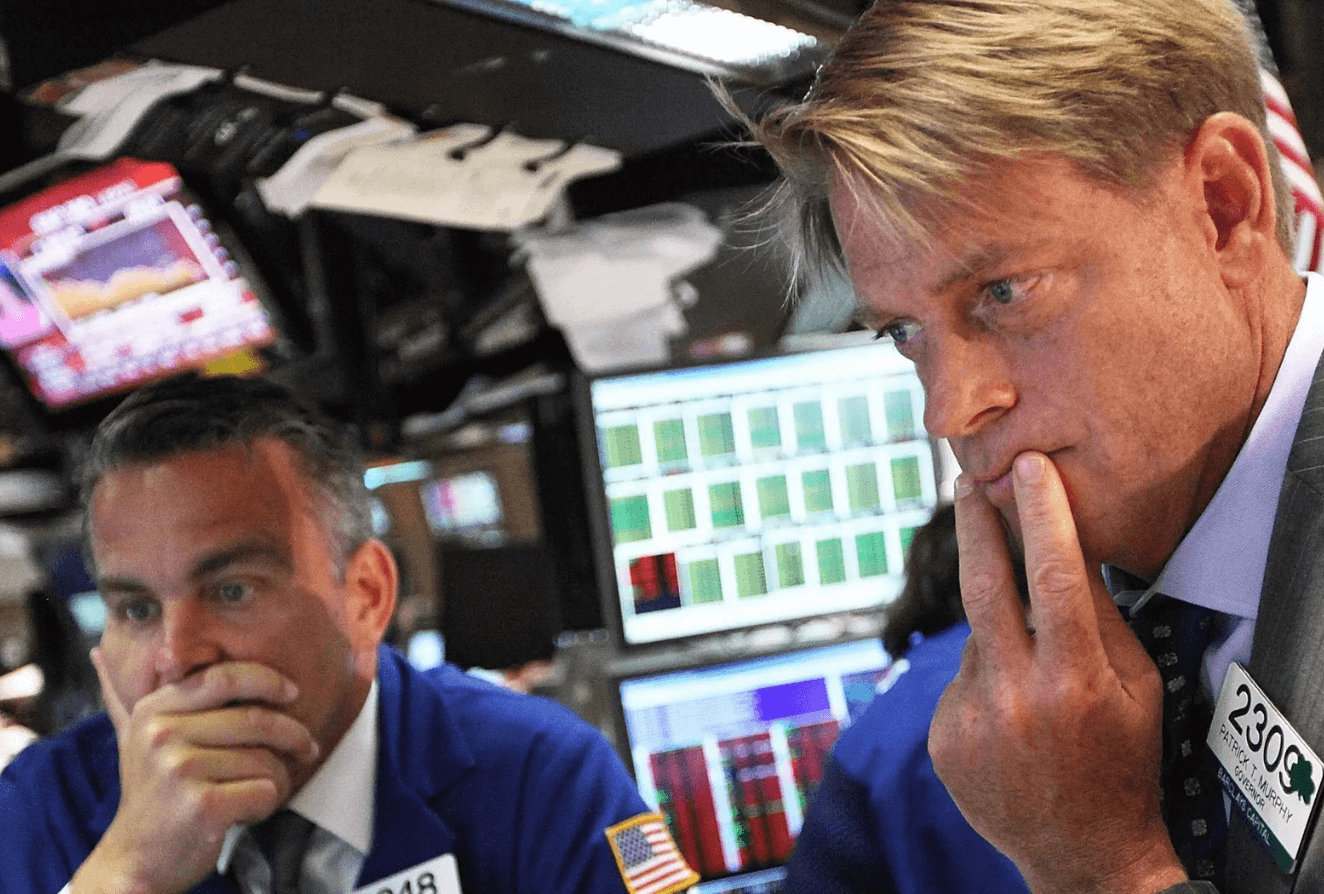 The industrial metals market is experiencing its worst quarter since the 2008 financial crisis, as prices are plummeting due to fears of an impending recession. Copper, seen as a key indicator of economic health, has slid into a bear market after hitting record highs just four months ago. Tin prices have also plunged, falling 21% in the last week alone – its worst week since the 1980s.

This represents a dramatic change from the past two years when metals prices soared on optimism about the post-lockdown economy, inflationary predictions, and supply disruptions. Now that inflation has arrived, and supplies are still constrained, prices are falling as worries mount about reduced industrial activity across major economies and weaker demand from China.

Copper prices have retreated in recent days amid signs that efforts to get prices back under control are having some success. The metal is used in a variety of applications, from industrial machinery to advanced electronics, and its price is closely linked to economic conditions. Even as the Chinese COVID-19 lockdowns start to ease, the mood in metals markets has soured, with some traders suggesting copper prices will continue to decline.

According to Amelia Xiao Fu, head of commodities strategy at BOCI Global Commodities, even if China manages to recover in the second half of the year, it won't be enough to push prices back up to new highs. She added that, as other major economies suffer recessions, China is unlikely to experience strong growth either.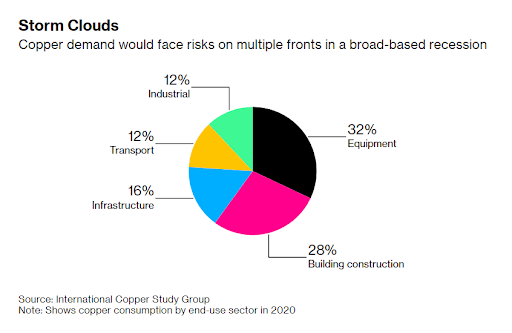 Chinese industrial activity has already been shrinking, and European and US output have also been falling in recent months, with US output hitting a 23-month low. However, the magnitude of the decline in metals prices suggests that investors expect even more substantial decreases in demand going forward.

Copper has plummeted in value over the past month, with prices falling to a 16-month low of $8,122.50 a ton on the London Metal Exchange (LME) on Friday. The metal is down 11% so far in June and is on track for one of the biggest monthly losses in the past 30 years. This sharp drop in value is being seen across a range of metals, from aluminum to zinc. This quarter, the Bloomberg Industrial Metals Spot Subindex slumped 26%, marking it the worst quarter since 2008. Meanwhile, tin's value has halved since its peak in March.

Metals have taken a bigger hit than other commodities like crops and energy — where the conflict in Ukraine has forcefully disrupted supplies and trade. The Bloomberg Energy Spot Subindex has risen 10% since the end of March, while the agriculture index has fallen 9.7%.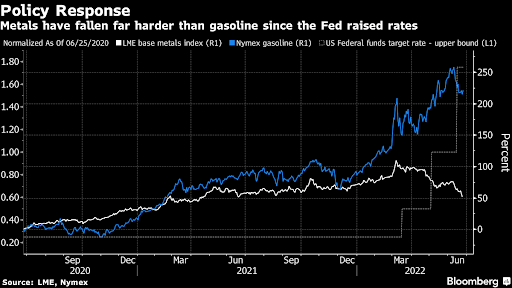 Copper and other metal markets are still under severe strain, with inventories dwindling and no significant new supply on the horizon. Even those who are bullish on copper, like Goldman Sachs Group Inc., have warned that demand destruction may be necessary to help alleviate the pressure.

The recent plunge in industrial metals can be traced back to the Federal Reserve's decision to raise interest rates by 75 basis points at the beginning of the month. This move was seen as a sign that the Fed was more worried about inflationary pressures than the possibility of a recession. However, last week there was a sharp increase in the sell-off as investors in other markets began to believe that the Fed would end its rate hike cycle sooner than previously thought.

The Fed has acknowledged that it does not have much power to affect the prices of commodities like oil, which have been driven upward by supply-side factors. At the same time, the central bank expects demand for key goods like gasoline and food to remain strong as pressure on Americans' finances intensifies.

The impact of the Federal Reserve's interest rate hikes on discretionary spending could be significant, potentially putting an end to the boom in metals demand in some sectors like car-producing and property. In addition, this could have a knock-on effect on industries that account for most of the total usage of metals, such as construction and manufacturing. With borrowing costs set to rise, companies in these sectors may start to feel the pinch.

The bearish trend in sentiment is most evident in the Chinese market, where open interest in Shanghai Futures Exchange copper contracts has increased sharply during a steep price decline. This suggests that traders are taking on new short positions — bets that prices will fall further — rather than selling out of existing long positions. On the London Metal Exchange, exchange data indicates that the recent decline has been driven more by investors giving up on bets that prices will rise, while the bearish position remained virtually unchanged for most of the month.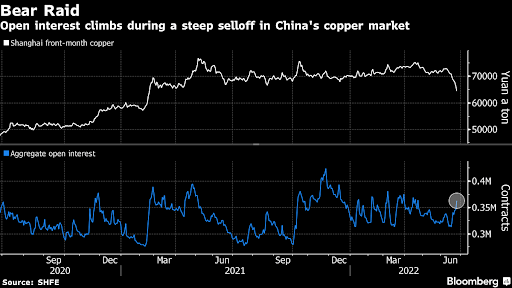 Investors seem to be hesitant about betting against the market, especially given that exchange inventories remain critically low. This is after a sharp decline in stockpiles helped drive copper prices to record highs late last year. A very large short squeeze in the nickel market caught the bears in March. And now, there appears to be a new supply crisis brewing in the zinc market after last week's record low levels of readily available LME inventories.

Fu from BOCI says that the risks of recession in the copper market are causing generalist investors to withdraw.

"Some so-called tourists have decided to exit the market for now. Although this makes sense from a trader's perspective, the market is still quite tight."