Version 1.14.0. of B2Core for iOS is Now Available. Updated with Even More Useful Functions!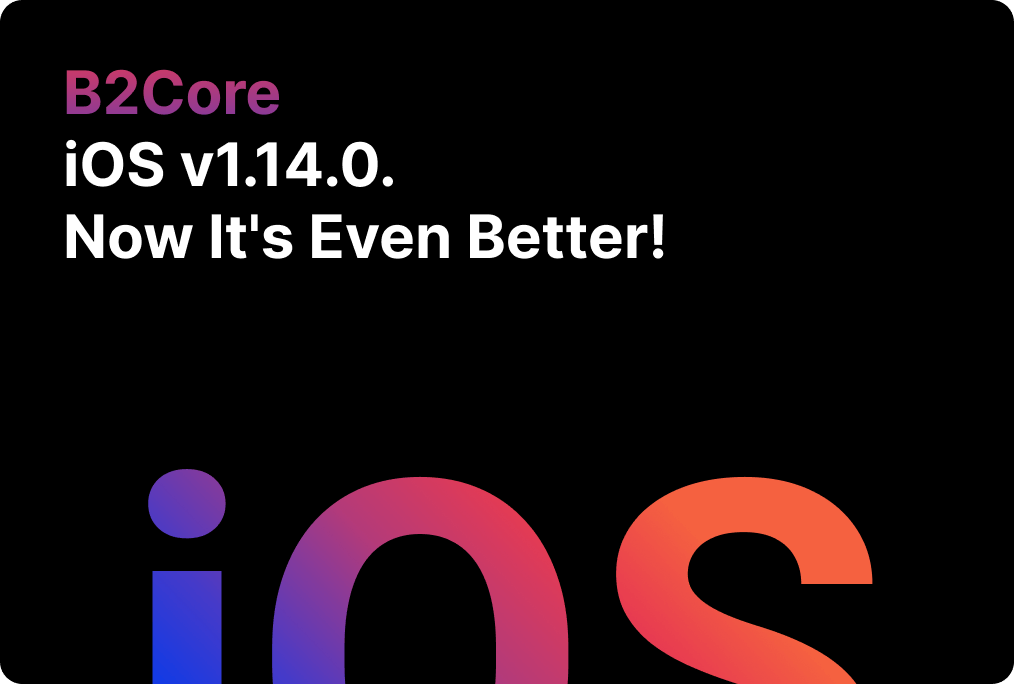 B2Core is excited to announce the release of B2Core iOS 1.14.0., which contains a slew of improvements designed to enhance the app's functionality and make users' lives easier and more pleasant.
Instant sign-in via Face ID
Limits on funding due to KYC
A 'What's New' update screen
Pop-up verification screens
Several new features have also been introduced, along with enhancements to the Trading Platform cards and a redesigned Verification page.
Instant sign-in via Face ID
In today's fast-paced society, the ability to access your apps quickly is more important than ever. Therefore, it is highly convenient to be able to utilize Face ID as soon as the app is launched. Simply launch the app and allow it to scan your face to log in without typing your username or password. With this feature, you can quickly sign back into the app with Face ID permission if you've previously been signed in or approved. When combined with Face ID being among the most advanced biometric authentication methods presently available, this security feature becomes both valuable and reliable.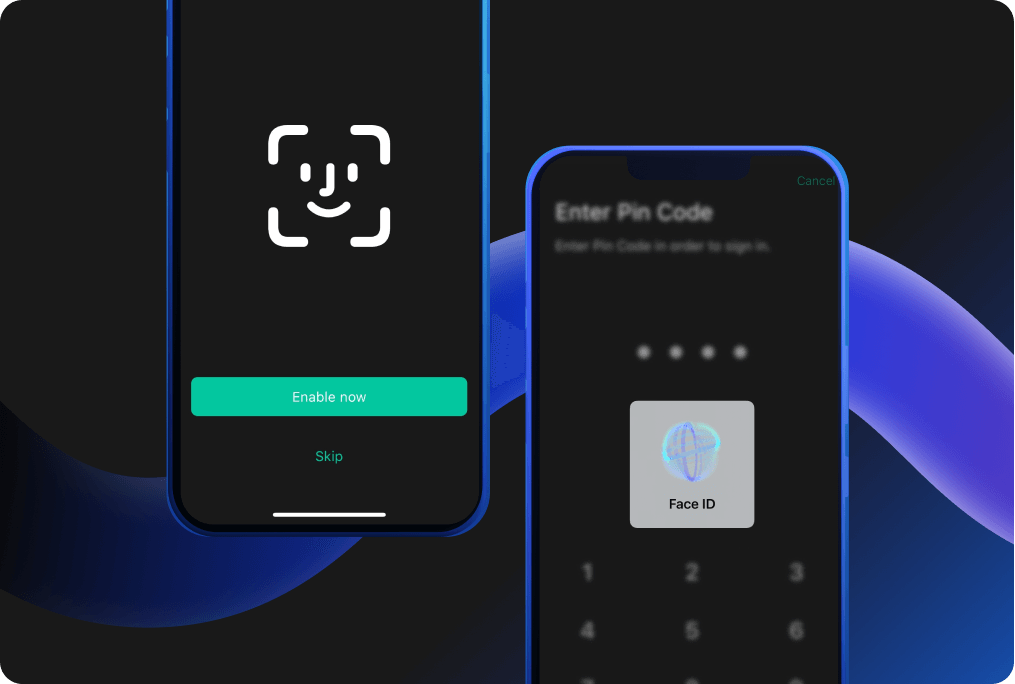 Limits on financing due to KYC
You may now see your latest KYC verification status and any related funding or transactional restrictions when logged into your account. Verification details are shown in two places: the Settings menu and a pop-up screen. Depending on your Know Your Customer (KYC) status, you may be subject to daily limits on deposits, withdrawals, and transfers. The system's ability to verify your identification and trading credentials in your present location will determine the change in your daily limits and monthly deposit/withdrawal amounts. Once you've reached your maximum funding limit, you may submit further identity documentation to increase your verification level.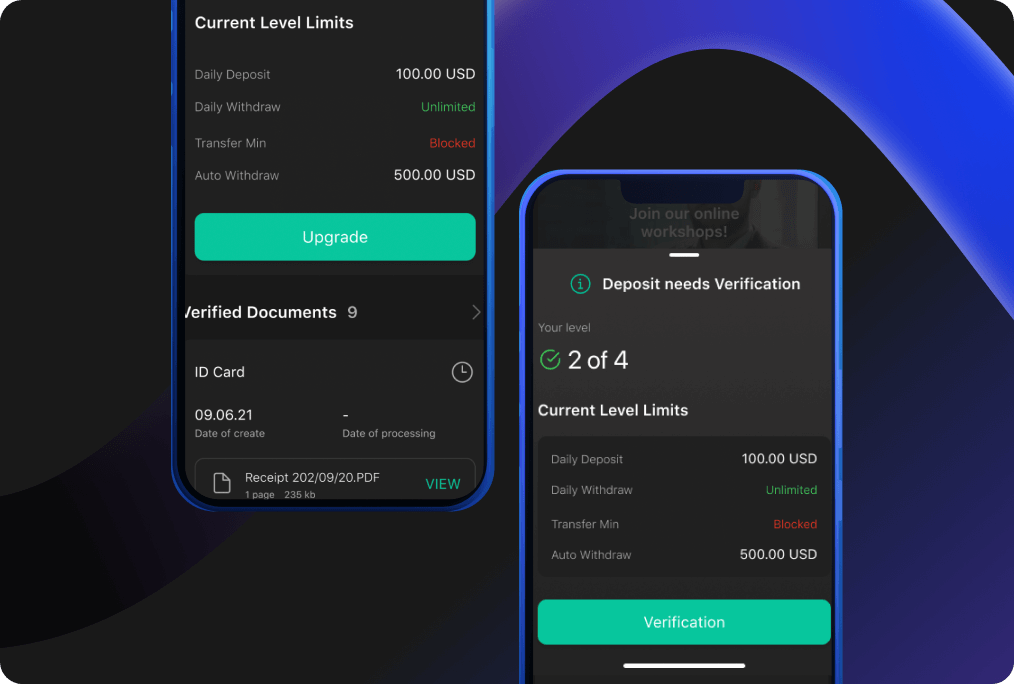 A 'What's New' update screen
We developed a 'What's New' notification in order to keep customers informed of any new updates that may be downloaded from the App Store. The complete release notes are shown on the screen, as well as a description of new features or enhancements. Users will be alerted on the Dashboard page once a new app version is made available in the AppStore. This notification will appear when the user launches the application. We believe this is an excellent method for customers to keep up with our latest releases! The 'What's New' section also has an update button that directs the user to the App Store to get the newest version of our app.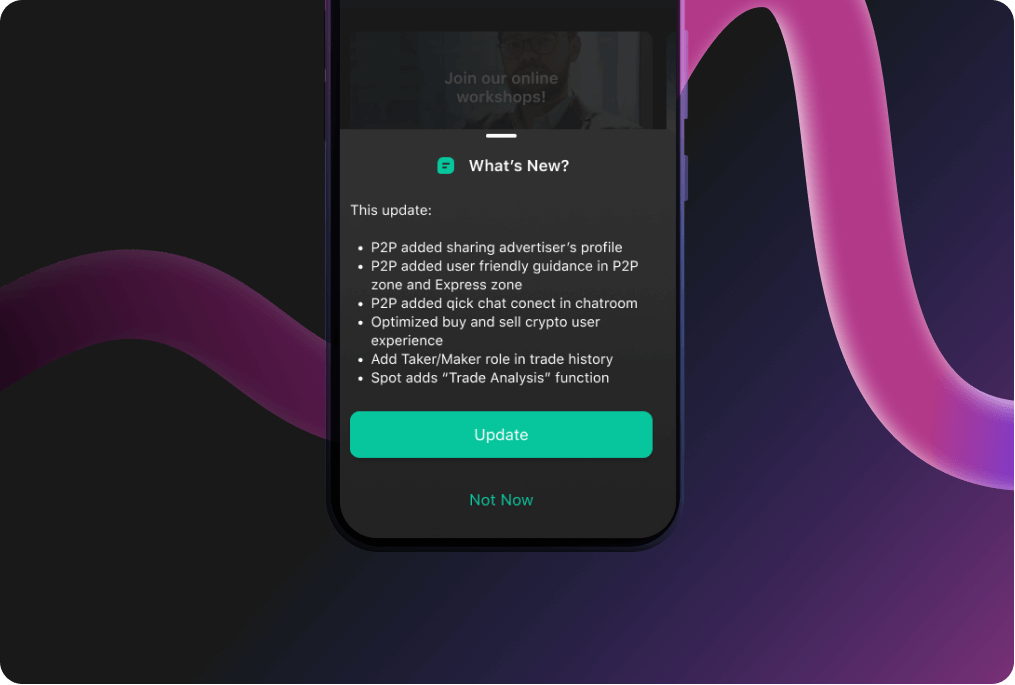 Pop-up verification screens
To ensure the safety of our users, we've introduced additional verification pop-up modal displays. The window will explain the current verification level's limitations and advise the user to proceed to the next screen. This notification will appear if your current KYC verification is insufficient for a particular operation. The user will then be required to provide the necessary paperwork in order to continue. For example, a user attempts to utilize the "Deposit" feature before they have completed the required verification steps for this transaction. Users will be notified of this fact, made aware of the limitations imposed by their current verification level, and offered the opportunity to increase it. With this new verification system, we hope to provide a more secure experience for all our users.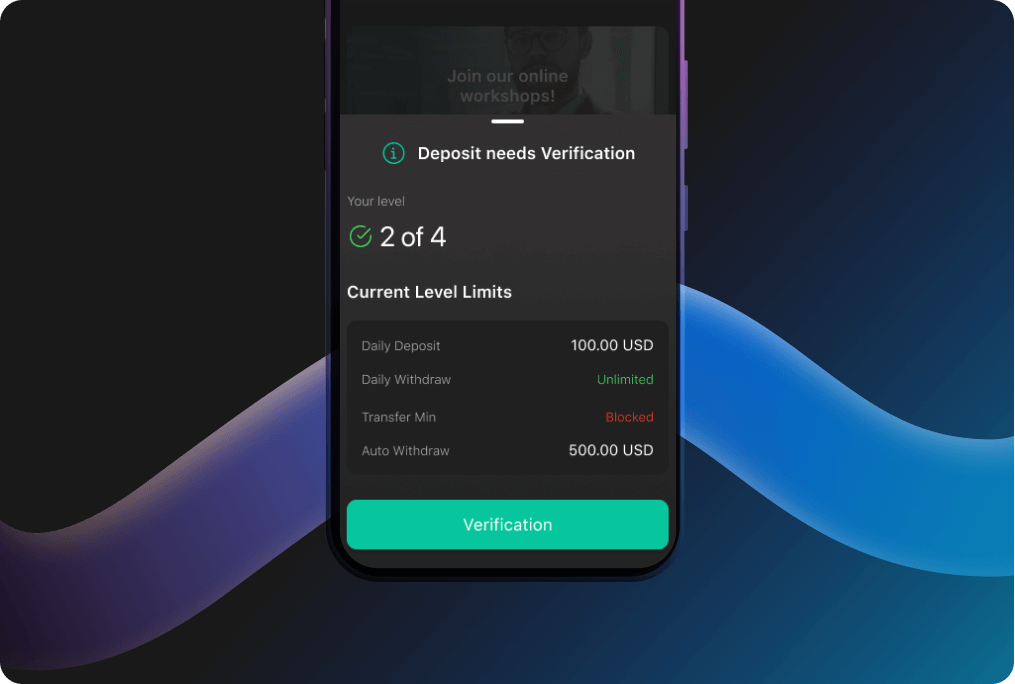 Enhanced UI
We are happy to inform you that we have made some significant modifications to the design and feel of our app, starting with updated Trading Platforms cards. These alterations were implemented in order to accommodate our customers better. Our Trading Platforms cards now include details such as Leverage, Free Cash, and Order Type. In addition, the "Transfer" button has been included so that users may deposit funds into trading platforms. This redesign improves traders' ability to access various new data and makes it seamless for them to fund their accounts.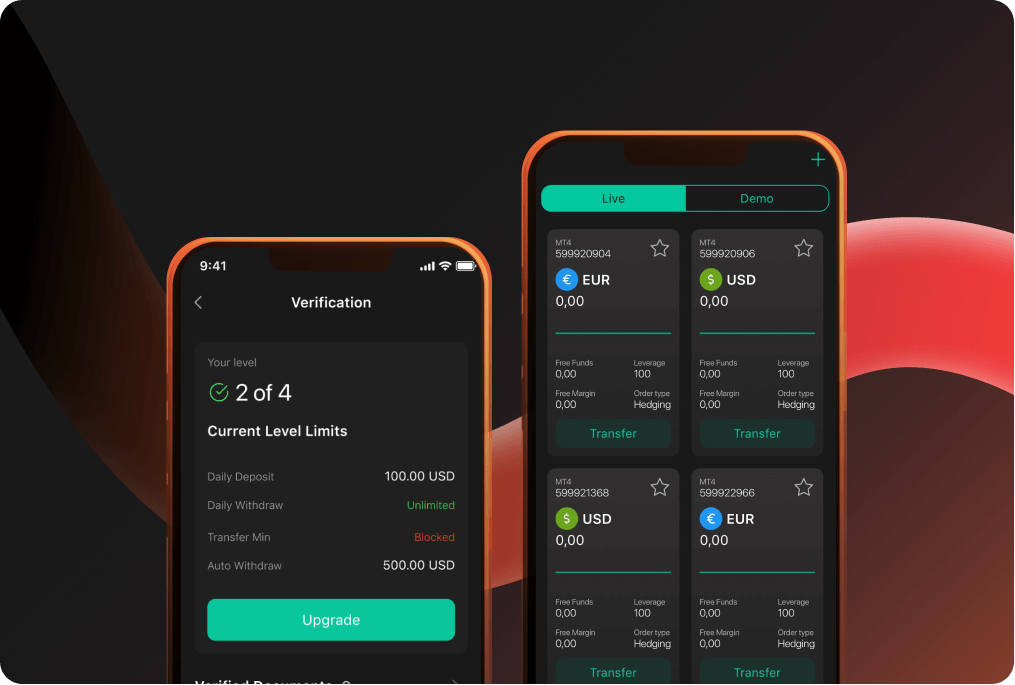 Additionally, the Verification page is now easier to navigate and understand. Your current verification level and the subsequent procedures are now much easier to understand. We've also included transaction restrictions so you can see exactly what you can and can't do based on your current verification level. In addition to showing which of your documents have been accepted for verification and which haven't, the system also displays an indication of the current state of your documents. Users will find the new Verification page to be a substantial update that streamlines the verification process and allows them to track their status easily.
Final Words
With this update, we are transitioning to a whole new app design. As such, we aim to improve the interface in a manner that helps traders achieve their goals. Our users deserve an impeccable experience, and we will work hard to provide it. We are thrilled with these enhancements since we believe they will allow us to serve our loyal customers better. We urge everyone to get the most recent app version to benefit from these innovative capabilities! Don't hesitate to contact us if you have any queries or comments. Thank you for your support!