Wall Street's Top 5 Auto Stocks for 2023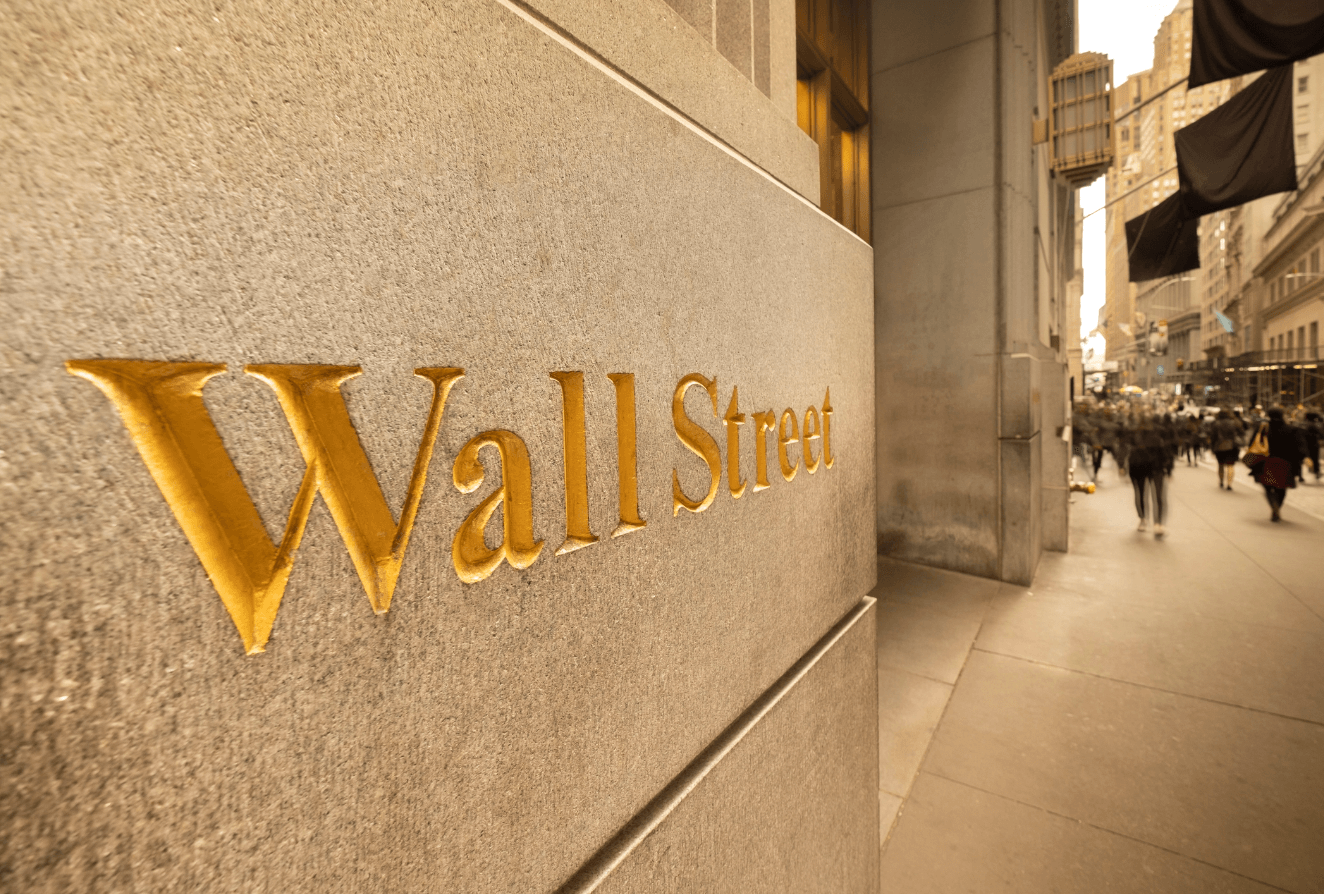 Automotive stock investors had a terrible year in 2022. Following a tough year, investors may need some new automobile ideas to invest for 2023, but they also need to be aware of what to avoid.
Rising interest rates, supply chain issues, inflation, and a weakening global economy have all weighed heavily on auto-related stocks. In 2022, the average vehicle stock in the Russell 3000 Auto & Auto Parts Index fell about 40%.
So we looked into the major U.S. vehicle stocks — including automakers, parts suppliers, dealers, and service providers — and sorted through Wall Street analysts' highest and lowest Buy-rating ratios. This ratio is calculated by dividing the number of Buy-equivalent data by the total number of ratings.
To be honest, analyst ratings are only one approach to checking for investment ideas. Of course, analysts' predictions aren't always true, but they are paid to be knowledgeable about their industry and companies. They also spend a lot of time interacting with institutional investors to help create expectations. Ratings are, thus, at the very least, a decent sign of what investors are thinking.
Analysts' favorite automotive stocks include automobile auctioneer Copart (CPRT), parts producer Aptiv (APTV), new car dealer Lithia Motors (LAD), aftermarket parts seller O'Reilly Automotive (ORLY), and electric-vehicle pioneer Tesla (TSLA).
Picks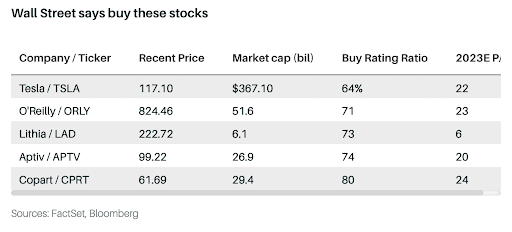 One qualification we put on our list of preferred automotive stocks is that the company must be profitable. Rivian Automotive (RIVN), for example, is popular with analysts, but it is not making considerable revenue and is not expected to be profitable until 2027 or 2028.

The group's average Buy-rating ratio is 72%. Copart is the most popular, with 80% of analysts rating the stock as Buy. For this group of five, the average price-to-earnings ratio based on projected 2023 earnings is around 19 times. That's unusually high for car company stocks—most automakers and parts suppliers have PE ratios in the single figures.

Wall Street's recent trend has been to stay with goods that can withstand a 2023 economic storm. Tesla qualifies in this aspect as well. It has the highest profit margins and, regardless of the economy, should sell more EVs in 2023 than in 2022. When things are difficult, aftermarket parts merchants like O'Reilly perform well. Cars remain on the road for extended periods of time, necessitating maintenance.

These Wall Street favorites have fallen an average of 23% over the past year. The S&P 500 and Dow Jones Industrial Average indices are down 16% and 6.4%, respectively.

This list of top selections also demonstrates that a low PE ratio isn't enough of a justification to buy an automobile stock. Analysts, for example, aren't enthusiastic about General Motors (GM) and Ford Motor (F) stock, which sell at about 6 and 7 times expected 2023 profits, respectively. GM has an average Buy-rating ratio of 58%, whereas Ford has a lower Buy-rating ratio of 40%.

Analysts have no way of knowing what these stocks will do in 2023 amid rising interest rates, a slowing economy, and falling car prices. This is a tough year for the auto sector.

Ford stock has one of the auto sector's lowest "buy" ratios. The five "least popular" stocks in the auto sector, starting with the lowest "buy" ratio, include used car salesmen Carvana (CVNA) and Penske Automotive Group (PAG), parts maker Lear (LEA), Ford and parts maker Autoliv (ALV).
Pans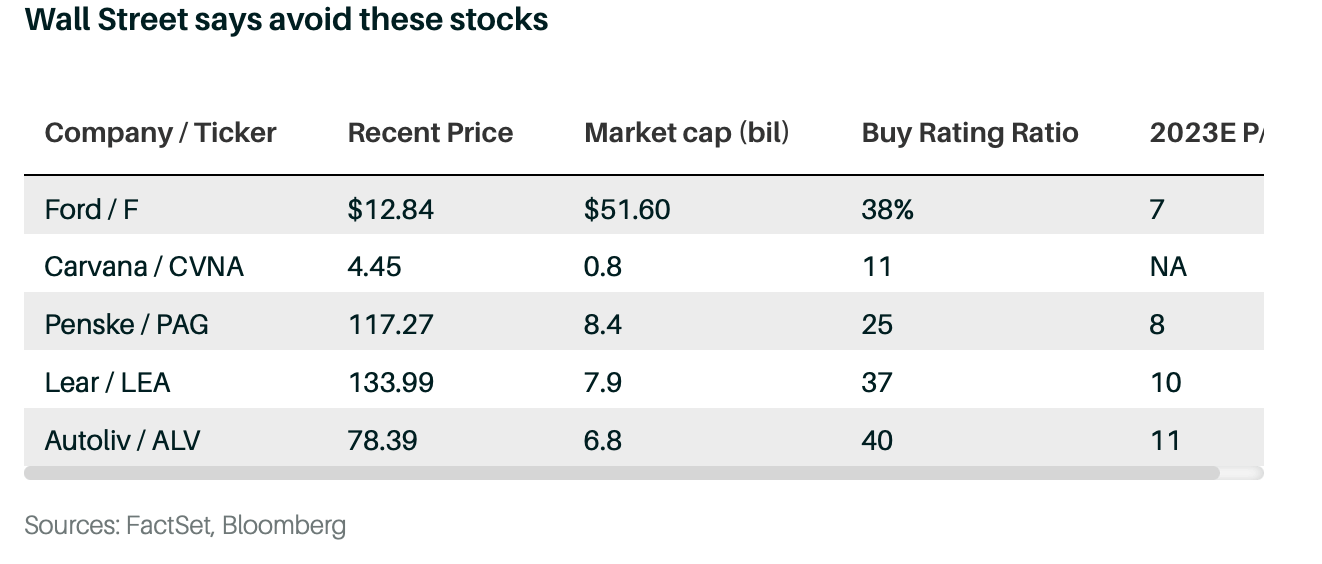 For those stocks, the average Buy-rating ratio is around 30%. Carvana has the lowest, with around 11% of analysts covering the firm recommending its shares as Buy. Except for Carvana, which is not profitable, the average PE ratio is around nine times the expected 2023 profits. The group's shares, excluding Carvana, have fallen nearly 28% in the last year on average.

Carvana stock has dropped about 98% as investors are concerned about the company's excessive debt and lack of free cash flow. Wall Street expects Carvana's company will utilize cash rather than generate free cash flow in the future years. Furthermore, experts predict that the company will conclude the year with around $7.6 billion in total debt, despite a projected operational deficit of approximately $1.3 billion.

Analysts tend to dislike used vehicle retailers other than Carvana, especially Penske. This is because Wall Street is concerned about decreasing used automobile prices, which fell 13% year on year in December. Price declines may cut into corporate margins. Analysts are also skeptical about automakers and suppliers such as Lear and Autoliv in a bad economy. Low values are just insufficient for experts to intervene and suggest stocks.

Wall Street appears to be concerned about a recession and its possible negative influence on automobile demand for the automotive industry as a whole. While there is no certainty that experts are correct, current new automobile sales in the United States are around 20% lower than pre-pandemic levels. In the past, when a recession hit, new automobile sales would typically fall.

However, parts and chip shortages have hampered global automobile production for years, causing new and used car costs to skyrocket in recent years. In 2023, vehicle investors face an unusual situation, with low volumes heading into a slump. Investors may opt to disregard Wall Street and purchase inexpensive automobile stocks. Alternatively, they might look at a handful of the stocks that analysts still prefer.

Whatever investors decide, 2023 is going to be a bumpy road.