5 Best AI ETFs for 2023-2024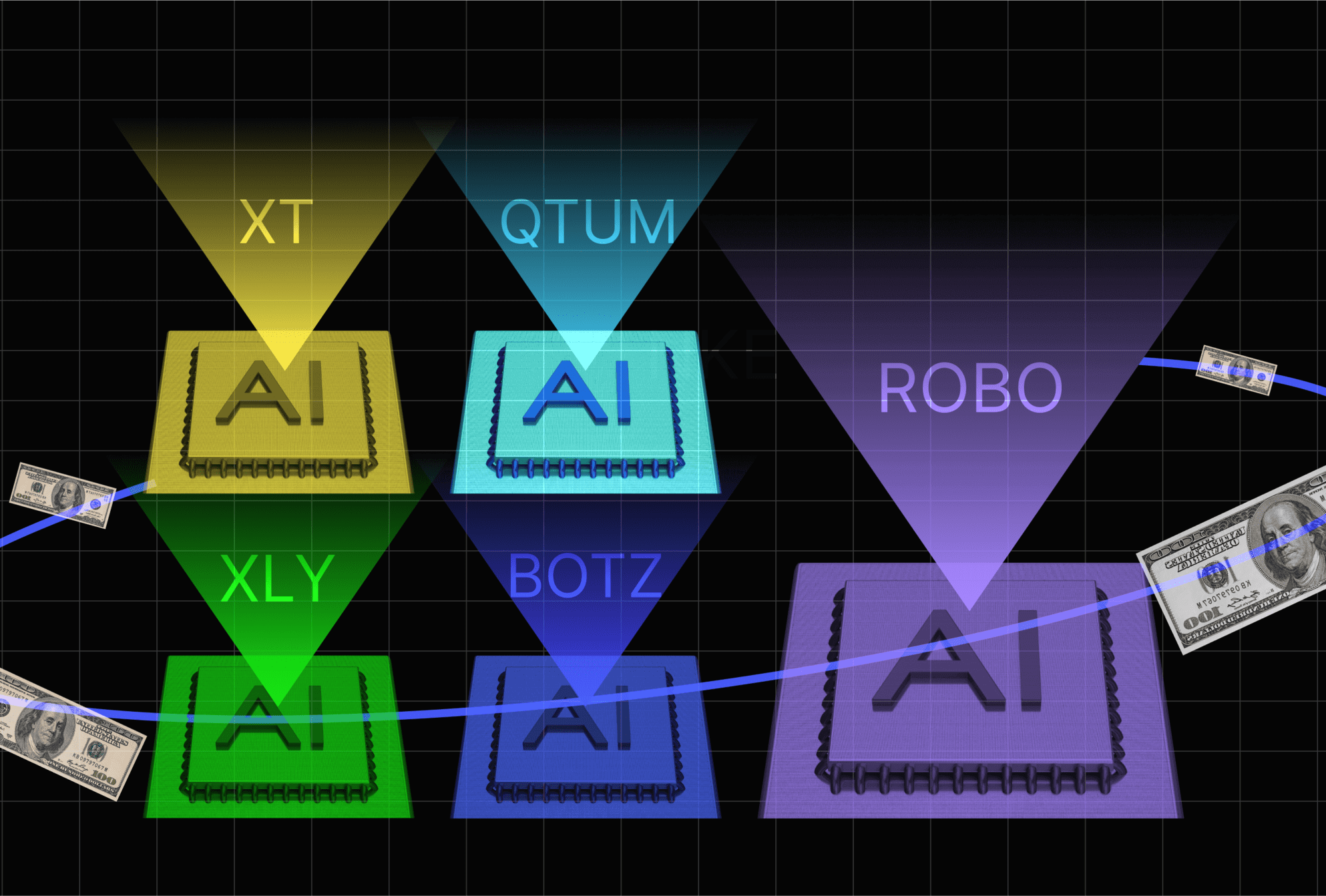 In today's fast-paced world of technology, there is one phenomenon that is capturing global attention – Artificial Intelligence (AI). With its ever-growing capabilities and potential, AI is quickly becoming a driving force in various industries, from healthcare to finance, transportation, and more.
Many experts anticipate that the AI market will grow by at least 37.3% annually from 2023 to 2030, according to Grand View Research. The biggest tech companies like Google, Amazon, and Microsoft are already investing heavily in AI research and development. The stock price of Nvidia, the chip-manufacturer company whose products are widely used to power AI model learning, has more than doubled in value since a year ago.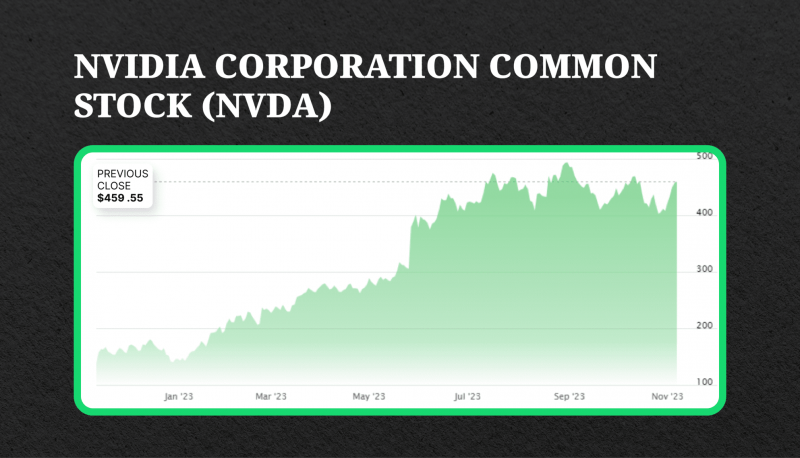 Investing in AI companies through stocks may seem like an attractive option, but it's not without its challenges. Acquiring single shares can come at a high cost, potentially making it difficult for you to capitalize on the sector's overall expansion.
But there is an easier way to get involved – through ETFs (Exchange Traded Funds). These funds track the performance of a group or sector of stocks, giving you exposure to diverse portfolios without having to purchase individual companies manually.
In this article, we will explore 5 of the best AI ETFs for 2023-2024, which offer investors the opportunity to take advantage of the growing potential of the AI trend.
Key Takeaways:
The AI sector is rapidly growing and is projected to become one of the most important and valuable industries in the near future.
ETFs, unlike individual AI stocks, allow investors to diversify their portfolios by investing in a basket of assets.
Best AI-powered ETF instruments can include XT, QTUM, XLY, BOTZ and ROBO.
1. iShares Exponential Technologies ETF (XT)
The iShares Exponential Technologies ETF (XT) is one of the top AI ETFs to consider for investment. This fund focuses on companies that have the potential to provide exponential returns with an emphasis on AI and other disruptive technologies. It holds a diverse range of stocks from sectors such as software, hardware, semiconductors, and consumer electronics.
With over 64% of its holdings in the technology and healthcare sectors, XT offers investors exposure to businesses at the forefront of AI innovation. The fund includes technology companies that are driving advancements in cloud computing and generative AI, like Meta Platforms and SoFi Technologies.
XT boasts a relatively low expense ratio of 0.46% and even pays a dividend with a current yield of 0.70%. Additionally, with an average daily volume of 175,087, XT can be considered a highly liquid fund for investing or trading.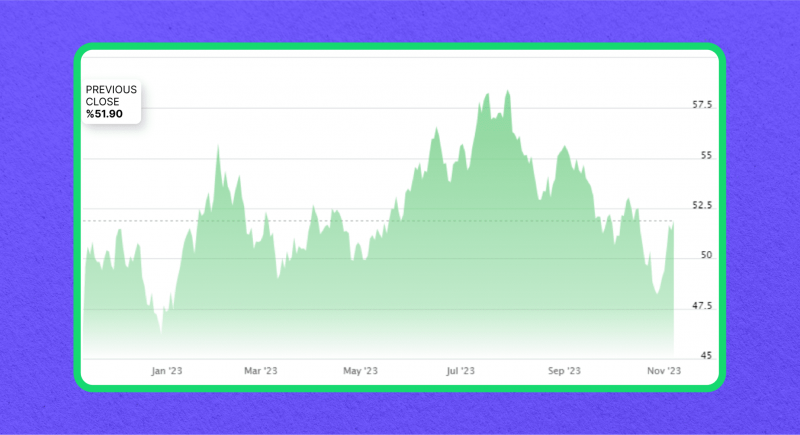 2. Defiance Machine Learning & Quantum Computing ETF (QTUM)
The Defiance Machine Learning & Quantum Computing ETF (QTUM) is a unique AI ETF that focuses on companies involved in the research, development, and commercialization of quantum computing systems and materials. While not exclusively focused on AI, quantum computing has the potential to significantly enhance AI capabilities.
QTUM's holdings include companies like Cirrus Logic, a semiconductor supplier, and Baidu, a Chinese internet services and AI company. These companies are at the forefront of advancements in machine learning and quantum computing, which are critical components of AI technology.
With an expense ratio of 0.40%, QTUM offers investors a relatively low-cost option to gain exposure to the intersection of AI and quantum computing. Although its performance over the past year may have been slightly lower than other artificial intelligence ETFs, its unique focus on this emerging technology makes QTUM an intriguing choice for investors looking to capitalize on the future of AI.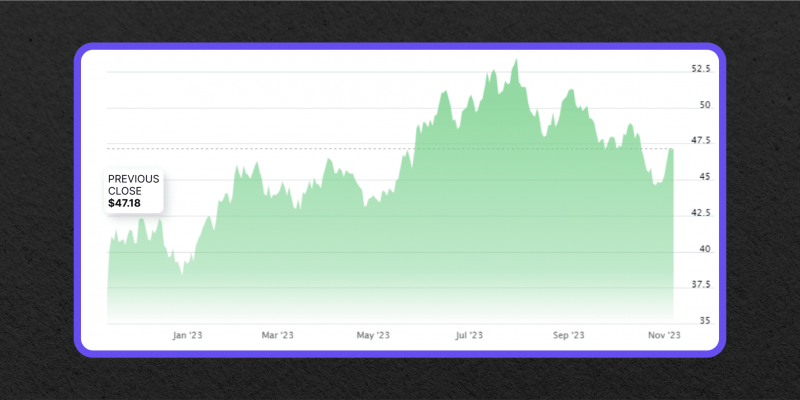 3. Consumer Discretionary Select Sector SPDR Fund (XLY)
The Consumer Discretionary Select Sector SPDR Fund (XLY) offers exposure to companies that are on the cutting edge of AI technology. The fund's top holdings include Tesla and Amazon, both of which are heavily involved in AI development and implementation.
Companies like McDonald's and Domino's Pizza are also included in the fund, showcasing how AI is being utilized in the consumer discretionary sector. McDonald's acquisition of Israeli start-up Dynamic Yield and Domino's partnership with Microsoft are examples of how these companies are leveraging AI for personalized ordering and store logistics.
XLY has a low expense ratio of just 0.10% and even pays a dividend with a yield of 0.91%. While the fund's focus extends beyond AI, its inclusion of companies at the forefront of AI innovation makes it a compelling choice for investors seeking exposure to this sector.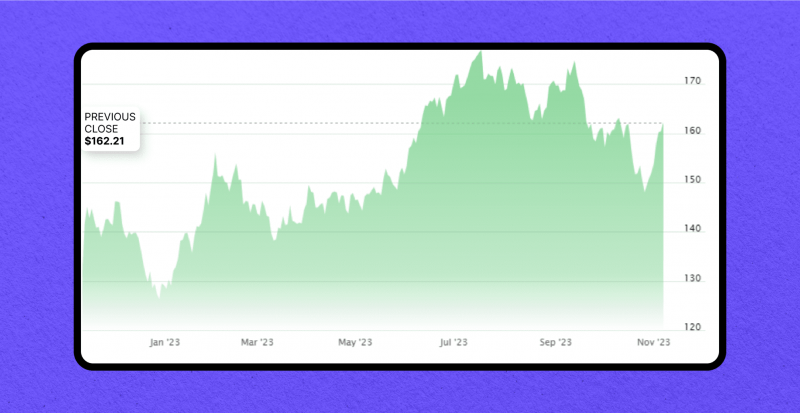 4. Global X Robotics & Artificial Intelligence Thematic ETF (BOTZ)
The Global X Robotics & Artificial Intelligence Thematic ETF (BOTZ) is a prominent AI-focused ETF that offers investors exposure to the robotics and AI sectors. With over 75% of its holdings dedicated to technology, industrials, and healthcare, BOTZ provides a well-rounded portfolio that aligns with the sectors expected to benefit most from AI advancements.
The fund holds a mix of large-cap stocks like Nvidia, a global leader in AI computing, and small-cap stocks like SoundHound AI. This diversified approach allows investors to capture the growth potential of both established AI companies and emerging startups.
The expense ratio for this fund is 0.68%, which is relatively high compared to other AI ETFs. Despite this, the fund's track record and diversification make it an attractive option for investors seeking exposure to the AI sector.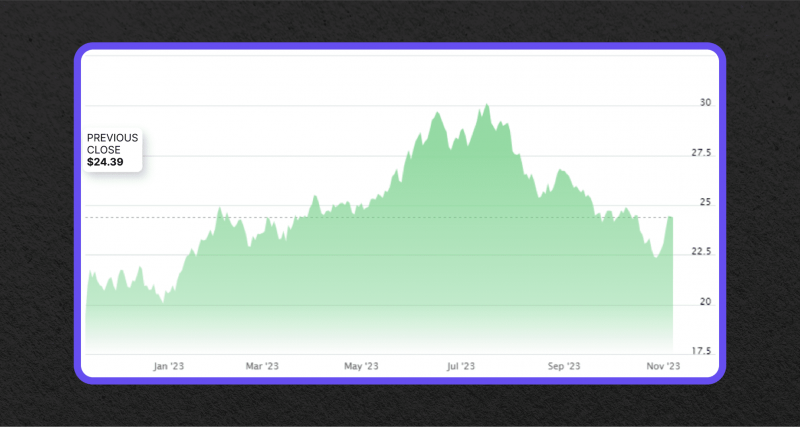 5. ROBO Global Robotics & Automation Index ETF (ROBO)
The ROBO Global Robotics & Automation Index ETF (ROBO) is a well-established AI ETF that provides investors with exposure to companies engaged in robotics, automation, and AI. The fund's holdings encompass a wide range of industries, including industrial robotics, healthcare automation, and AI software development.
ROBO's top holdings include companies like Harmonic Drive Systems, a Japanese maker of components for industrial robots, and IPG Photonics, a leading manufacturer of fiber lasers.
With an expense ratio of 0.95%, ROBO is on the higher end in terms of costs. However, its long track record and comprehensive approach to the robotics and AI sectors make it a compelling option for investors looking to capitalize on the growth potential of these industries.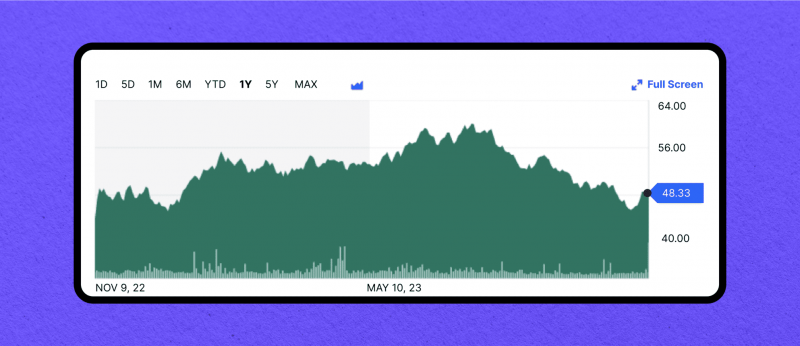 What is an ETF?
An Exchange-Traded Fund is a type of investment fund that is traded on stock exchanges throughout the day, similar to traditional individual stocks. These instruments are designed to track the performance of a specific index, sector, or basket of assets. They offer investors a convenient way to be involved in stock market investing without the need to adjust parts of their portfolios manually.
One of the key advantages of ETFs is their convenience. Unlike, for example, traditional mutual funds, ETFs can be bought and sold on the stock exchange, allowing investors to trade them throughout the trading day at market prices.
Fast Fact
Mutual funds are managed by professional fund managers who make investment decisions on behalf of the investors. Mutual funds, unlike ETFs, are not listed on exchanges and are purchased and sold by financial professionals, like brokers and fund companies.
In addition to their convenience, ETFs are known for their cost-effectiveness. Most ETFs have low expense ratios, making them an attractive option for individual investors. This cost advantage can have a significant impact on long-term returns, especially when compounded over time.
Another benefit of ETFs is their ability to provide automatic diversification. By investing in an ETF that tracks a specific index or sector, investors gain exposure to a basket of underlying securities. This diversification helps spread risk across multiple assets, reducing the impact of any single security's performance on the overall portfolio.
What to Look for in AI ETFs
When considering an AI ETF for investment, there are several factors to keep in mind to ensure you make an informed decision. These factors include:
Expense Ratio: The expense ratio is the annual fee charged by the ETF for managing the fund. Look for an artificial intelligence ETF with a low expense ratio to minimize costs and potentially maximize returns over the long term.
Assets Under Management (AUM): A larger AUM can indicate investor confidence and liquidity. However, it's important to note that a larger AUM does not guarantee better performance.
Historical Performance: While past performance is not indicative of future results, it can provide insights into how the ETF has performed in different market conditions. Look for an AI ETF with a strong historical performance that aligns with your investment goals.
Diversification: Consider the ETF's holdings and ensure it provides diversification across different sectors and industries. This can help mitigate risk and capture the growth potential of the entire AI sector.
Do not forget to consider your risk tolerance, investment goals, and time horizon when choosing an AI ETF. Additionally, do a thorough research and compare different options before making a decision. Regularly reassess the performance of the chosen artificial intelligence ETF to ensure it aligns with your investment objectives.
Why Investing in AI Companies?
In recent years, AI has made significant progress in various domains. One prominent example is the field of machine learning, where algorithms are designed to enable computers to learn and make predictions based on large amounts of data. This has led to breakthroughs in areas such as image recognition, natural language processing, and autonomous vehicles.
AI-powered technologies are also being used in healthcare, finance, manufacturing, and many other industries, speeding up processes, optimizing operations, and improving results.
The state of AI today is characterized by the widespread adoption of AI technologies and applications across different sectors. Companies are investing heavily in AI research and development, driving innovation and pushing the boundaries of what is possible.
AI is also becoming more accessible to individuals and smaller businesses, thanks to the availability of cloud computing resources and open-source tools. However, there are still challenges to overcome, such as ethical concerns, bias in algorithms, and the need for regulation to ensure responsible and transparent use of AI technology.
Conclusion
The AI sector is a dynamic and rapidly evolving industry with immense potential for growth. Investing in AI stocks through ETFs can provide investors with exposure to this exciting sector, diversify their portfolios, and potentially generate long-term returns.
However, as with any investment, it's essential to do thorough research and carefully consider all factors before making a decision. Keep an eye on the developments in the AI industry and monitor the performance of your chosen AI ETF to ensure it aligns with your investment goals. With the right approach, AI ETFs can be a valuable addition to any well-diversified portfolio.
Disclaimer: This article is for informational purposes only and should not be considered as financial advice. Investing in ETFs or any other financial instrument involves risk, and investors should conduct their own research and consult with a professional advisor before making any investment decisions.
FAQs
What are the risks of investing in ETFs?
The primary risk of ETFs is market risk, as the value of an ETF can fluctuate based on the performance of the underlying securities it tracks. This means that investors may experience losses if the overall market or specific sector experiences a downturn. Additionally, there is also the risk of tracking error, which is the difference between the fund's performance and the performance of its underlying index. There may also be risks specific to certain ETFs, such as currency risk for international ETFs or credit risk for bond funds.
Is ETF good for trading?
ETFs can be a good option for trading, as they offer low costs, high liquidity, and the ability to buy and sell throughout the day. However, it depends on the individual's investment goals and risk tolerance. Some ETFs may be better suited for long-term investing, while others may be more suitable for short-term trading strategies.
Is ETF better than stock?
ETFs and individual stocks both have their own benefits and drawbacks. ETFs offer diversification, lower fees, and ease of trading, while individual stocks allow for potential higher returns if the chosen stock performs well. It is recommended to have a mix of both ETFs and individual stocks in a well-balanced investment portfolio.
Can an ETF go to zero?
In theory, it is possible for an ETF to go to zero. However, this is unlikely for most funds as they are designed to track a diversified index or sector and have measures in place to prevent complete loss. It is more common for riskier ETFs, such as leveraged or inverse ETFs, to experience drops of 70-90% before potentially being liquidated. Investing in reputable and well-established ETFs can help mitigate this risk.
What happens to ETFs in a recession?
During a recession, ETFs may experience significant declines in value as the overall market and specific sectors are negatively impacted. However, this can also present opportunities for investors, as certain ETFs may be undervalued during this time.