Elon Musk Will Make an Indelible Mark on Twitter, Experts Say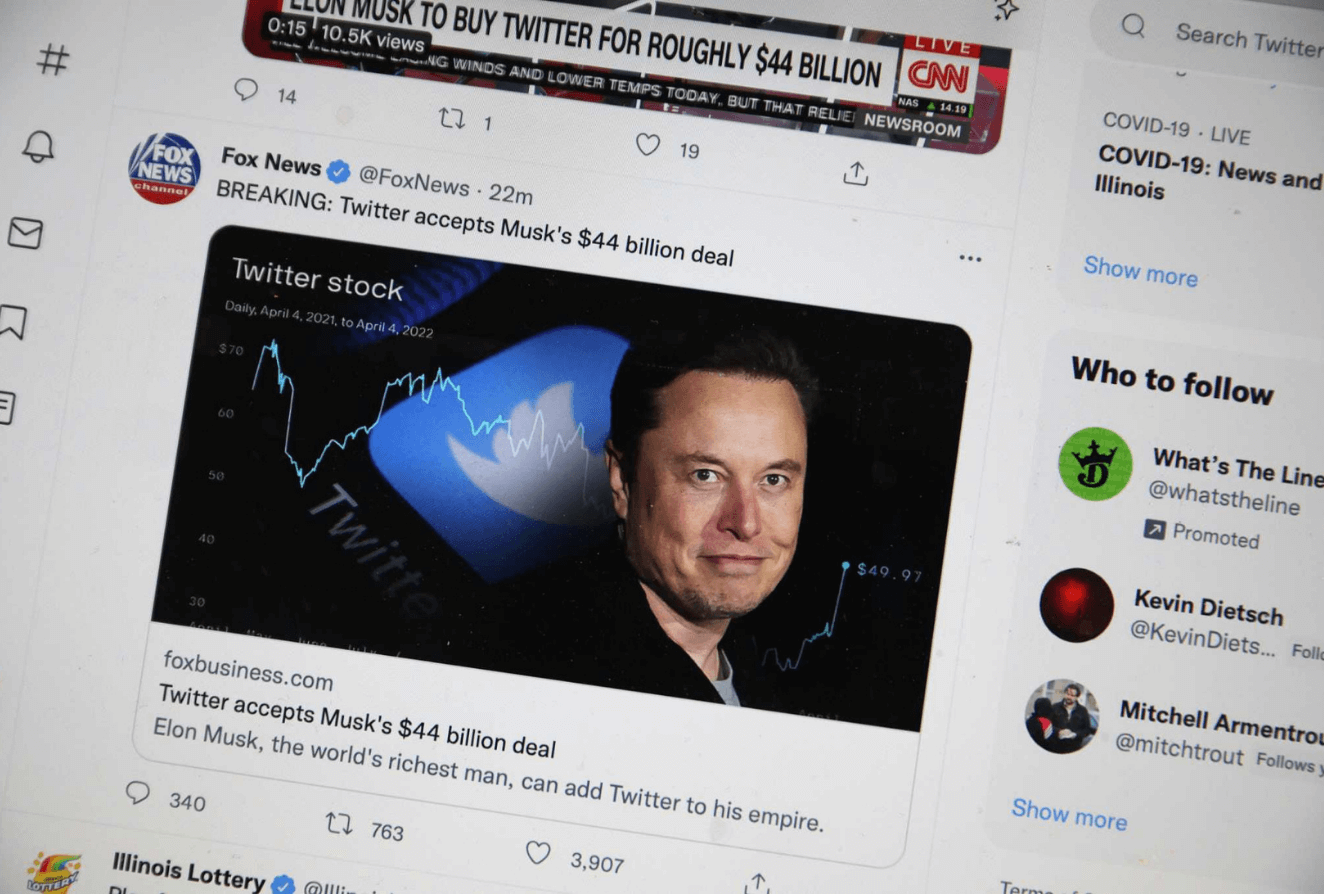 Elon Musk is set to permanently transform Twitter, which is used by hundreds of millions of people across the world, after the company's board decided to sell the social network to the Tesla CEO.

While Musk has not revealed any particular changes to the website, he has advocated for fewer restrictions on what users can and cannot publish and has speculated that the platform may transition from being financed by advertising to a subscription-based model.

Other improvements include increased attempts to ensure that all postings are made by genuine people, not "bots," and opening up the site's algorithms, which determine a post's prominence on the network, to outside scrutiny.

However, many believe that this is only the beginning.

"If I were Elon Musk, I'd look at this and say, 'You know what, I've got more money than God,'" said Harry Kraemer, a former healthcare executive who is now a professor at Northwestern University's Kellogg School of Management. "'My biggest benefit is that I don't have to make any compromises.'"

Twitter's board of directors agreed on Monday to accept Musk's offer to purchase the firm for $54.20 per share, despite previously indicating that it would reject the billionaire's advances.

The $44 billion transaction comes three weeks after Musk, the world's richest person, announced that he had become a big stakeholder in Twitter and 11 days after he stated in a regulatory filing that he intended to buy the firm altogether.

Throughout the process, Musk has continually pushed for the firm to be less stringent about what users are allowed to publish, portraying Twitter's moderation standards as a drag on its profitability—if not civil society itself.

"I invested in Twitter because I believe in its potential to be the global platform for free expression, and I believe free speech is a social essential for a functioning democracy," he stated in an SEC filing outlining his bid for the platform.

"Free expression is the backbone of a healthy democracy, and Twitter is the digital town square where issues critical to humanity's future are debated," he said after his application was accepted on Monday.

Some anticipated that Musk's acquisition of the platform would pave the door for Donald Trump's return to the site. Twitter's current administration banned the former president of the platform indefinitely after he used it to cast doubt on the legitimacy of his electoral defeat in the days leading up to the Jan. 6, 2021 attack on the United States Capitol Building.

The House Republican Conference sent a tweet early Monday urging Musk to "liberate" the former president. Trump stated on Monday that he had no desire to return to Twitter.

According to Jeff Jarvis, a professor at City University of New York's Newmark Journalism School, Twitter has long battled to find a formula that allows users to freely publish while restricting online abuse, misinformation, and other toxic speech.

It has been gradually feeling its way toward a policy that succeeds in this, Jarvis said, with steps like blocking Trump from the site.

Musk may change these regulations in the name of free speech, enabling the loudest voices to acquire the greatest momentum regardless of the value they offer to the site's dialogues, according to Jarvis.

A query sent to Tesla's investor relations department requesting comment received no immediate response.

Twitter punches beyond its weight, according to Ethan Zuckerman, director of the Initiative for Digital Public Infrastructure at the University of Massachusetts at Amherst, because of its global accessibility and the mainstream media's proclivity to mine the site for information and viewpoints.

He noted that Musk's ownership of Twitter would give "young Internet millionaires" control of the country's most major social media and messaging services, with Meta's stock-ownership structure giving Mark Zuckerberg outsized control over Facebook, Instagram, and WhatsApp.

"I believe people should be extremely concerned about the concept that these two individuals, with immeasurable riches and complicated beliefs and goals, have substantial influence over what we say and don't say online and how these environments function," Zuckerman said.

Musk has stated his goal to control speech lightly on Twitter as a public imperative, not a business ploy. He claimed at a TED conference in Vancouver hours after launching his offer for the firm that he doesn't "worry about the economics at all."

"This is not a method to generate money," he stated emphatically. Kraemer of Kellogg said he wasn't sure about it.

"You don't invest $50 billion on something you think will be noneconomic," he remarked. "He's a clever man, so maybe he'll figure out a way to do it that's more consistent with how he'd like to run it." But I don't think he's doing a $50 billion charity maneuver because he believes in free speech."

Musk presented a concept for a cheaper, more feature-rich version of the site's existing $2.99-a-month membership program, named "Twitter Blue," in a series of tweets after announcing his 9.2 percent investment in Twitter and called for "no advertisements."

"The power of businesses to influence policy is dramatically amplified if Twitter relies on advertising money to survive," he added in a later deleted tweet.

According to Kraemer, Musk may be estimated that there is an untapped supply of new Twitter users globally who want a say-anything platform and are prepared to pay a few dollars a month for it and that the money from these potential users would be more than the site's ad revenue.

"If you have a cheap membership cost, but you add a billion people, it may work out really well economically," he remarked.